Dear International Readers, Welcome to our Blog.
F or your own convenience please use the translate buttom on your right to select the language of your choice.
Thank you so much for stopping by!

Het is tijd voor de bloghop van het Feel Good Stampin' Design Team. Elke maand komen de leukste projecten van verschillende Nederlandse Stampin' Up! demonstrators voorbij die je inspireren rondom een en hetzelfde thema, Deze keer is het thema Black & White. Best lastig hoor als je geen kleurtje mag gebruiken… Maar het is toch gelukt!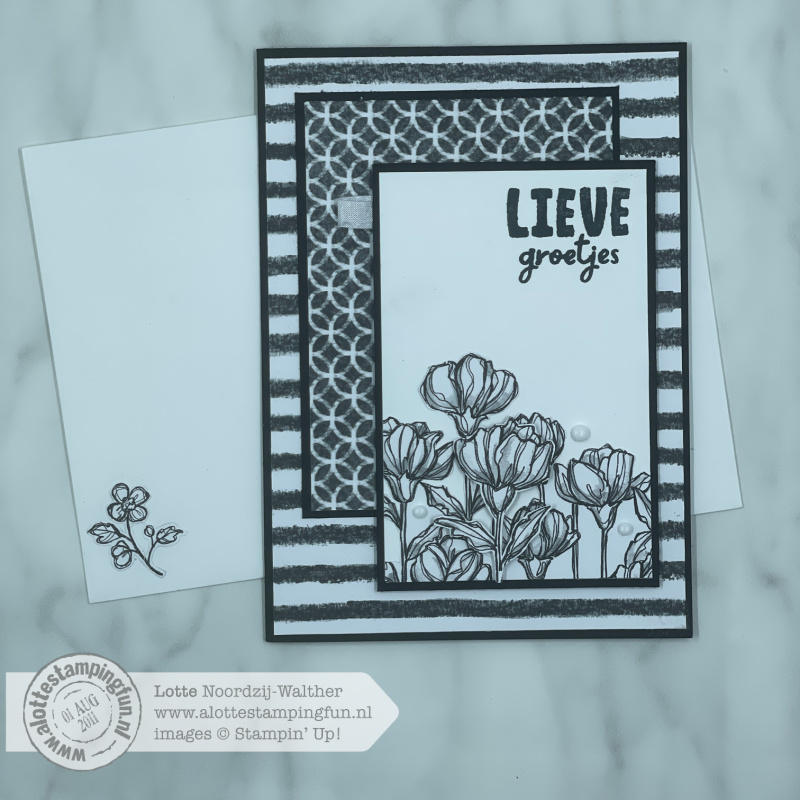 Prachtig getekend
We hebben gekozen om aan de slag te gaan met het Perfectly Pencilled Designer Series Papier uit de jaarcatalogus. Het lijken wel tekeningen die met een kroontjespen zijn gemaakt. Prachtige lijnen, je wordt er helemaal vrolijk van. Aan de achterzijde staan grafische patronen en die zijn niet diep zwart maar een tint van zwart heel subtiel!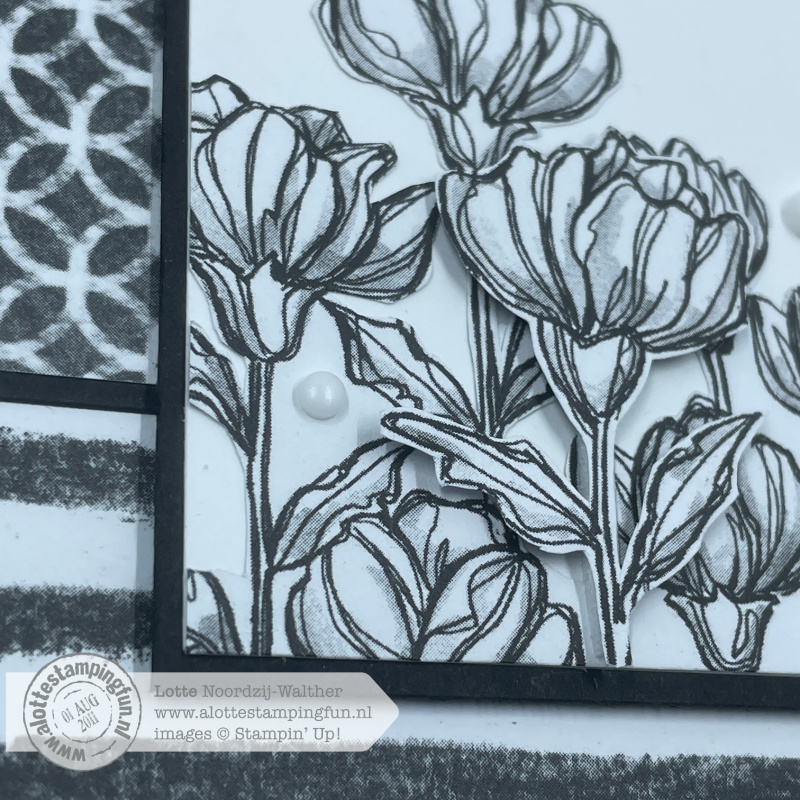 Veel laagjes
Het is een kaart met veel laagjes geworden zodat je goed gebruikt maakt van de verschillende designs in het papier. 2 lagen met het grafische design en de laatste zijn uitgeknipte bloemen.
Werkwijze
Als je wilt weten hoe we deze kaart hebben gemaakt en welke maten er zijn gebruikt, dan kun je HIER of op onderstaande afbeelding klikken en dan opent de PDF met alle gegevens die je dan kunt opslaan. Er is ook een video tutorial waarvan de link ook in de PDF staat. Lekker makkelijk!

En weet je wat zo fijn is onderstaande collega's hebben precies hetzelfde voor je gedaan. Ook bij hen staat er een projectbeschrijving klaar. Dus vergeet vooral niet om naar hun blog door te hoppen, zodat je nog meer projecten in BLACK & WHITE te zien krijgt
Hop door naar de anderen
Iets bestellen?
Heb je iets nodig of heb je een product gezien dat je graag wilt hebben? Wij verzorgen graag je bestelling. Je kunt je bestelling emailen naar lotte@alottestampingfun.nl en wij zorgen ervoor dat het zo snel mogelijk bij je komt!
Lieve groetjes,

Dit zijn de producten die we voor dit project hebben gebruikt:
Product List
En deze producten gebruiken we altijd
Product List
| | | | | |
| --- | --- | --- | --- | --- |
| | | | | |
| | | | | |