Dear International Readers, Welcome to our Blog.
F or your own convenience please use the translate buttom on your right to select the language of your choice.
Thank you so much for stopping by!
Het Rings of Love Designer Series Papier is superleuk. Maar liefst 12 vellen met prachtige prints voor elk seizoen. Voor deze kaart gebruikte Lotte een half vel. Voor het getoonde voorbeeld in de video gebruikte Lotte het vel met de vrolijke bloemetjes en tijdens de Facebook live maakte ze hem met de herfstversie.
Maak er met een strook van het DSP een "bellyband" omheen en zoek een bijpassende stempelset of "fussy cut" wat afbeeldingen uit en maak een leuke sluiting op de bellyband.
Gratis tijdens Sale-A-Bration
Het Rings of Love Designers Series Paper kun je nogtot en met 31 augustus 2022 in de Sale A Bration actie gratis aan een bestelling van 60 of meer toevoegen.
Afmetingen
DSP: 30 x 15 cm, 30 cm rillen op 5, 10, 15 en 25 cm
Snijd van de panelen een diagonaal naar 4 cm aan de onderzijde (zie video)
Mat CS: 14,5 x 10,5 cm
Mat CS: 13 x 9 cm
DSP voor bellyband: 2,5 cm breed
Werkwijze
Kijk voor de instructie hoe je deze kaart maakt naar de registratie van de Facebook live op ons YouTube kanaal door HIER of op onderstaande afbeelding te klikken.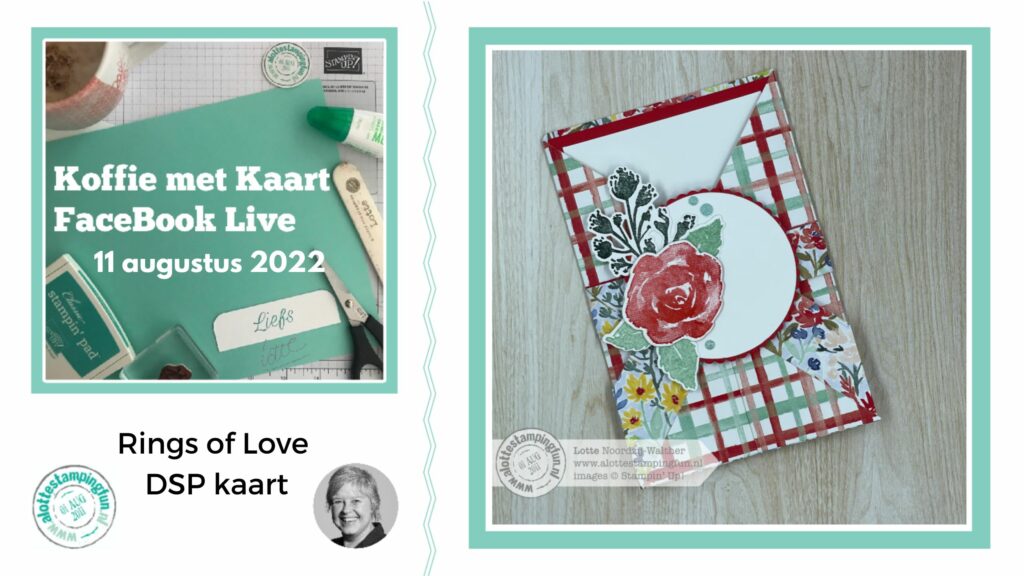 Iets bestellen?
Heb je iets nodig of heb je een product gezien dat je graag wilt hebben? Wij verzorgen graag je bestelling. Je kunt je bestelling emailen naar lotte@alottestampingfun.nl en wij zorgen ervoor dat het zo snel mogelijk bij je komt!
Lieve groetjes,

Dit zijn de producten die we voor dit project hebben gebruikt:
Bloemenkaart
Product List
Herfst kaart
Product List
En deze producten gebruiken we altijd
Product List
| | | | | |
| --- | --- | --- | --- | --- |
| | | | | |
| | | | | |