Dear International Readers, Welcome to our Blog.
F or your own convenience please use the translate buttom on your right to select the language of your choice.
Thank you so much for stopping by!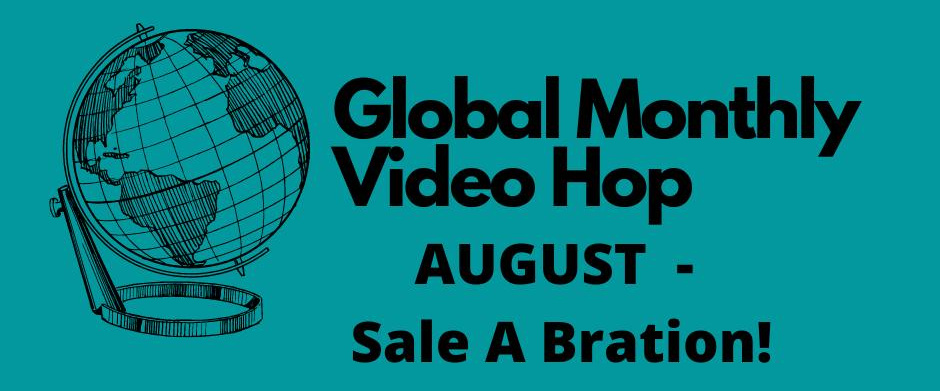 Welkom bij de Global Monthly Video Hop van de maand Augustus. Deze maand hoppen we met een aantal internationale Stampin' Up! demonstrators rondom het thema Sale-A-Bration. De Sale-A-Bration loopt nog tot en met 31 augustus en bij elke bestelling van 60 euro of een veelvoud daarvan kun je een gratis product toevoegen.
Alles gebruiken
Een van de producten die je kunt kiezen is de Wonderful World bundel. Het bijbehorende papier is echt prachtig en leent zich erg voor het focussen op de grote bloemen uit een van de vellen. Maar niet alleen de hele bloemen, maar ook de bloemen aan de rand kun je heel goed gebruiken. Wij maakten er deze leuke labels van.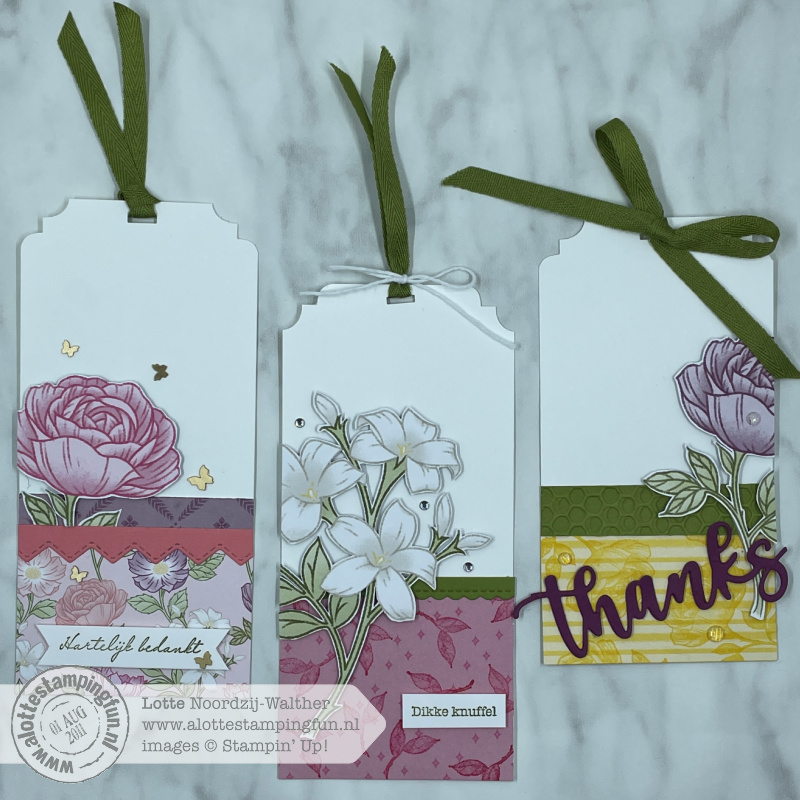 Afmetingen
Label; 7 x 14,8 cm (zo haal je 6 labels uit je A4)
DSP: 7 x 6 cm
Hop door naar de anderen
Ook deze keer hebben onze internationale collega's leuke projecten met de Sale-A-Bration producten voor je gemaakt voor jouw inspiratie. Je kunt doorhoppen naar hun video door op de link achter hun naam te klikken.
Tracy Bish – Australia – https://youtu.be/iz-t44Kn3VU
Michele Harper Critchley – New Zealand – https://youtu.be/kMJQw5ElEjk
Gesche Preißler – Germany – https://youtu.be/ArAPT-XEAlM
Dannielle Bennenk – The Netherlands – https://youtu.be/nvH4ILpA1gk
Tricia Smith – UK – https://youtu.be/9wrq6qSyr8o
Jean Piersanti – USA – https://youtu.be/nGbSgzZbLWs
Jenn Ford – Canada – https://youtu.be/2xtw2GA-Lrw
Mimi Takehara – USA – https://youtu.be/krVeJ1mvelY
Lotte Noordzij-Walther – The Netherlands – https://youtu.be/pXVtt7z6ftg – HIER BEN JE
Werkwijze
Klik HIER voor onze YouTube video of op onderstaande afbeelding. Lotte laat dan zien hoe je de labels maakt.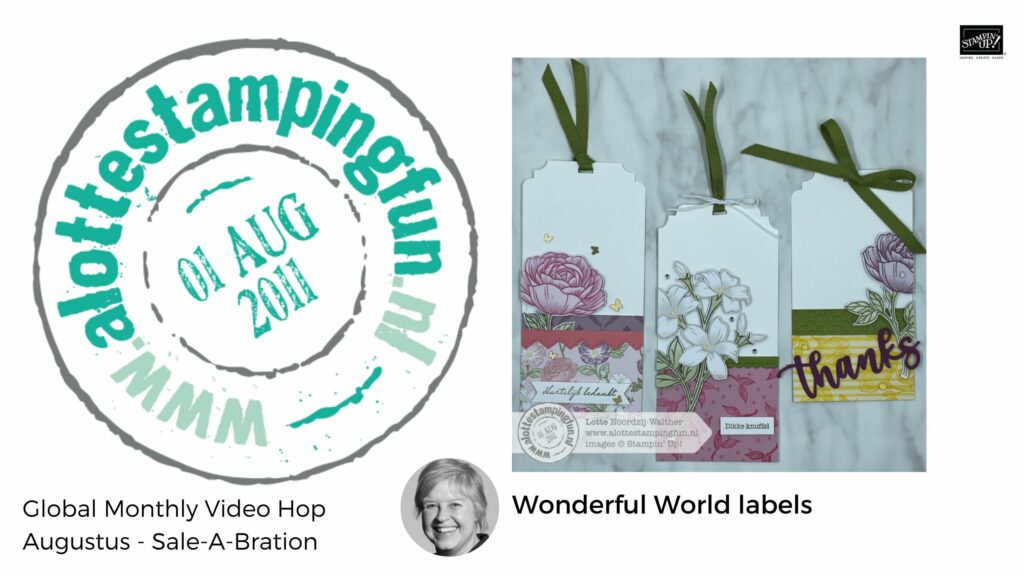 Iets bestellen?
Heb je iets nodig of heb je een product gezien dat je graag wilt hebben? Wij verzorgen graag je bestelling. Je kunt je bestelling emailen naar lotte@alottestampingfun.nl en wij zorgen ervoor dat het zo snel mogelijk bij je komt!
Lieve groetjes,

Dit zijn de producten die we voor dit project hebben gebruikt:
Product List

En deze producten gebruiken we altijd
Product List
| | | | | |
| --- | --- | --- | --- | --- |
| | | | | |
| | | | | |