Dear International Readers, Welcome to our Blog.
F or your own convenience please use the translate buttom on your right to select the language of your choice.
Thank you so much for stopping by!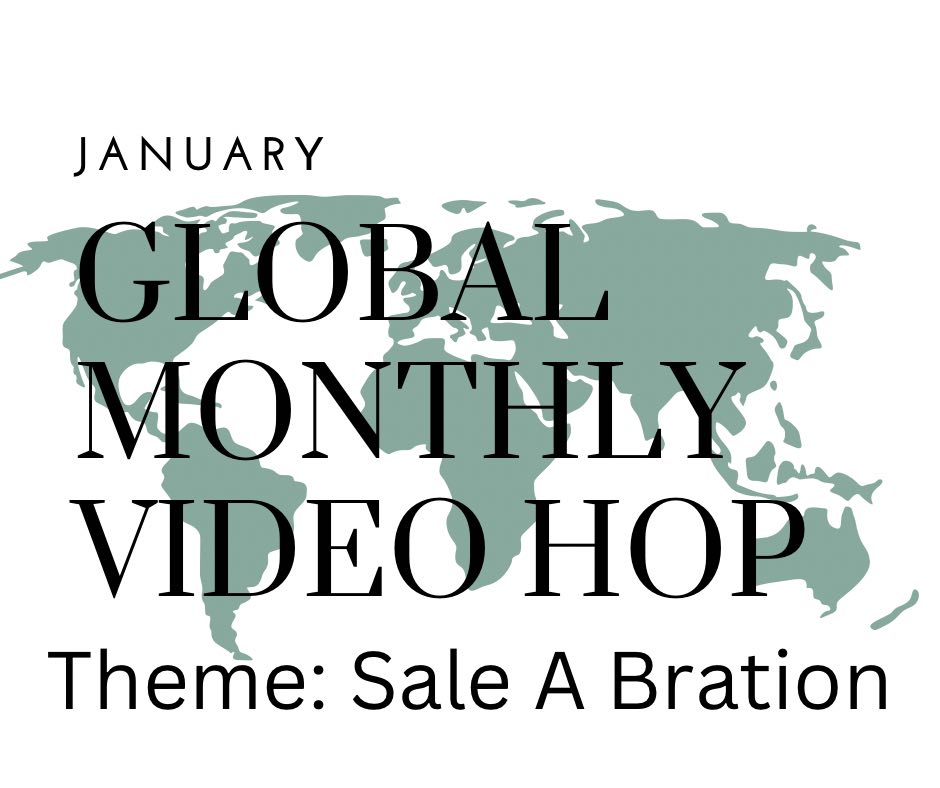 Wat leuk dat je een kijkje komt nemen. Deze maand staat het thema Sale-A-Bration centraal tijdens de Global Monthly Video Hop. Dit betekent dat je heel veel projecten langs zult zien komen met de producten uit de Sale-A-Bration folder. Deze keer zijn er maar liefst 9 verschillende producten gratis toe te voegen aan je bestelling van € 60,- of een veelvoud ervan. Genoeg keuze voor ons dus om je te inspireren.
Sale-A-Bration
De Sale-A-Bration actie loopt van 5 januari tot en met 28 februari en de producten zijn verkrijgbaar zolang de voorraad strekt. Zoals gezegd kun je een of meerdere van de producten uit de folder gratis toevoegen aan je order van €60,- of een veelvoud daarvan. Je kunt online bestellen (vergeet dan niet de gastvrouwcode van de maand te gebruiken) of je kunt ons een berichtje sturen met je bestelling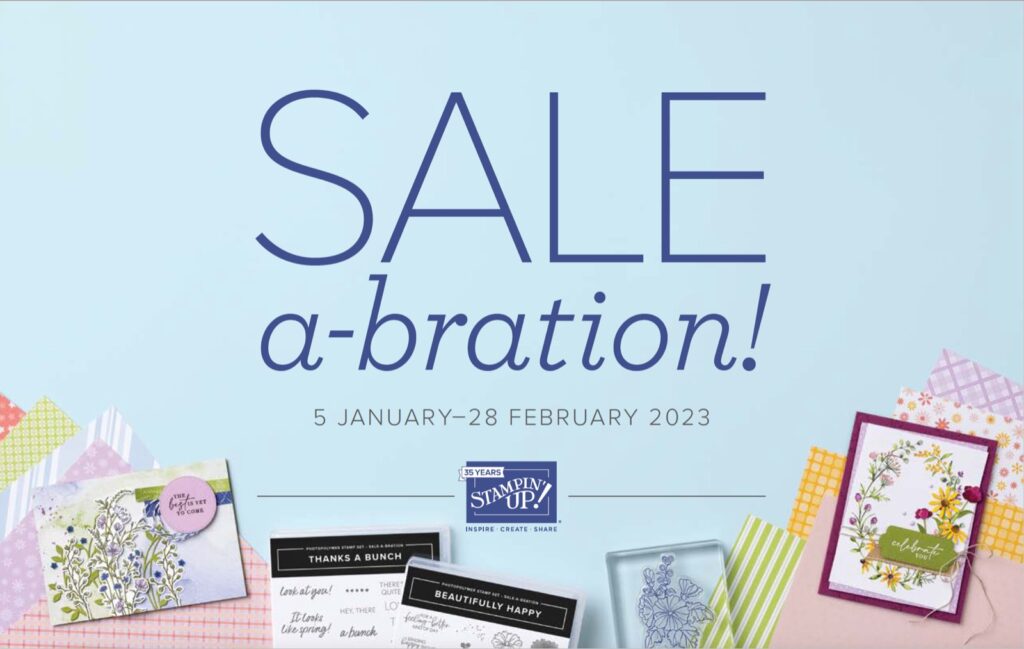 Beautifully Happy – Lieve Bloemen
Wij zijn aan de slag gegaan met de stempelset Beautifully Happy op pag. 13. Deze stempelset is ook in het NEDERLANDS verkrijgbaar en heet dan Lieve Bloemen. En wat een leuke teksten zitten er in! We hebben voor de kaart die we hebben gemaakt de White Wash techniek gebruikt. Weer eens een andere manier om een stempel in te kleuren.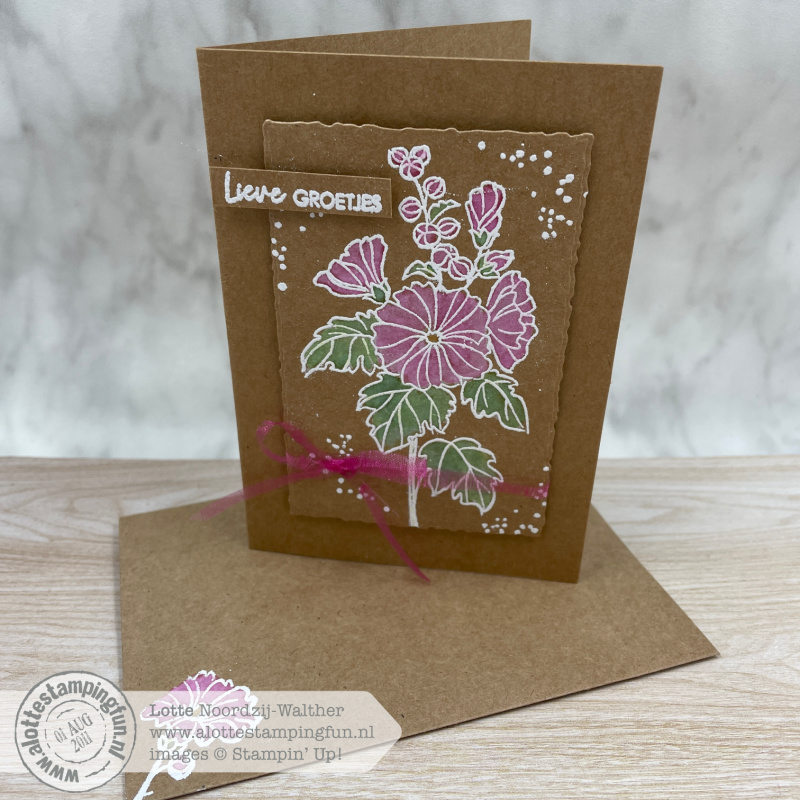 Hop door naar de anderen
Ben je ook zo benieuwd wat de anderen hebben gemaakt? Hieronder vind je de linkjes naar de internationale Stampin' Up! demonstrators die aan deze Global Monthly Video Hop meedoen. Je kunt eenvoudig naar hun video gaan door op de link achter hun naam te klikken.
Gesche Preissler – geschtempelt – Germany https://youtu.be/mEtnkSe-qMo
Tracy Bish – Australia – https://youtu.be/YQkPFqw1UJk
Lotte Noordzij-Walther – ALotteStampingFun – the Netherlands – https://youtu.be/5EgqBub9dM0
Michelle Critchley – C & C Designs – New Zealand – https://youtu.be/t0acqg0N05w
Rachel Merrick – Merrick Makings – Australia – https://youtu.be/GPmxH_ULzeg
Danielle Bennenk – Mrs. Brightside – Netherlands – https://youtu.be/EkQTMIez0hk
Jackie vanderSar-Boot- The Pampered Stamper – Canada – https://youtu.be/8L4rbwbIDpo
Cyrielle Marin – Univers Scrap by Cy – France – https://youtu.be/KhA0mcHqO7M
Belinda Wenke – Beli´s Kreative Welt – Germany – https://youtu.be/u8l0fNchsUA
Jean Piersanti – Beauty & The Stamper – USA – https://youtu.be/AiWShgoqZqI
Afmetingen
Basiskaart: Kraft Notecard & Envelop
Mat: uitgestanst met Deckled Rectangle stansen de 4e geteld vanaf buiten
Werkwijze
Aangezien dit blog bij de Global Monthly Video Hop hebben we natuurlijk ook een video gemaakt hoe je deze techniek doet. KLIK HIER of op onderstaande afbeelding om naar ons YouTube kanaal te gaan.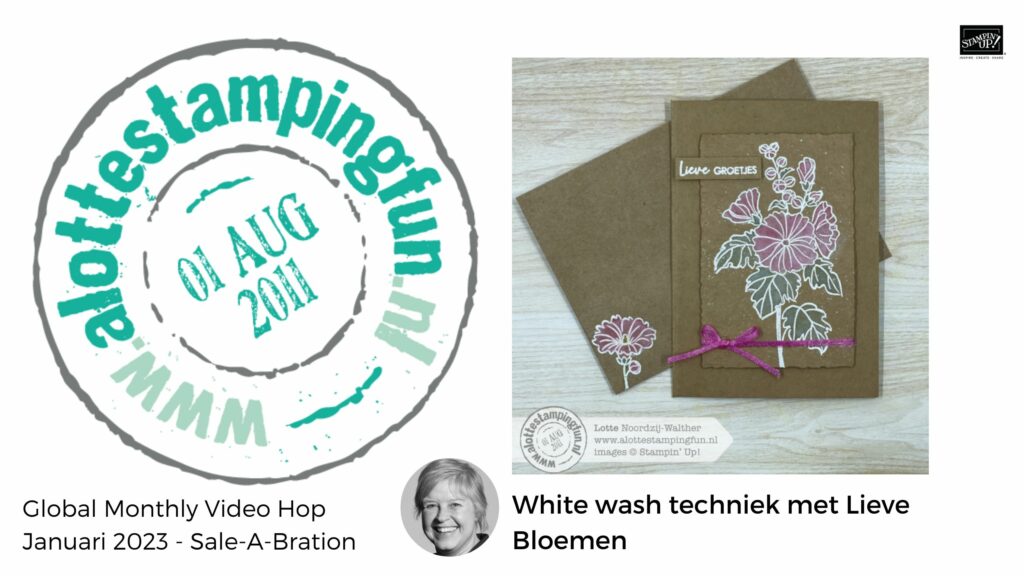 Iets bestellen?
Heb je iets nodig of heb je een product gezien dat je graag wilt hebben? Wij verzorgen graag je bestelling. Je kunt je bestelling emailen naar lotte@alottestampingfun.nl en wij zorgen ervoor dat het zo snel mogelijk bij je komt!
Lieve groetjes,

Dit zijn de producten die we voor dit project hebben gebruikt:
Product List
En deze producten gebruiken we altijd
Product List
| | | | | |
| --- | --- | --- | --- | --- |
| | | | | |
| | | | | |