Dear International readers, welcome to our blog. Please for you convenience use the translate button on the right and select the language of your choice. Thank you so much for stopping by!
Helaas geen Maui maar gewoon thuis
Misschien weet je nog dat we vorig jaar september de Stampin' Up! bonusreis verdiend hebben. Afgelopen week hadden we met zo'n 400 collega's op het eiland Maui een fantastisch tijd moeten beleven. Helaas gooide Covid roet in het eten en waren alleen de collega's uit Amerika in de gelegenheid om te gaan. Voor diegene die thuis moesten blijven werd er een virtuele bijeenkomst georganiseerd. Lotte heeft deze geheel in stijl bijgewoond.
Een tropische verrassing
Als kleine pleister op de wond ontvingen we een dag ervoor een doosje vanaf Hawaii met allerlei lekkere producten erin. Daar zijn we natuurlijk superzuinig op!
Er was gevraagd om voor de virtuele bijeenkomst een tropische kaart te maken en die dan tijdens de bijeenkomst te laten zien. Hiervoor is Lotte tijdens onze wekelijkse Facebook Live op donderdagavond om 19:30 aan de slag gegaan met een nieuw product van Stampin' Up! de Soft Pastels. Met deze krijtjes maak je de mooiste achtergronden dus ook een tropisch strand met een ondergaande zon.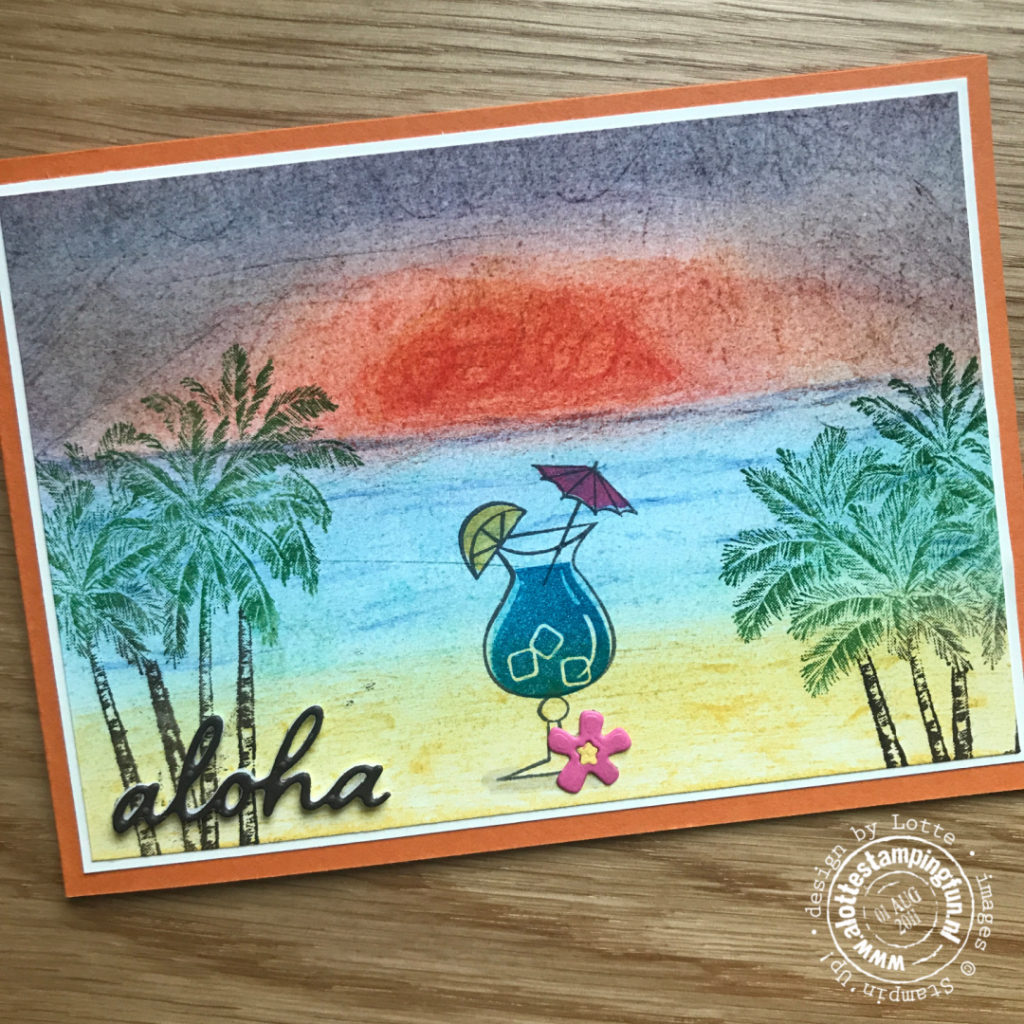 Daarop zijn met stempels uit de Timeless Tropical en Nothing Better Than palmbomen en een "Blue Hawaii" cocktail gestempeld. Het uitgestanste woord Aloha en de hibiscus uit de In the Tropic stansen maakten de kaart helemaal af.
Hoe je de achtergrond maakt met de Soft Pastels kun je hier terugkijken in de opgenomen video van de Facebook live of door op onderstaande afbeelding te klikken, dan word je er vanzelf naar toegeleid.
De afmetingen van de basiskaart in Pumpkin Pie zijn 29 x 10,5 cm – 29 cm zijde rillen op 14,5 cm
Basic White mat: 10,1 x 14,1 cm
Basic White mat (achtergrond) : 9,7 x 13,7 cm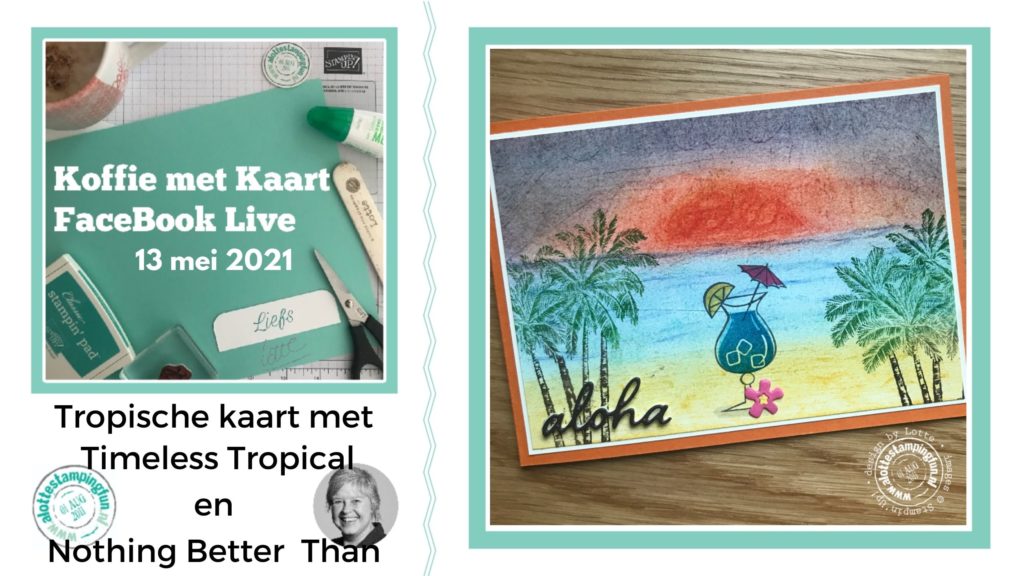 Iets bestellen?
Alle materialen die zijn gebruikt, staan onderaan dit blog vermeld. Mocht je iets in je voorraad missen of een aanvulling willen, wij verzorgen graag je bestelling. Stuur ons een email (lotte@alottestampingfun.nl) met je wensen en dan komt het dik voor elkaar.
Lieve groetjes

Dit zijn de producten die we voor dit project hebben gebruikt:
Product List

En deze producten gebruiken we altijd:
Product List