Dear international readers.
Welcome to our blog, Please use the translate button up in the right hand corner to read this blog in your preferred language.
Soms heb je een kleinigheidje nodig om weg te geven. Wij maakten bijvoorbeeld dit leuke theezakhoudertje voor winterthee om mee te sturen met de mini catalogus Augustus – December naar onze klanten.
Toen we later bij de Xenos waren en de doosjes met echt alleen perzik thee zagen moesten we natuurlijk meteen aan de You're a Peach Suite denken. Want hoe leuk is het om daarvoor een speciaal theezakhoudertje te maken. Niet alleen het You're a Peach design papier maar ook de stempelset en de stansen zijn hier perfect voor.
Voor het houdertje gebruikten we de Seasonal Labels stansen. En wanneer je heel zuinig stanst haal je maar liefst 8 houdertjes uit een vel Design Papier. Hoe je dat doet heeft Lotte uitgebreid laten zien in de Facebook live van 5 augustus. Inmiddels is die omgezet naar een Youtube video en kan iedereen er naar kijken.
Werkwijze
Wil je zien hoe je dit theezakje houdertje heel gemakkelijk zelf kunt maken klik dan HIER om naar de YouTube video te gaan, of op onderstaande afbeelding.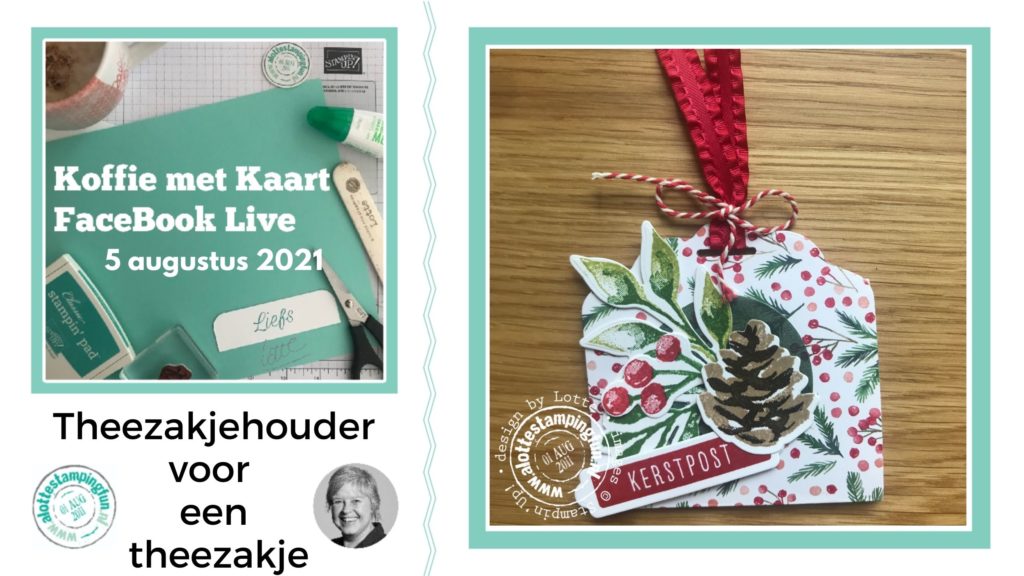 Iets bestellen?
Heb je iets nodig of heb je een product gezien dat je graag wilt hebben? Wij verzorgen graag je bestelling. Je kunt je bestelling emailen naar lotte@alottestampingfun.nl en wij zorgen ervoor dat het zo snel mogelijk bij je komt!
Lieve groetjes,

Dit zijn de producten die we voor dit project hebben gebruikt:
Product List
En deze producten gebruiken we altijd
Product List
| | | | | |
| --- | --- | --- | --- | --- |
| | | | | |
| | | | | |