Dear international readers.
Welcome to our blog, Please use the translate button up in the right hand corner to read this blog in your preferred language.
Wie had dat gedacht?
Dat je met de Textures & Frames stempelset in combinatie met de Pinguin Pret Stempelset ook Kerstballen kunt stempelen?
Uit de Textures & Frames set gebruik je de cirkel en de verschillende achtergrondjes en vanuit de Pinguin Pret dhet touwtje van de ballon en het "tasje" Zo creeer je de leukste kerstkaarten

Geen traditionele kleuren

Soms is het ook heel leuk om te experimenteren met niet traditionele kleuren voor Kerst. In dit geval hebben we roze, gele en blauw tinten toegevoegd. Zo krijgen je kaarten iets bijzonders.
Sale-A-Bration
De Textures & Frames is een stempelset uit de Sale-A-Bration actie van Stampin' Up! een alleen nog tot en met 30 september 2021 verkrijgbaar.
Afmetingen
Basiskaart: 14,5 x 21 cm – 21 cm zijde rillen op 10,5 cm
Mat 1: 14 x 10 cm
Mat 2: 13,5 x 9,5 cm
Basiskaart: 21 x 20 cm – 20 cm rillen op 10 cm
Mat 1: 20,5 x 9,5 cm
Mat 2: 20 x 9 cm
Werkwijze
Voor lange kaarten hebben we de masking techniek toegepast, waardoor het net lijkt of de ballen voor elkaar hangen. Als je wilt zien hoe je deze kaarten maakt, klik dan op onderstaande afbeelding of HIER om naar de YouTube versie van de Facebook live te gaan waarin we dit hebben getoond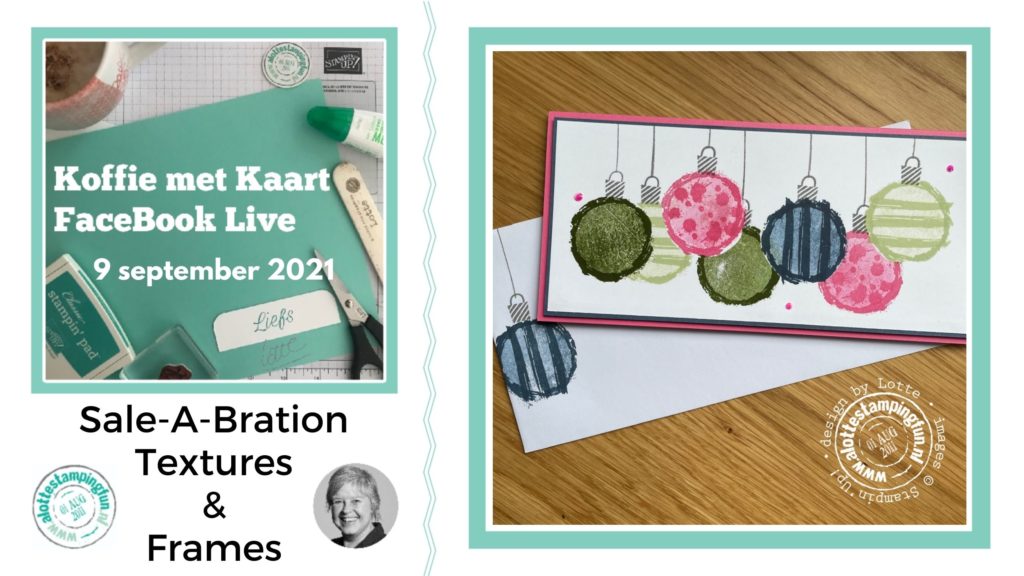 Iets bestellen?
Heb je iets nodig of heb je een product gezien dat je graag wilt hebben? Wij verzorgen graag je bestelling. Je kunt je bestelling emailen naar lotte@alottestampingfun.nl en wij zorgen ervoor dat het zo snel mogelijk bij je komt!
Lieve groetjes,

Dit zijn de producten die we voor dit project hebben gebruikt:
Product List

En deze producten gebruiken we altijd
Product List
| | | | | |
| --- | --- | --- | --- | --- |
| | | | | |
| | | | | |