Dear International Readers, Welcome to our Blog.
F or your own convenience please use the translate buttom on your right to select the language of your choice.
Thank you so much for stopping by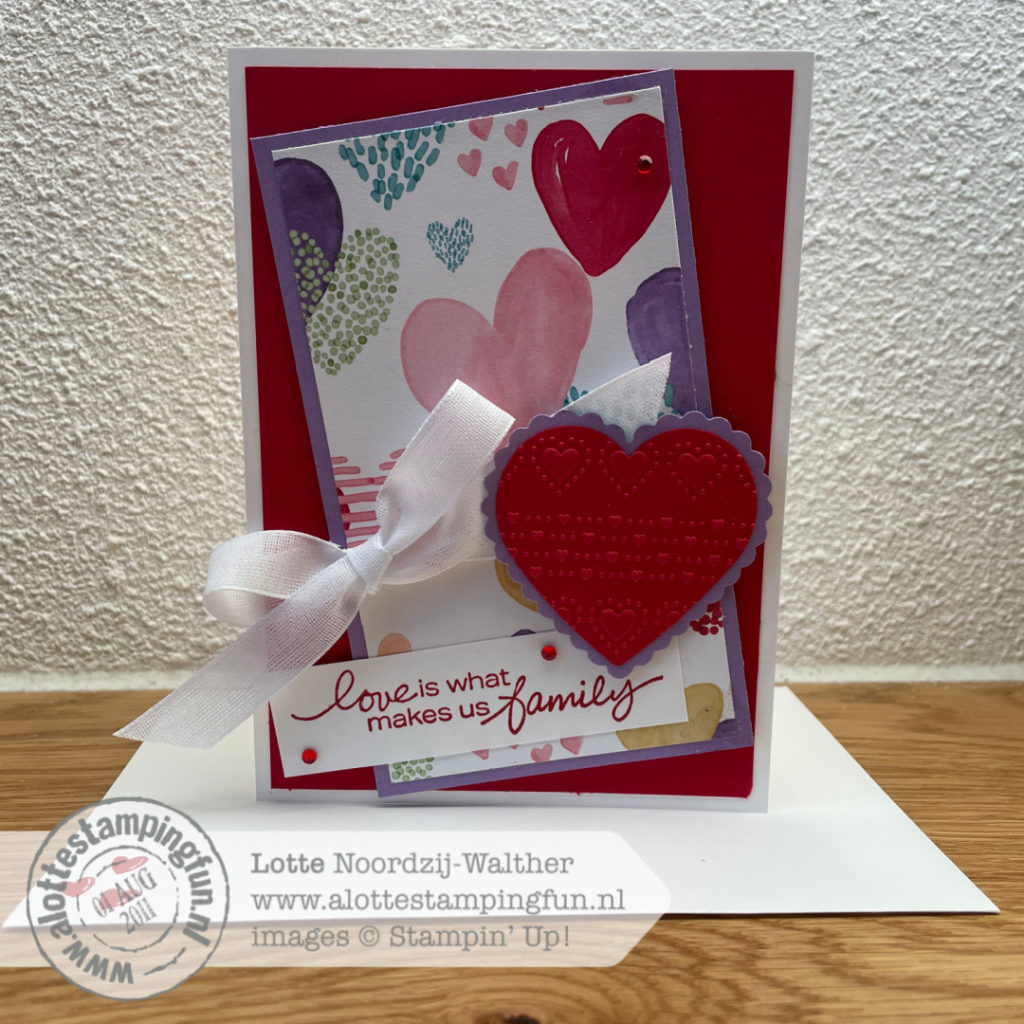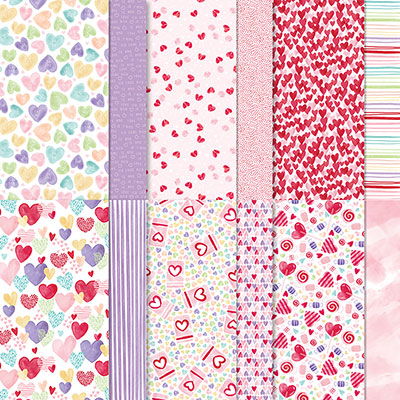 Superleuk hartjes papier
De tijd breekt weer aan dat we de snoephartjes kunnen kopen waarin een lief woordje staat. Dit soort hartjes en vele anderen vind je terug in het Sweet Talk Designer papier van Stampin' Up!

Sweet Talk Designer Series Paper bevat de volgende kleuren:
Blushing Bride
Granny Apple Green
Highland Heather
Petal Pink
Pool Party
Real Red
So Saffron
Ook kleine pakketjes design papier bij ons verkrijgbaar
Wist je dat je bij ons ook kleinere pakketjes van het design papier kunt kopen? LEES HIER er alles over.
Goed te combineren
In de jaar catalogus van Stampin' Up vind je allerlei leuke producten die je met dit papier kunt combineren. Wat dacht je van de producten die wij erbij gebruikt hebben zoals de Dotty Hearts embossing folders en het Heart Punch Pack.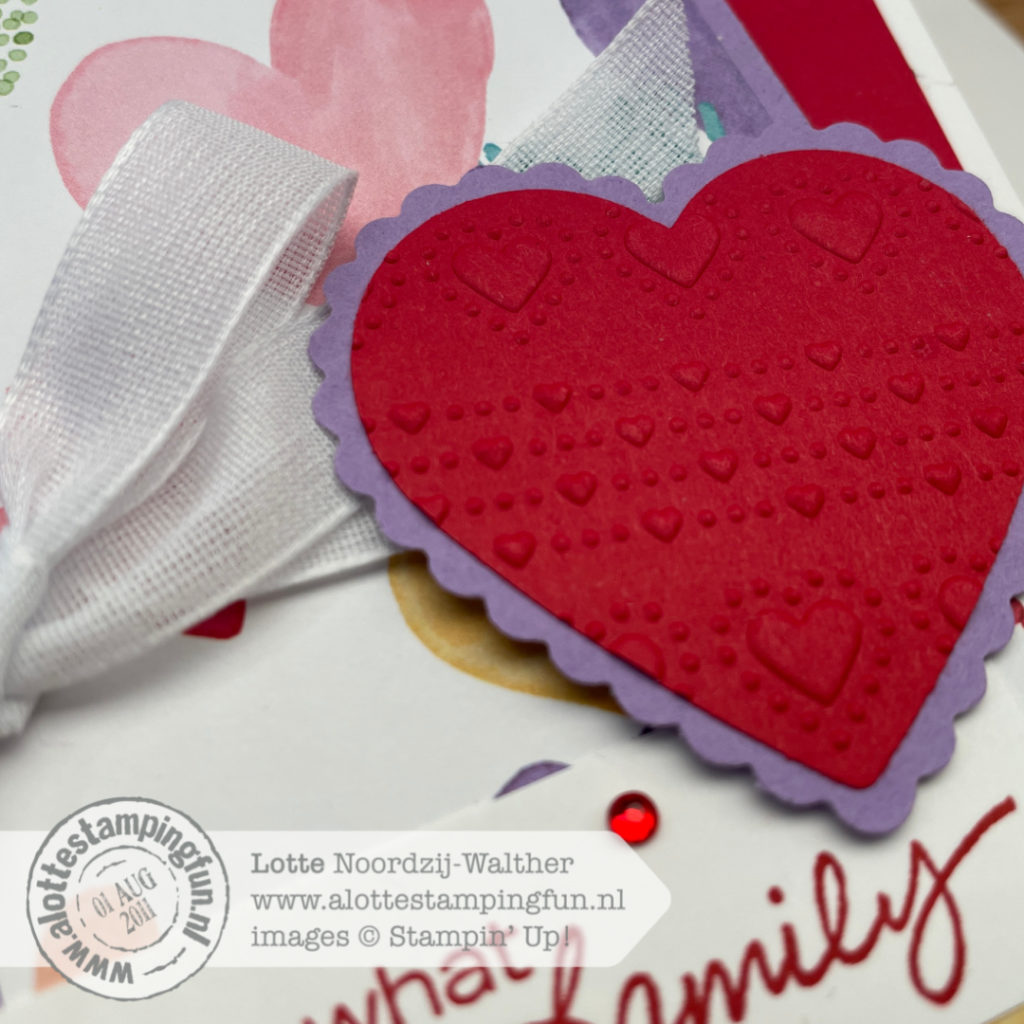 Afmetingen
Basiskaart 21 x 14,5 cm – 21 cm rillen op 10,5 cm
CS mat op basiskaart 14 x 10 cm
CS mat schuin: 12,5 x 7,5 cm
DSP mat schuin 12 x 7 cm
Strookje voor tekst 2,2 cm hoog
Werkwijze
Tijdens de Facebook live van 13 januari heeft Lotte laten zien hoe je deze kaart maakt. KLIK HIER voor de YouTube video of op onderstaande afbeelding.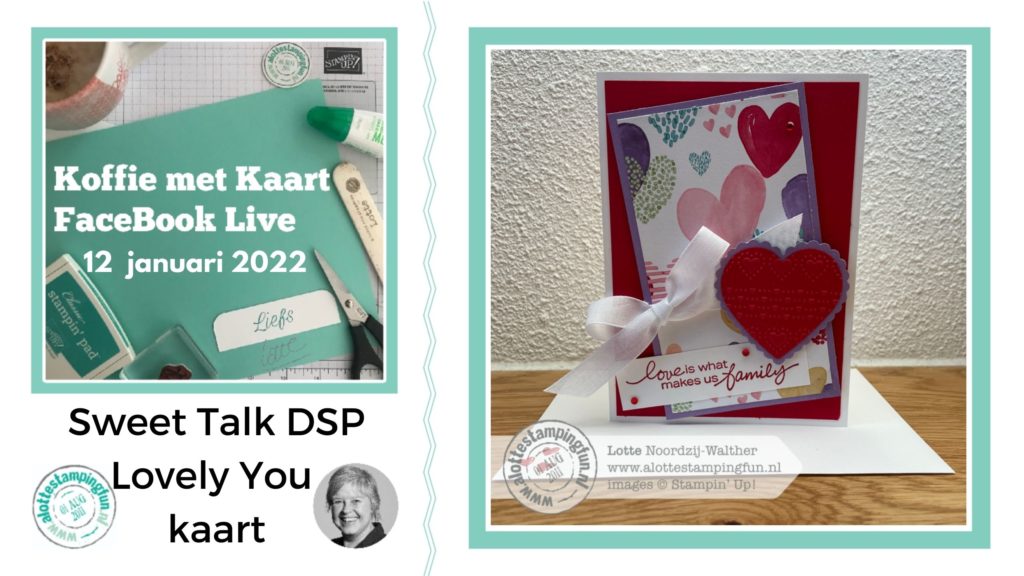 Iets bestellen?
Heb je iets nodig of heb je een product gezien dat je graag wilt hebben? Wij verzorgen graag je bestelling. Je kunt je bestelling emailen naar lotte@alottestampingfun.nl en wij zorgen ervoor dat het zo snel mogelijk bij je komt!
Lieve groetjes,

Dit zijn de producten die we voor dit project hebben gebruikt:
Product List
En deze producten gebruiken we altijd
Product List
| | | | | |
| --- | --- | --- | --- | --- |
| | | | | |
| | | | | |