Dear International Readers, Welcome to our Blog.
F or your own convenience please use the translate buttom on your right to select the language of your choice.
Thank you so much for stopping by!
Hou je ook zo van aardbeien?
Wij wel! Je ziet ze weer overal. Dus ook nog maar een keertje op een schattig projectje. Helaas gaat de stempelset en de pons ons na 2 mei 2022 verlaten, ze zijn nu nog aan te schaffen en met een fijne korting. Dus sla je slag voor het te laat is!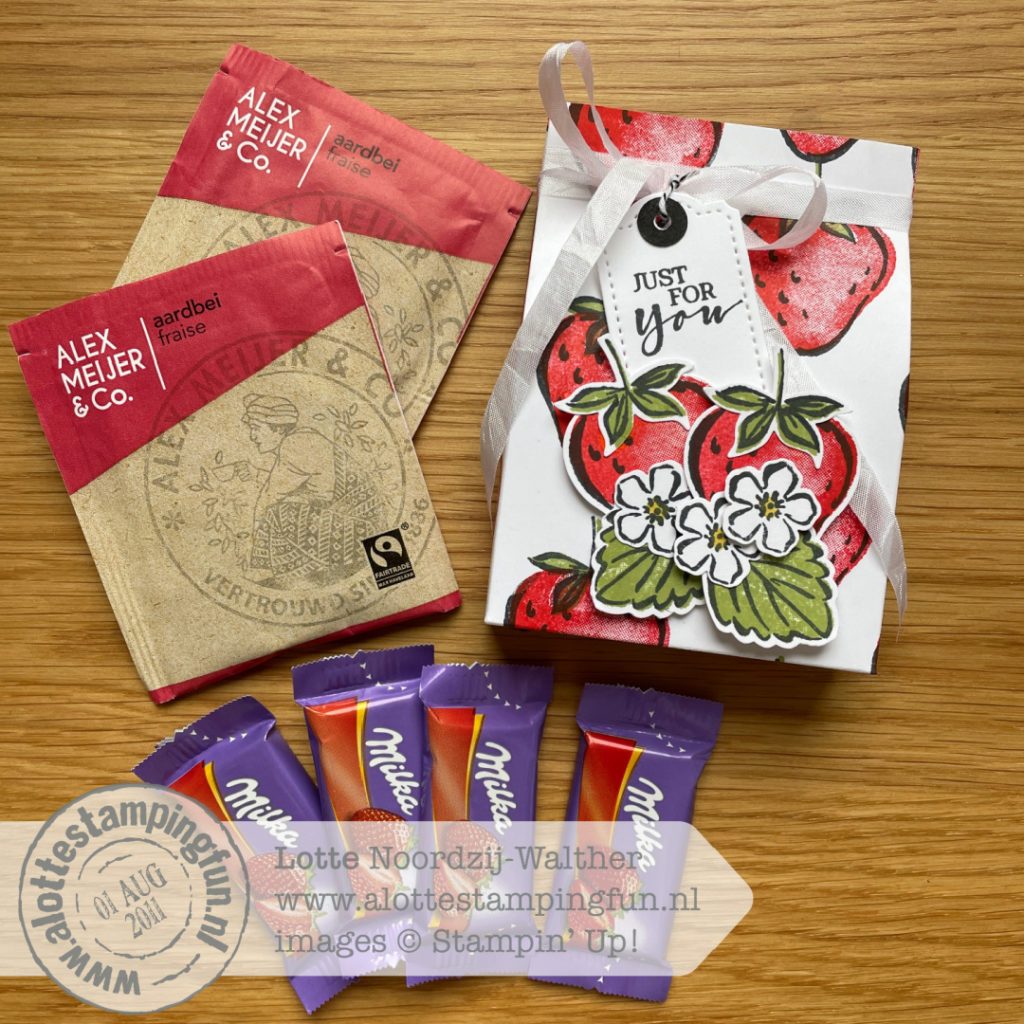 Schattig zakje voor thee en chocolaatjes
Hoe leuk is het wanneer je een toepasselijk zakje kunt maken voor aardbeien thee en de aardbeien versie van de Mini Milka. Er passen 2 zakjes thee en 4 chocolaatjes in .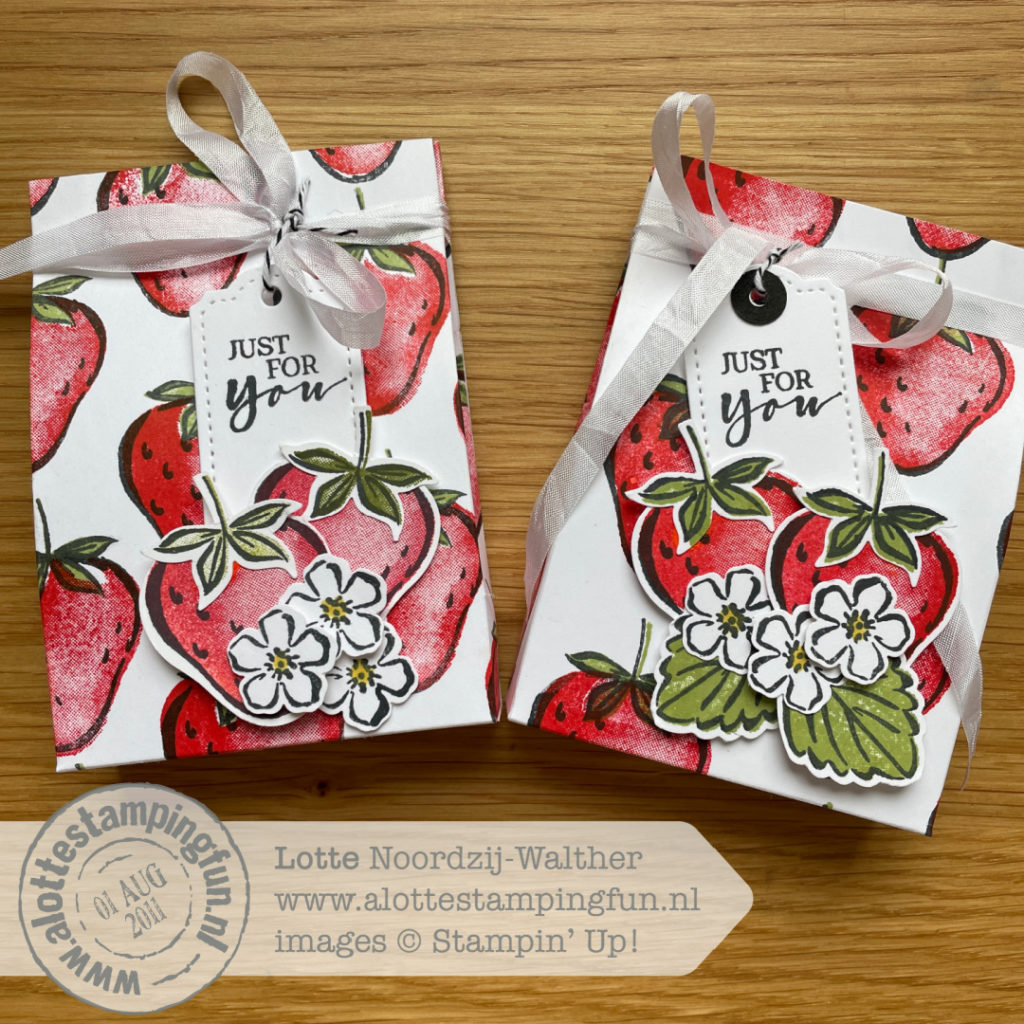 Eigen Design papier gemaakt
Voor de het zakje zelf is de aardbei verschillende keren op het cardstock gestempeld waardoor je je eigen design papier creeert. Wanneer je een A4 vol stempelt haal je er 2 zakjes uit. Door de kleur Poppy Parade te gebruiken krijg je de echte aardbeien kleur.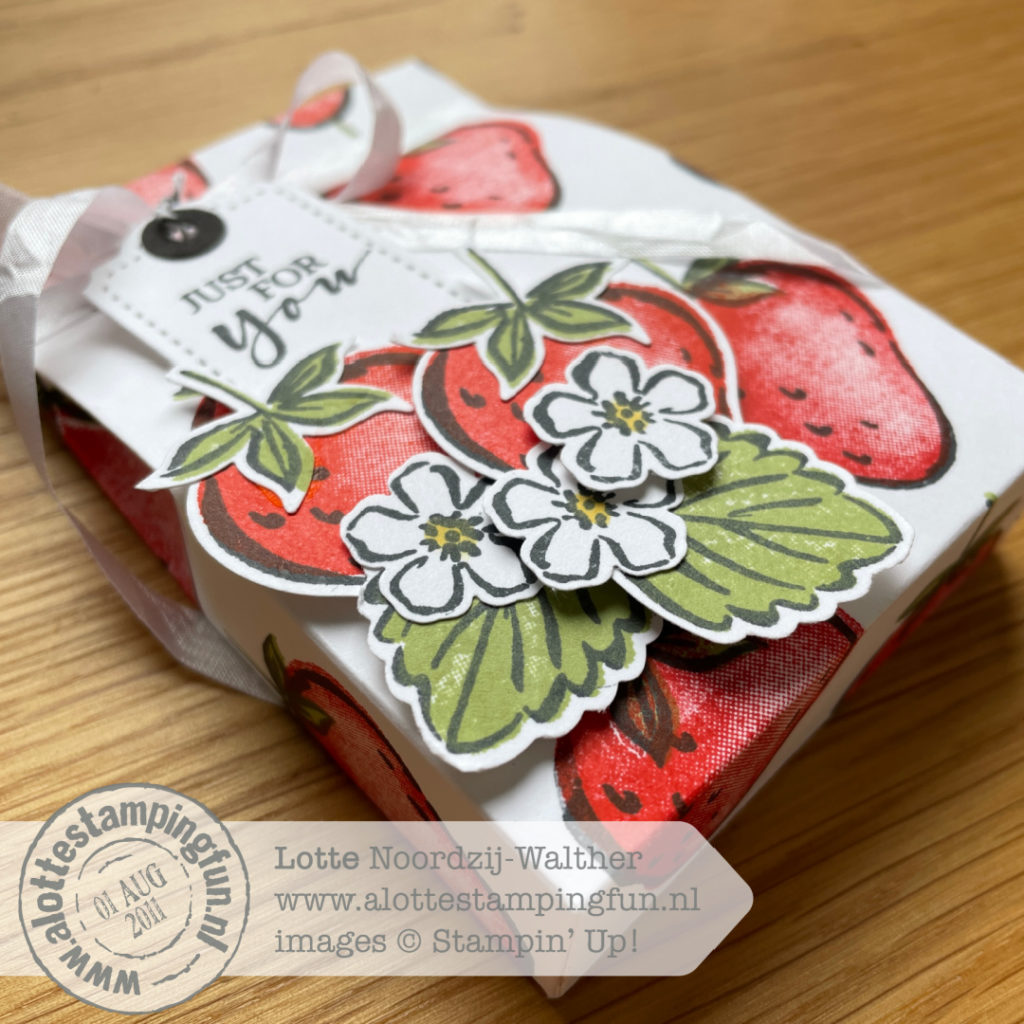 Uitponsen
De Strawberry Builder Pons pons maar liefst 4 elementen van de stempelset uit. De aardbei, het kroontje, het blad en de bloesem. Je kunt deze elementen superleuk gebruiken om er een label voor aan het zakje voor te maken.
Afmetingen
Basis voor zakje: 12 x 19 cm
ril 12 cm zijde op 2 en 10,5 cm
ril 19 cm zijde op 1, 3 , 10 en 17 cm.
Werkwijze
Klik HIER of op onderstaande afbeelding om naar de YouTube versie van de registratie op FaceBook live te gaan.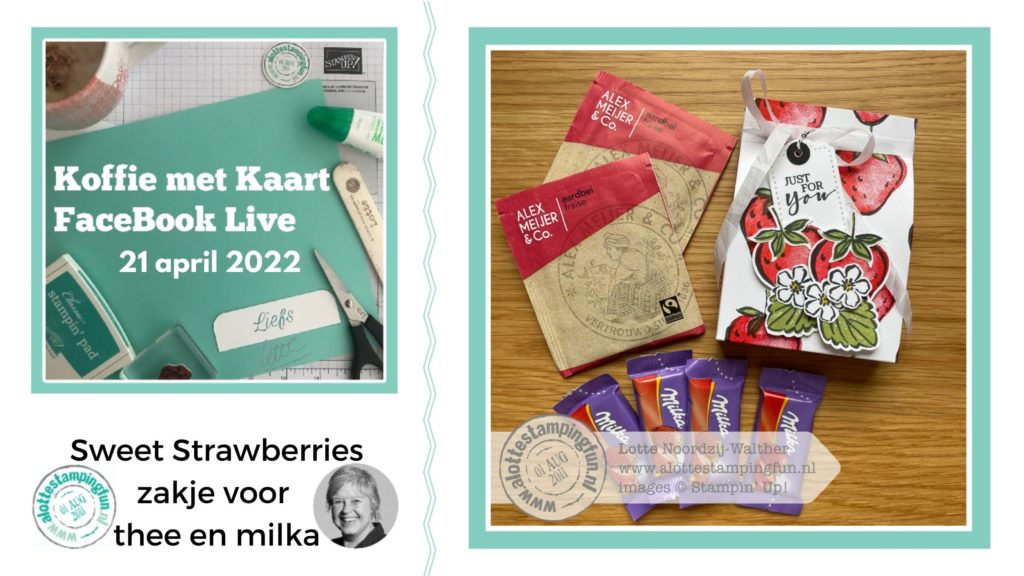 Wil je wat bestellen?
Heb je iets nodig of heb je een product gezien dat je graag wilt hebben? Wij verzorgen graag je bestelling. Je kunt je bestelling emailen naar lotte@alottestampingfun.nl en wij zorgen ervoor dat het zo snel mogelijk bij je komt!
Lieve groetjes,

Dit zijn de producten die we voor dit project hebben gebruikt:
Product List
En deze producten gebruiken we altijd
Product List
| | | | | |
| --- | --- | --- | --- | --- |
| | | | | |
| | | | | |