Dear International Readers, Welcome to our Blog.
F or your own convenience please use the translate buttom on your right to select the language of your choice.
Thank you so much for stopping by!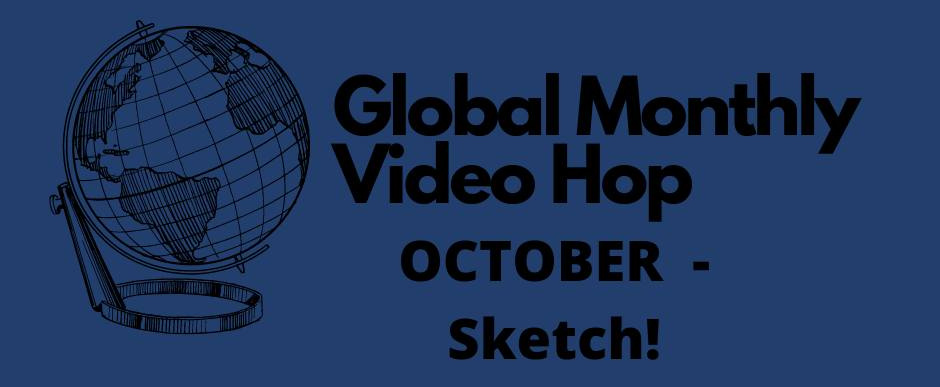 De opdracht voor het design team van de Global Monthly Video Hop was een slim line kaart te maken volgende de onderstaande schets. De basiskaart zou 15 x 7,5 cm moeten zijn, maar een aantal hebben de maat omgebouwd naar een slim line kaart die ook heel fijn in de Slim Line Enveloppen van Stampin' Up! past. Dat is wel zo makkelijk toch?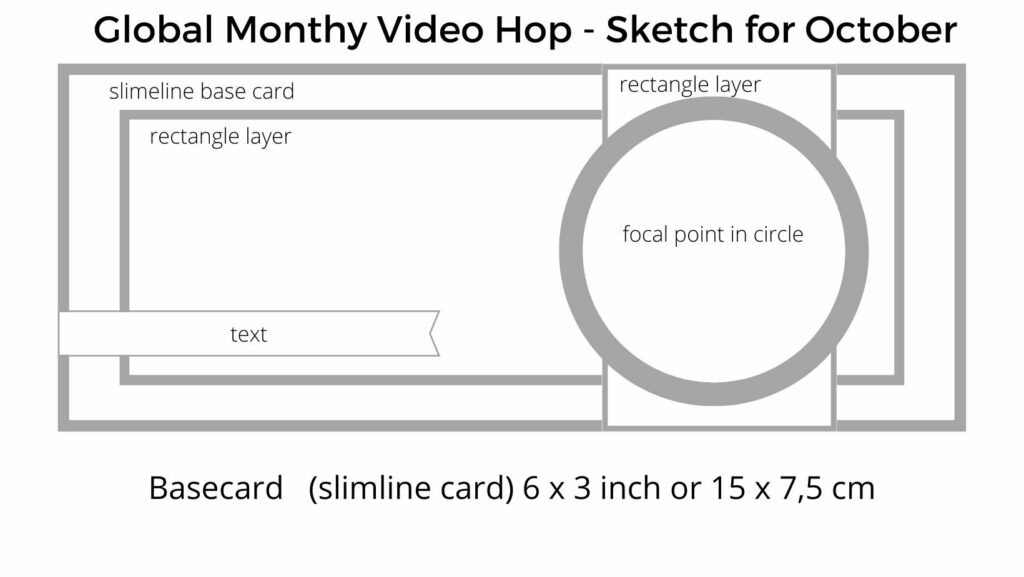 Kerstkaart
Wij vonden dat de sketch schreeuwde om een kerstkaart, dus we hebben die leuke Spruced Up bundel te voorschijn gehaald en zijn lekker aan de slag gegaan. Superleuk om het zwart-wit design papier met felle kleuren te combineren, dat is weer eens iets anders dan traditioneel rood en groen.
Zeg nou zelf, superleuk toch?
Hop door naar de anderen
Onze internationale Stampin' Up! collega's zijn ook met deze sketch aan de slag gegaan. Ben je ook zo benieuwd wat zij hebben gemaakt? Klik dan op de link achter hun naam en je wordt automatisch naar hun YouTube kanaal geleid. Vanaf de YouTube kanalen kun je ook doorhoppen. Veel inspiratie toegewenst!
Tracy Bish – Australia – https://youtu.be/qqm9wJYSQ2A
Rachael Merrick – Australia – https://youtu.be/mbfBK1CL0is
Michelle Critchley – C & C Designs – New Zealand – https://youtu.be/IGIKKfEinsg
Lotte Noordzij-Walther – A Lotte Fun Stampers – The Netherlands – https://youtu.be/ZGlT7AetiJw
Danielle Bennenk – Mrs. Brightside – The Netherlands: https://youtu.be/pSLxFPj-vtk
Dianne Jamieson – DJs Craft Den – UK: https://youtu.be/JMs5fvMafLA
Jackie van der Sar-Boot- The Pampered Stamper- Canada: https://youtu.be/ns_ZwX0249c
Gesche Preißler – geschtempelt – Germany: https://youtu.be/R2mqCMqTk5I
Afmetingen
Basiskaart: 18 x 21 cm – 18 cm rillen op 9 cm
Basis Black mat: 20 x 8 cm
DSP mat: 19,5 x 7,5 cm
Horizontale mat Basic Black: 9 x 5 cm|
Strookje voor tekst: 1,3 cm hoog
Basic White mat binnenzijde: 19,5 x 7,5 cm
Werkwijze
Hoe Lotte de kaart "cased" kun je uiteraard zien in de opgenomen video. KLIK HIER of op onderstaande afbeelding om naar ons YouTube kanaal te gaan. Je kunt daar ook meteen doorklikken naar de video's van de andere design team leden.
Iets bestellen?
Heb je iets nodig of heb je een product gezien dat je graag wilt hebben? Wij verzorgen graag je bestelling. Je kunt je bestelling emailen naar lotte@alottestampingfun.nl en wij zorgen ervoor dat het zo snel mogelijk bij je komt!
Lieve groetjes,

Dit zijn de producten die we voor dit project hebben gebruikt:
Product List

En deze producten gebruiken we altijd
Product List
| | | | | |
| --- | --- | --- | --- | --- |
| | | | | |
| | | | | |