Dear International Readers, Welcome to our Blog.
F or your own convenience please use the translate buttom on your right to select the language of your choice.
Thank you so much for stopping by
Trendkleuren 2022
Op zoek naar kleurinspiratie voor een "Masculine" kaart heb ik in google trendkleuren mannen 2022 ingetypt. Daar kwamen bovenstaande kleurcombinatie naar voren. Hoe fijn dat we deze kleuren ook in het Stampin'Up! assortiment hebben!
In de nieuwe stempelset "Slim Sayings" zitten hele grote teksten en teksten die zich uitstekend lenen om repeterend te stempelen met de "Stamparatus".
Herfst tinten
De bruin/oranje versie is gemaakt met de trendkleuren voor de herfst: Cinnamon Cider, Calypso Corall, Pumpkin Pie (You are one of a Kind) en Early Espresso (Happy Birthday)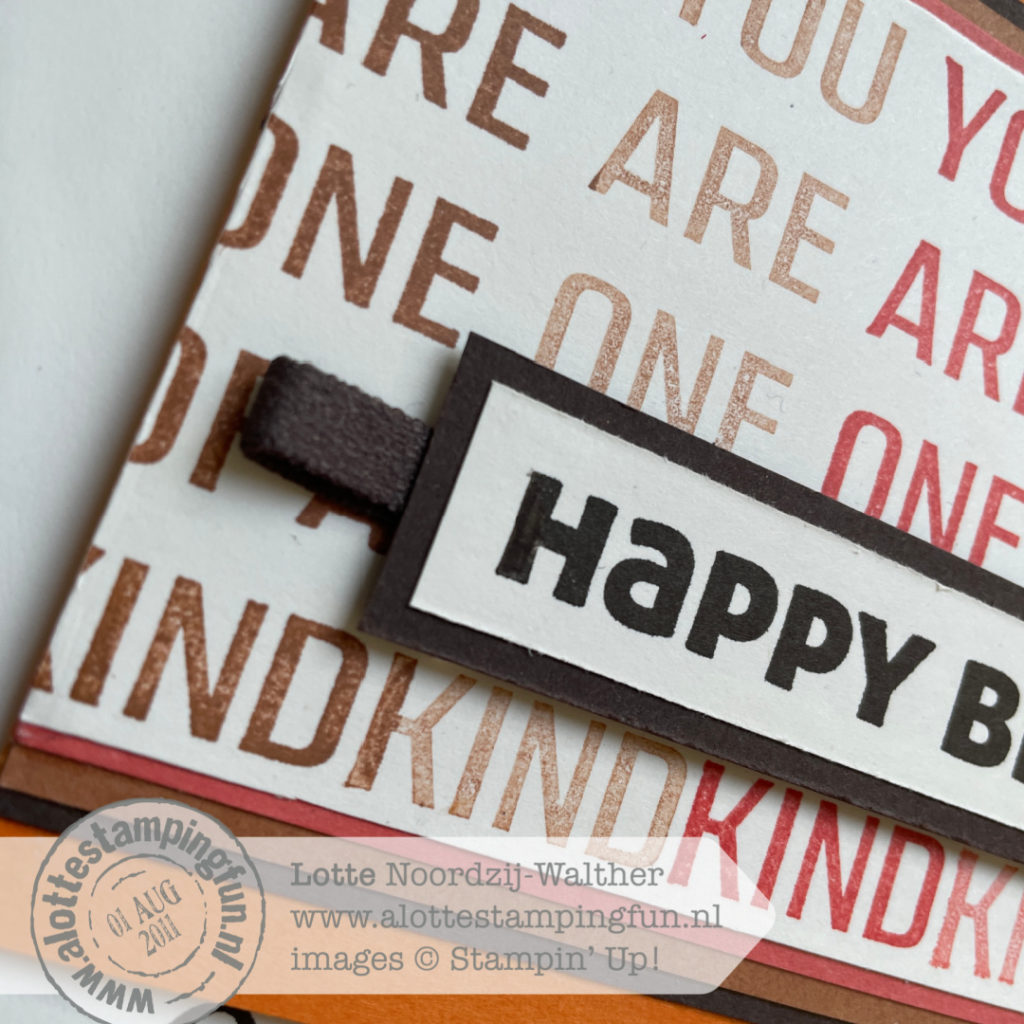 Lente kleuren
Voor de kaart met de lente trendkleuren namen we: Coastal Cabana, Highland Heather, Granny Apple Green (You are one of a Kind) en Gorgeous Grape (Happy Brightday)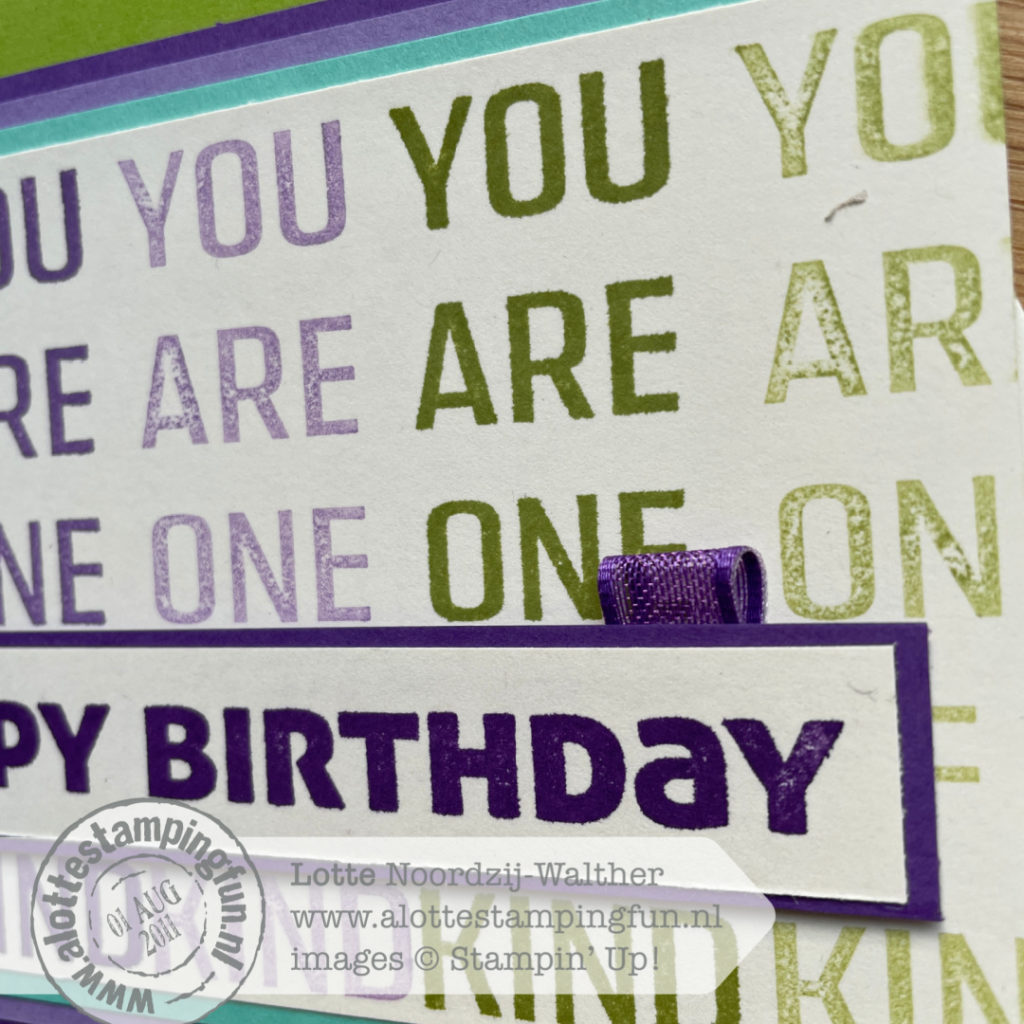 Werkwijze
Hoe je deze kaart zelf kunt maken met behulp van de Stamparatus kun je zien in de registratie van de Facebook live van 6 januari 2022. Door HIER of op onderstaande afbeelding te klikken ga je naar deze video op ons YouTube kanaal.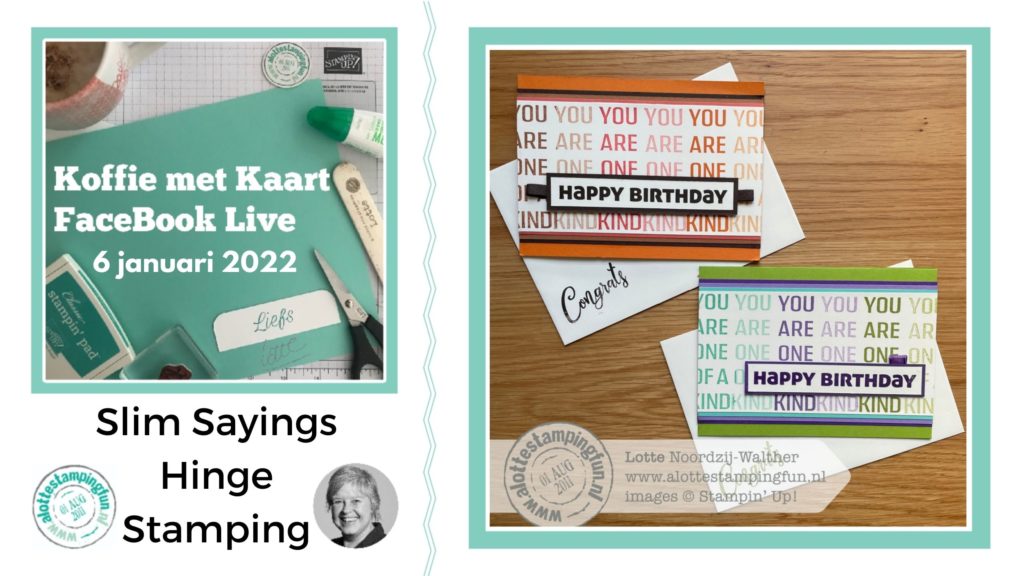 Iets bestellen?
Heb je iets nodig of heb je een product gezien dat je graag wilt hebben? Wij verzorgen graag je bestelling. Je kunt je bestelling emailen naar lotte@alottestampingfun.nl en wij zorgen ervoor dat het zo snel mogelijk bij je komt!
Lieve groetjes,

Product List
En deze producten gebruiken we altijd
Product List
| | | | | |
| --- | --- | --- | --- | --- |
| | | | | |
| | | | | |