Dear International Readers, Welcome to our Blog.
F or your own convenience please use the translate buttom on your right to select the language of your choice.
Thank you so much for stopping by
Welkom bij de Global Monthly Video Hop. Tijdens deze video hop inspireren een groot aantal Stampin' Up! demonstratrices je met projecten rondom een bepaald thema. Deze keer is dat FUN FOLD. Een kaart die dus anders vouwt dan een standaard kaart.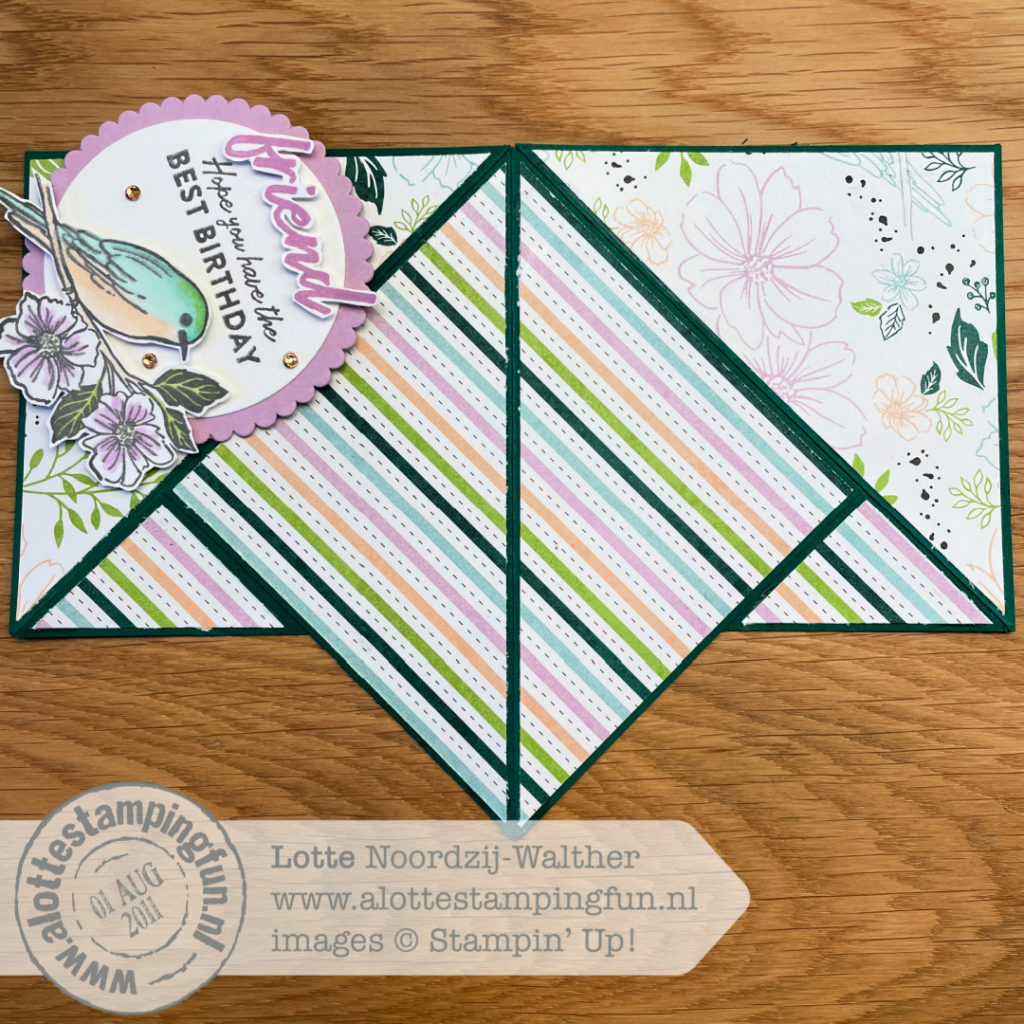 Teepee of piramidekaart
Wij maakten een Teepee of te wel piramide kaart. Een kaart die op zichzelf kan staan, maar ook weer heel gemakkelijk invouwt en in een normale envelop opsgestuurd kan worden.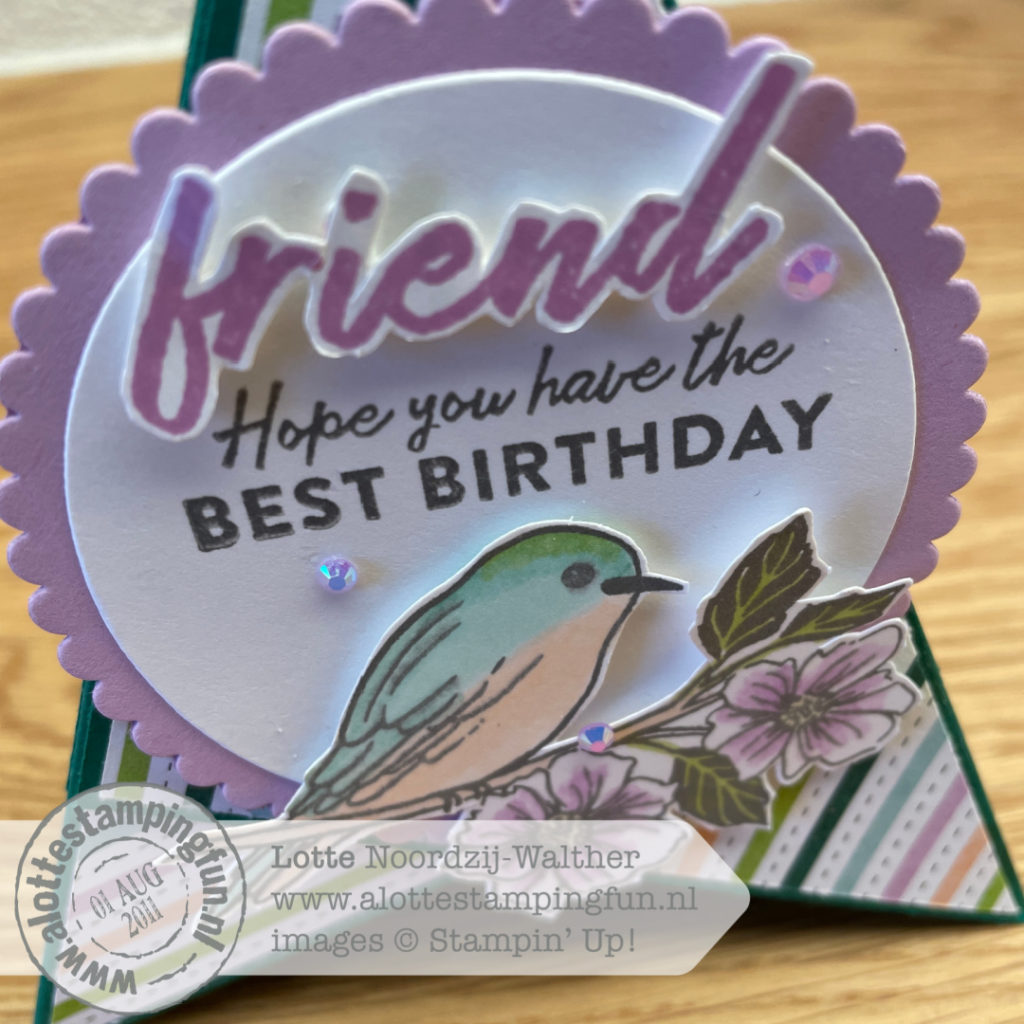 Friendly Hello
We gebruikten voor deze kaart de Friendly Hello stempelset met bijpassend designpapier die je tijdens de Sale-A-Bration actie (4 jan – 28 feb '22) gratis kunt toevoegen aan je bestellen wanneer je een bestelling plaatst van €120.
Hop door naar de anderen
Hieronder vind je de lijst met namen van de andere Stampin' Up! demonstratrices die mee doen aan de Global Monthly Video Hop. Door op de link achter hun naam te klikken word je vanzelf naar hun YouTube kanaal geleid. Met zijn allen inspireren we je om een keer aan de slag te gaan met een FunFold kaart. Dat kunnen ingewikkelde zijn of wat makkelijkere maar altijd met een WOW resultaat
Rachel Merrick – Australia – https://bit.ly/32yzkkj
Tracy Bish – Australia – https://bit.ly/3JmO3zu
Michelle Harper Critchley – New Zealand – https://bit.ly/3JryHti
Jean Piersanti – USA – https://bit.ly/3HsN52O
Jackie Bultje – Canada – https://bit.ly/3FYlYMu
Jennifer Ford – Canada – https://bit.ly/3mTok7R
Danielle Bennenk – The Netherlands – https://bit.ly/3sYjDO1
Lotte Noordzij-Walther – The Netherlands – https://bit.ly/32W0bXi hier ben je nu
Gesche Preißler – Germany – https://bit.ly/344RmLr
Cyrielle Marin – France – https://bit.ly/32KI3Qs
Eve van der Ploeg – Austria – https://bit.ly/3zsDTIW
Afmetingen
Basis van de kaart 3 vierkanten van 9,9 x 9,9 cm
DSP 3 vierkanten van 9,4 x 9,4 cm
En voor de "poot" een vierkant van 3,5 x 3,5 cm
Werkwijze
Een video hop zou een video hop niet zijn als er geen instructievideo bij is. KLIK HIER of op onderstaande afbeelding om de video te bekijken.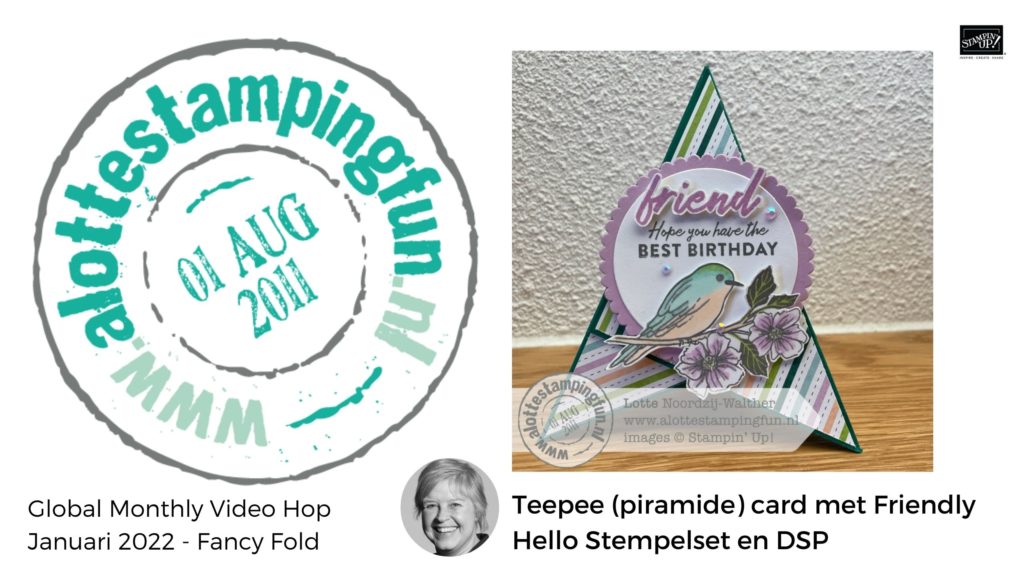 Iets bestellen?
Heb je iets nodig of heb je een product gezien dat je graag wilt hebben? Wij verzorgen graag je bestelling. Je kunt je bestelling emailen naar lotte@alottestampingfun.nl en wij zorgen ervoor dat het zo snel mogelijk bij je komt!
Lieve groetjes,

Dit zijn de producten die we voor dit project hebben gebruikt:
Product List

En deze producten gebruiken we altijd
Product List
| | | | | |
| --- | --- | --- | --- | --- |
| | | | | |
| | | | | |