Dear International Readers, Welcome to our Blog.
F or your own convenience please use the translate buttom on your right to select the language of your choice.
Thank you so much for stopping by

Wat leuk dat je langskomt vandaag. In deze post hoppen we met het Feel Good Stampin' Design Team rondom het thema Case je favoriete Artisan. Een Artisan is een demonstratrice die gedurende een jaar projecten voor Stampin' Up! mag maken en die worden dan geplaatst op de officiele Stampin' Up! social media pagina's. Elk jaar zijn er nieuwe demo's die worden uitgekozen uit de vele inzendingen.
Casen
C = copy – copieer
A = and – en
S = Share – deel
E = Everything – alles
Dat is soms heerlijk om te doen! Gewoon namaken wat al bedacht is. Natuurlijk geef je altijd wel je eigen draai er aan,
Stampwithbrenda – Brenda Nelson
Lotte is een enorme fan van de Canadese Artisan Brenda Nelson. En met name vanwege haar superleuke scrapbook pagina's. Het was dan ook niet lastig er een te vinden om te "casen"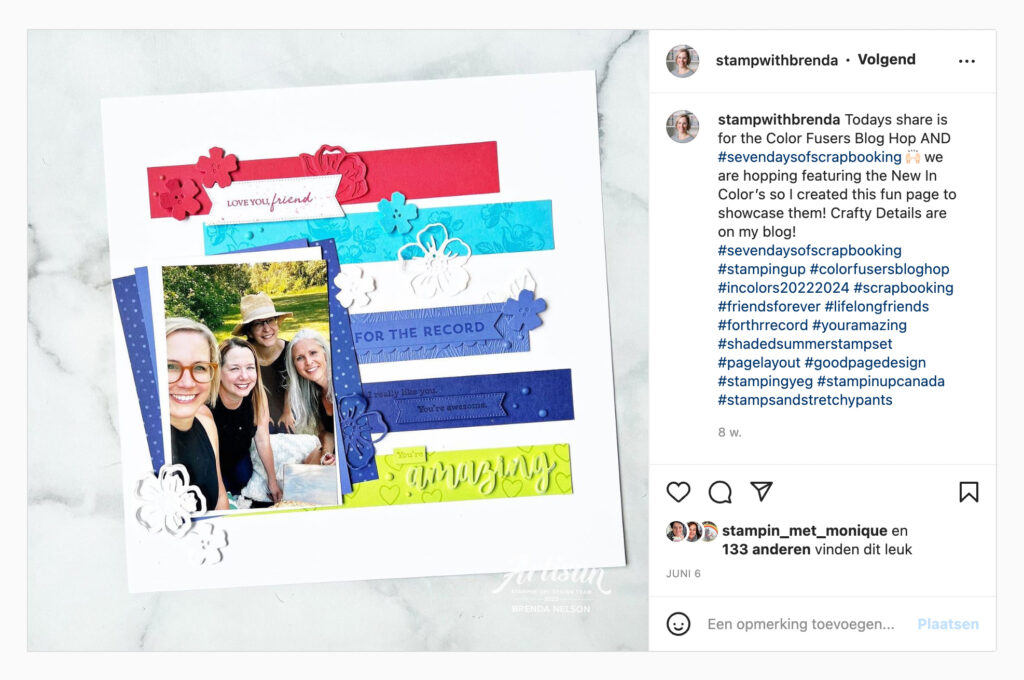 Felle kleuren en redelijk clean & simpel
Een superleuk pagina gemaakt met de Summer Shadow stansen en alle nieuwe 2022-2024 In Colors. De foto was snel gevonden en met een beetje verandering in de kleuren omdat die beter bij de foto pasten was de pagina zo gecased.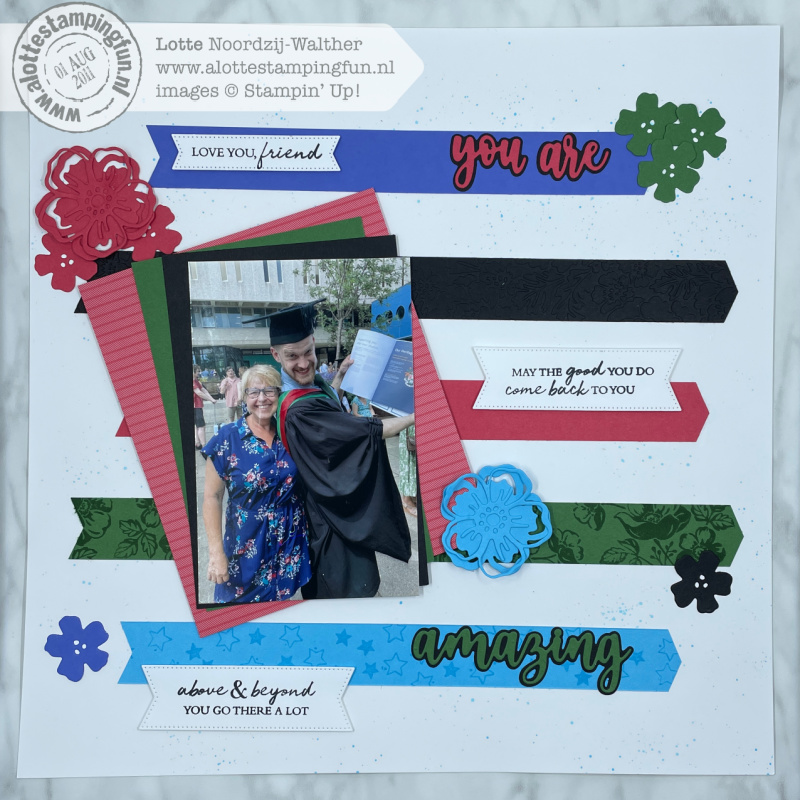 Werkwijze
Als je wilt weten hoe we deze scrapbookpagina hebben gecased, dan kun je de projectbeschrijving downloaden met daarin de maten en de video. Je kunt HIER klikken of op onderstaande afbeelding.

Hop door naar de anderen
Natuurlijk ben je net zo nieuwsgierig als wij wat de favoriete Artisan van onze collega's is en wat ze hebben gecased. Hieronder zie je de lijst. Klik op hun naam en je wordt vanzelf naar hun blog gebracht.
Iets bestellen?
Heb je iets nodig of heb je een product gezien dat je graag wilt hebben? Wij verzorgen graag je bestelling. Je kunt je bestelling emailen naar lotte@alottestampingfun.nl en wij zorgen ervoor dat het zo snel mogelijk bij je komt!
Lieve groetjes,

Dit zijn de producten die we voor dit project hebben gebruikt:
Product List

En deze producten gebruiken we altijd
Product List
| | | | | |
| --- | --- | --- | --- | --- |
| | | | | |
| | | | | |