Dear International Readers, Welcome to our Blog.
F or your own convenience please use the translate buttom on your right to select the language of your choice.
Thank you so much for stopping by!
Wat gezellig dat je komt kijken wat het Stempel, Inkt & Papier design team voor je in petto heeft in de maand oktober.
Stempel, Inkt & Papier is een creatief initiatief van drie Nederlandse Stampin'Up! Demonstratrices die elke maand een specifiek Stampin'Up! Product centraal zetten in een "Live" workshop programma. In dit programma bieden we ten minste 4 online workshops aan via Facebook Live in een besloten Facebook groep. Dit zijn dus "Live" workshops waarbij jij als kijker meteen met ons mee kan doen of later aan de slag kan gaan. Hoe je toegang kunt krijgen tot deze exclusieve workshops zie je in deze video
In deze bloghop willen we je vast inspireren voor de komende workshops in de maand oktober. Het thema is dan One Sheet Wonder. Daar kun je heel veel kanten mee op!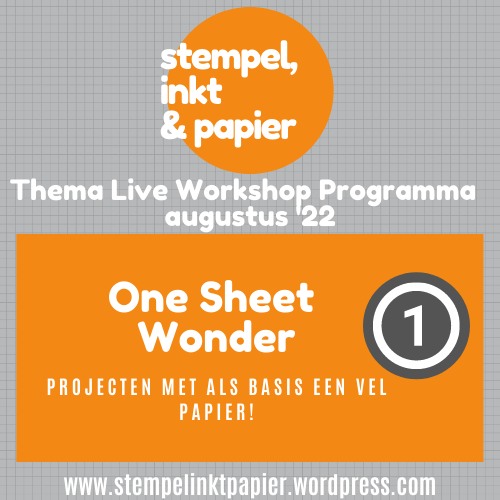 One Sheet Wonder ?
Een One Sheet Wonder is een manier waarop je een vel DSP op een bepaalde manier snijdt waardoor je er meerdere kaarten mee kunt maken. Voor deze bloghop hebben we een eenvoudige OWS voor zodat je alvast een beetje kunt wennen.
Het enige dat je nodig hebt is een vel van 6 x 6 inch of 15 x 15 cm en dat te snijden volgens DEZE WERKTEKENING Je krijgt dan 4 puntige stukken, die je dan weer heel goed kunt verwerken op kaarten. Wij gebruikten het Butterfly Kisses Designer Series Paper voor deze vrolijke kaarten.
De kaarten
Als basis namen we de White Note Cards & Envelops. Daarop pasten we de puntige stukken waardoor je kan bepalen of je een staande of liggende kaart wilt. Uit een ander vel van het Butterfly Kisses DSP knipten we de grote vlinders die als middelpunt op de kaart dienen. Onder de vlinder plaatsten we een cirkel gestanst met de Stylish Shape stansen in een van de bijpassende kleuren cardstock. Natuurlijk stempelden we de superleuke teksten uit de bijpassende Nederlandse stempels set Vlinderliefde op de kaart en kon een vlinder op de envelop en binnenzijde niet ontbreken!
Er zijn heel veel mogelijkheden met de One Sheet Wonder. Het is leuk om met de afmeting van het vel papier te spelen dat je wil "versnijden" en dan veel kaarten ermee te maken. Dat gaan we in oktober ook laten zien. Maar nu alvast een voorproefje. Hop vooral even door voor meer One Sheet Wonder inspiratie
Hop door naar de anderen
Iets bestellen?
Heb je iets nodig of heb je een product gezien dat je graag wilt hebben? Wij verzorgen graag je bestelling. Je kunt je bestelling emailen naar lotte@alottestampingfun.nl en wij zorgen ervoor dat het zo snel mogelijk bij je komt!
Lieve groetjes,

Dit zijn de producten die we voor dit project hebben gebruikt:
Product List
En deze producten gebruiken we altijd
Product List
| | | | | |
| --- | --- | --- | --- | --- |
| | | | | |
| | | | | |