Dear international readers.
Welcome to our blog, Please use the translate button up in the right hand corner to read this blog in your preferred language.

Mooi Verpakt
Het is zo leuk om een cadeautje te ontvangen wat mooi verpakt is. Dat is dan ook het thema van de Feel Good Stampin' Bloghop van deze maand. En weet je wat zo leuk is alle design team leden die mee hoppen zetten in hun bericht ook een projectbeschrijving zodat je er zelf ook mee aan de slag kunt. Nou dat is natuurlijk heel handig zo met de feestdagen voor de deur. Heel veel iinspiratie om cadeautjes leuk te verpakken.
Wat is er nou beter dan chocola?
Iedereen is wel gek op chocola. En dat is ook heel fijn te verpakken. We kwamen een "limited edition" van Toffifee tegen bij het Kruidvat en die vroeg om een mooie verpakking! We maakte een sleeve om de bestaande doos en voor het geval de doos gaat schuiven ook nog een mooi lint erom. Een toepasselijk label erop en je cadeautje is klaar om weg te geven!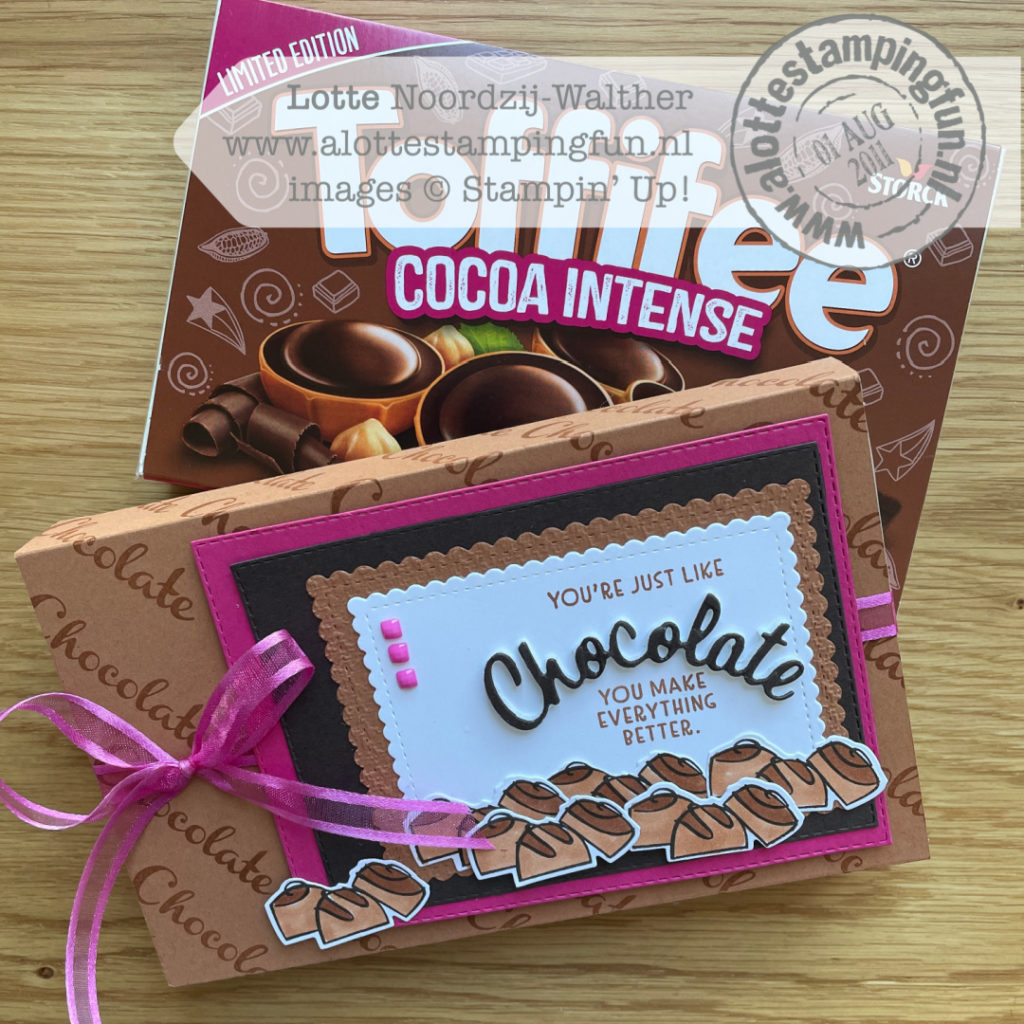 Werkwijze
We hebben allemaal een projectbeschrijving voor je gemaakt. Natuurlijk hebben wij dat ook gedaan. Je vindt in de beschrijving de afmetingen, de gebruikte producten en de link naar de video. Onze beschrijving kun je downloaden door hier te klikken of op onderstaande afbeelding.

Hop door naar de anderen
Ook de andere Feel Good Stampin' design team leden hebben iets uitgezocht wat ze mooi hebben verpakt. Ben jij ook zo nieuwsgierig wat hun keuze was? Klik dan op een van de namen hieronder en hop gezellig door tot je bij iedereen langs bent geweest.
Superleuk dat je langs kwam. We vinden het natuurlijk ook erg fijn als je een reactie wilt achterlaten
Lieve groetjes,

Dit zijn de producten die we voor dit project hebben gebruikt:
Product List
En deze producten gebruiken we altijd
Product List
| | | | | |
| --- | --- | --- | --- | --- |
| | | | | |
| | | | | |