Dear International Readers, Welcome to our Blog.
F or your own convenience please use the translate buttom on your right to select the language of your choice.
Thank you so much for stopping by!
Mannen kaarten niet altijd eenvoudig
Het is soms best lastig om mannenkaarten te maken. Maar zeker niet met het He's the Man Designer Series Paper. Daar zitten te leuke lasercuts in die je de focus kunt laten zijn. Als je er dan ook nog een fun fold van maakt, dan heb je echt een unieke kaart.
Makkelijke fun fold
Dit is echt een superleuke en gemakkelijke fun fold. Je haalt er 2 uit je A4. Het enige wat je hoeft te doen is aan weerszijden insnijden en de flapjes wegknippen. Hieronder vind je de afmetingen en een link naar de opgenomen facebook live.
Afmetingen
Basiskaart:
29 x 10,5 cm – 29 cm rillen op 14,5 cm
14,5 cm aan weerszijde op 2,5 insnijden tot rillijn – flapjes wegknippen
Matjes binnenzijde:
CS: 14 x 10 cm
DSP: 2 * 13,5 x 2,5 cm
Very Vanilla: 13,5 x 4,5 cm
Matjes bovenop:
CS: 14 x 5 cm
DSP: 13,5 x 4,5 cm
Werkwijze
Lotte heeft deze kaart tijdens de Facebook live van 9 maart uitgelegd. Deze staat op ons YouTube kanaal en kun je bekijken door HIER te klikken of op onderstaande afbeelding.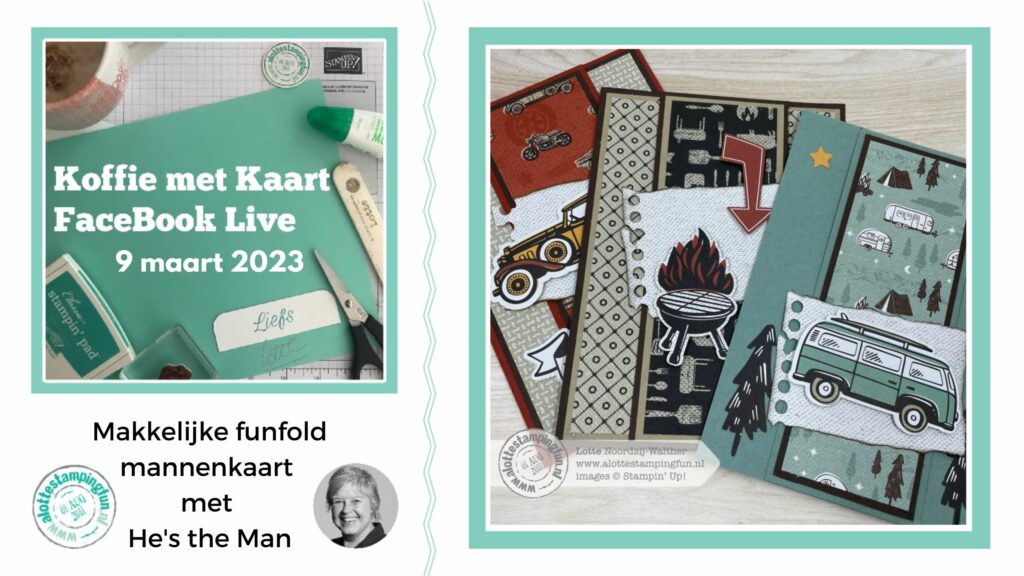 Iets bestellen?
Heb je iets nodig of heb je een product gezien dat je graag wilt hebben? Wij verzorgen graag je bestelling. Je kunt je bestelling emailen naar lotte@alottestampingfun.nl en wij zorgen ervoor dat het zo snel mogelijk bij je komt!
Lieve groetjes,

Dit zijn de producten die we voor dit project hebben gebruikt:
Product List
En deze producten gebruiken we altijd
Product List
| | | | | |
| --- | --- | --- | --- | --- |
| | | | | |
| | | | | |