Dear International Readers, Welcome to our Blog.
F or your own convenience please use the translate buttom on your right to select the language of your choice.
Thank you so much for stopping by!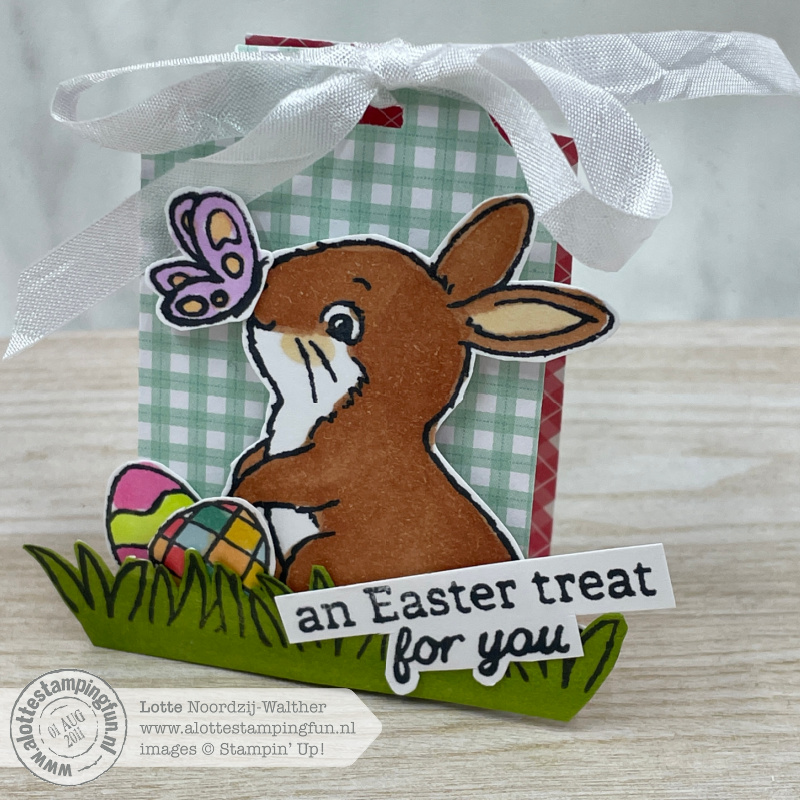 Zo schattig!
We zijn allebei smoorverliefd op die schattige konijntjes van de Easter Bunny stempelset. Je kunt er zulke leuke dingen mee maken! Deze keer maakten we een verpakking voor de mini Lindt chocolade haasjes. Hoe leuk om dit op het bord te zetten tijdens de Paasdagen.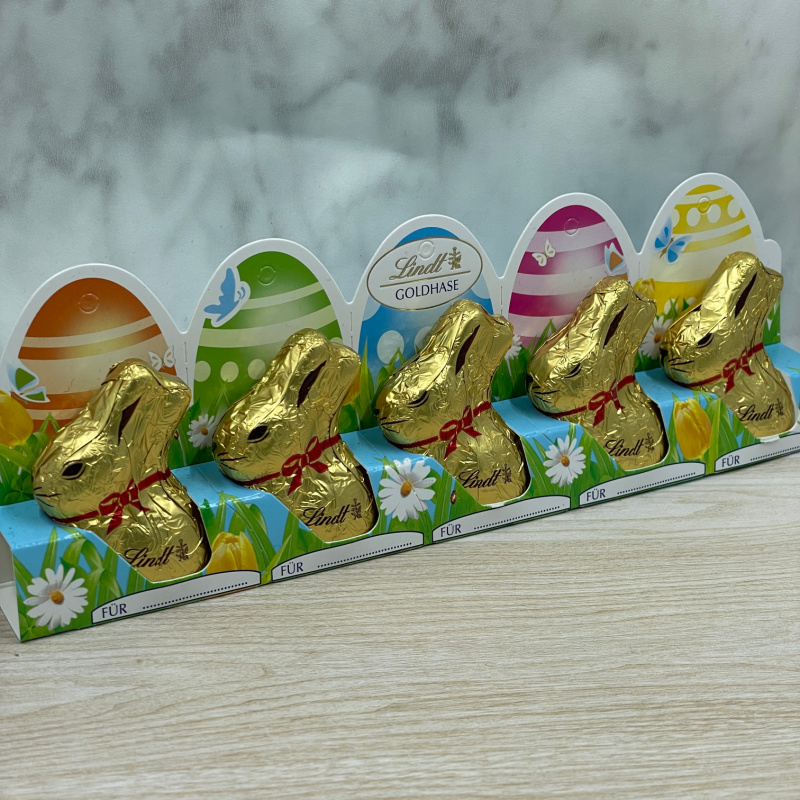 De haasjes
Wij kochten de Lindt mini haasjes in een verpakking van 5 stuks bij de Albert Heijn. Mocht je er een overhouden dan kun je die natuurlijk altijd zelf opeten. Je moet tenslotte proeven wat je weggeeft toch? We hebben het haasje uit de verpakking gehaald en in een nieuwe verpakking gestopt. Hij past precies!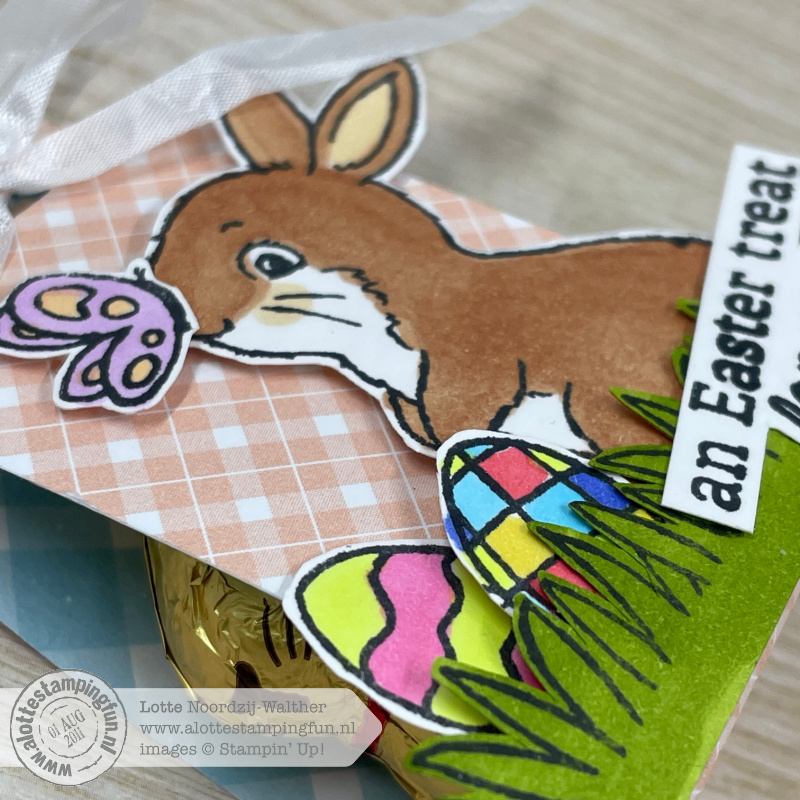 Verschillende kleuren
Wanneer je het leuke Country Gingham Designer Series Papier gebruikt voor de basis kun je ze maken in verschillende kleuren. Vooral de zachte tinten Mint Macaron, Balmy Blue en Petal Pink geven er een extra voorjaars tintje aan.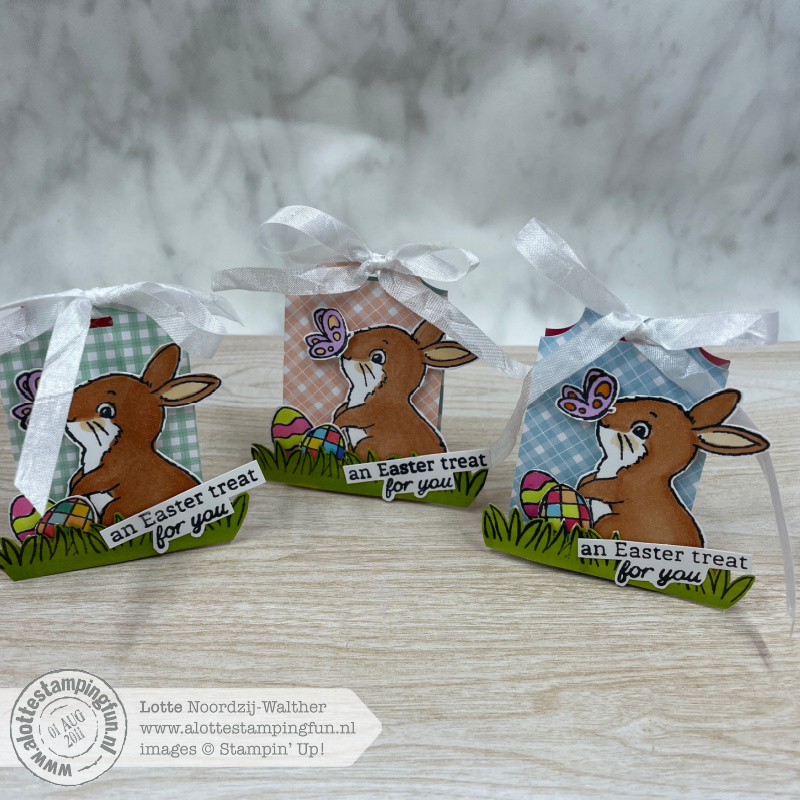 Afmetingen
Basis: DSP: 4 x 15,2 cm ril 15,2 cm op 6,5 cm aan weerszijden.
Dan de uiteinden ponsen met de Essential Tag pons.
Werkwijze
In de Facebook live van 16 februari laat Lotte zien hoe je de verpakking maakt. De video staat inmiddels op ons YouTube kanaal en door HIER of op onderstaande afbeelding te klikken wordt je daar naar toegebracht.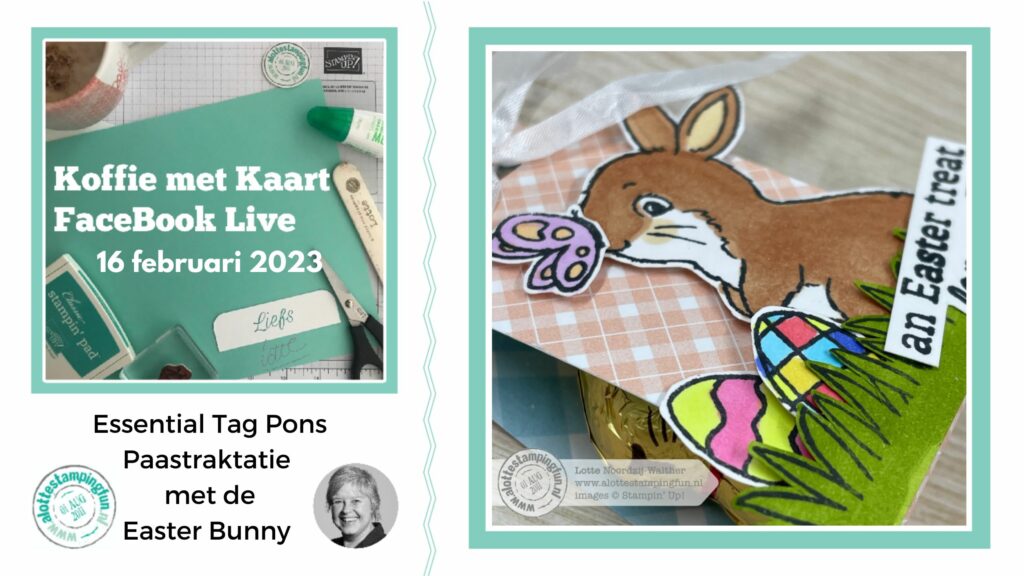 Iets bestellen?
Heb je iets nodig of heb je een product gezien dat je graag wilt hebben? Wij verzorgen graag je bestelling. Je kunt je bestelling emailen naar lotte@alottestampingfun.nl en wij zorgen ervoor dat het zo snel mogelijk bij je komt!
Lieve groetjes,

Dit zijn de producten die we voor dit project hebben gebruikt:
Product List
En deze producten gebruiken we altijd
Product List
| | | | | |
| --- | --- | --- | --- | --- |
| | | | | |
| | | | | |