Dear international readers, welcome to our blog. Please use the translate button in the right top corner of this page to have this post translated in the language of your choice.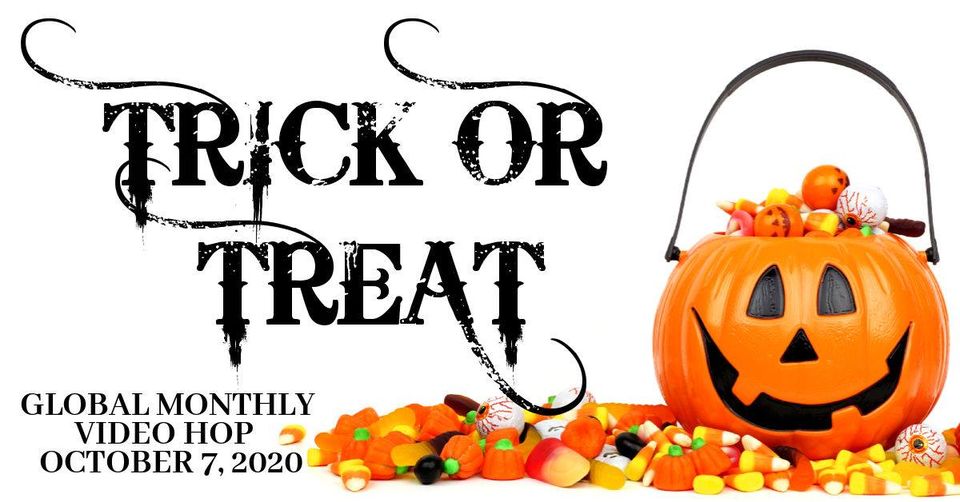 Wat leuk dat je ons blog bezoekt. Vandaag doen we mee met de Global Monthly Video Hop – een aantal Stampin' Up demonstratrices van over de hele wereld geven je via videos allerlei inspiratie. Deze maand is het thema Trick or Treat.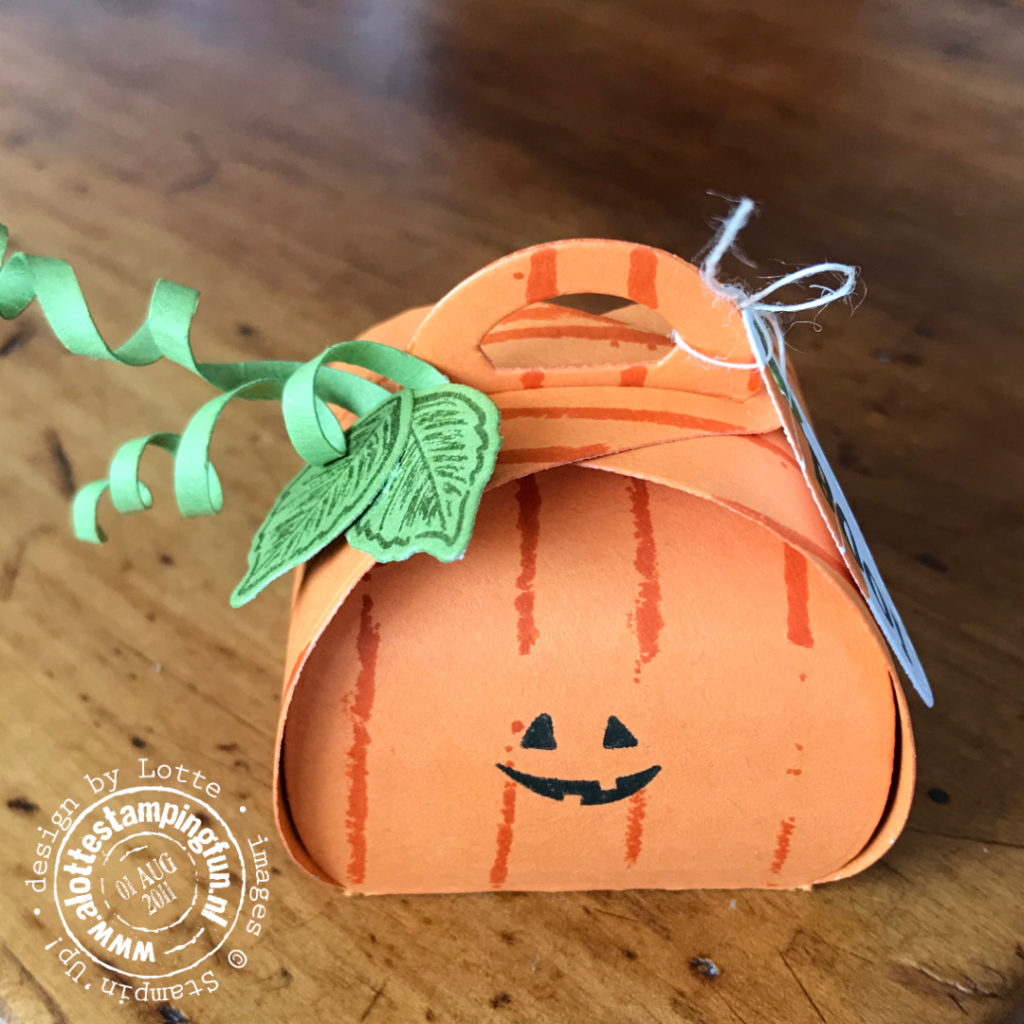 Wat is er nu leuker dan de kinderen die tijdens Halloween bij je aan de deur komen iets leuks te geven. Dit schattige doosje is heel makkelijk en snel te maken met behulp van de Mini Curvy Keepsake Box dies.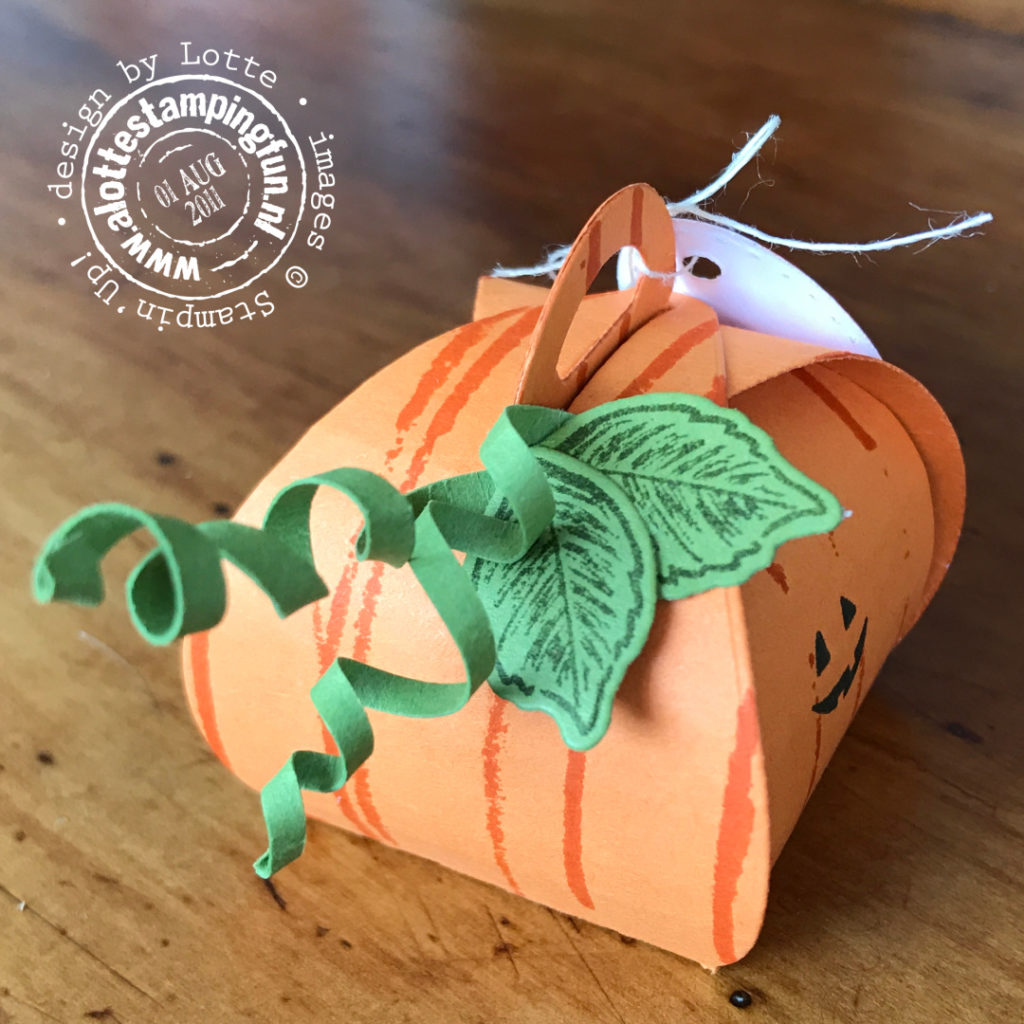 De basis van het doosje stans je in een keer uit. Ook nog eens een snel projectje dus 🙂 Voor de blaadjes op het doosje gebruikten we de 2 kleine blaadjes uit de stempelset Bijzondere Zonnebloemen en daarna zijn deze uitgestanst met de Sunflower dies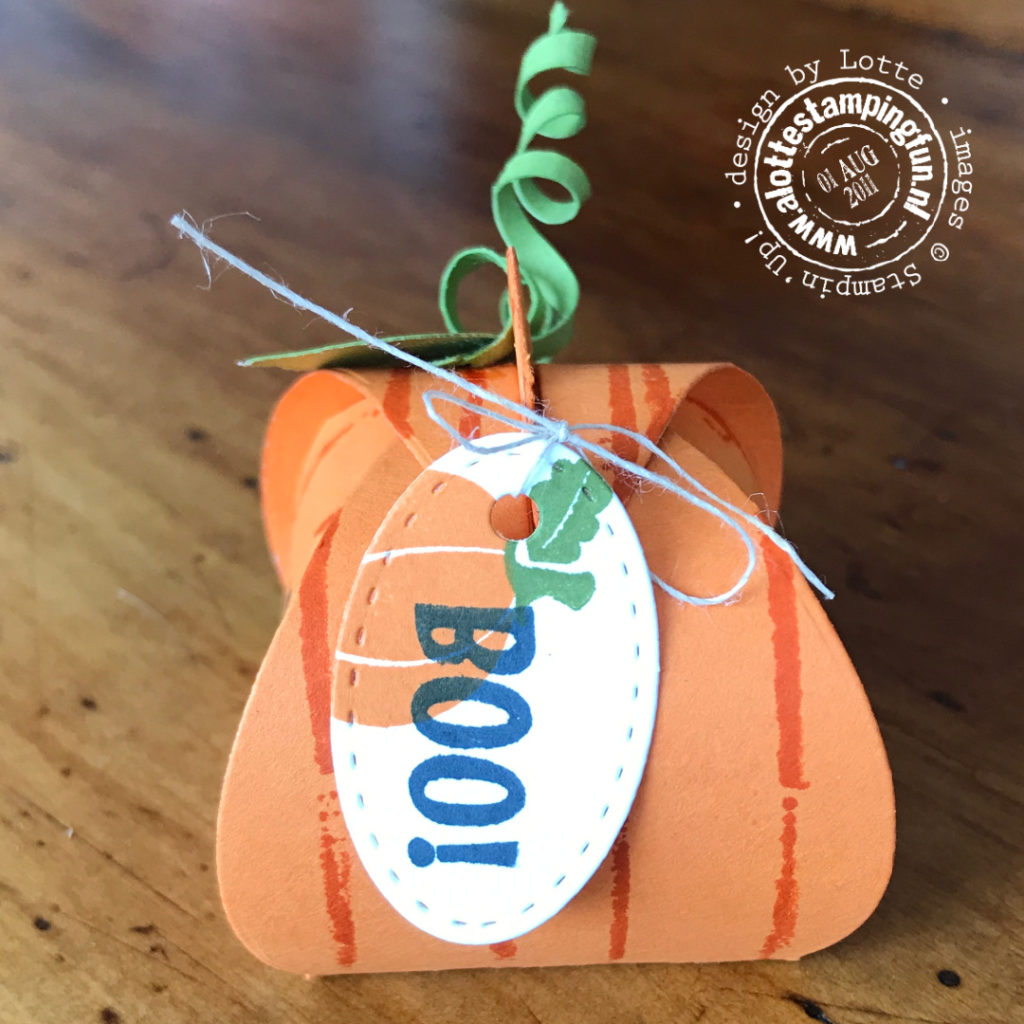 Het gezichtje, de tekst en pompoen zijn gestempeld met de stempels uit de Banner Year stempelset – een set boordvol superleuke kleine stempeltjes voor heel veel verschillende gelegenheden
Werkwijze
Hieronder legt Lotte in de video uit hoe je dit leuke doosje maakt. Het is in het Engels, maar heel duidelijk te volgen hoor 🙂
Nog meer inspiratie?
Komt je al een beetje in de sfeer ? Voor nog meer leuke Trick or Treat projecten kun je doorhoppen naar onze collega's ook zij hebben weer video's gemaakt met allerlei leuke projecten:
Tricia Smith, Smiths Crafty Creations Scotland https://youtu.be/KfaS3b7ZQOQ
Diane Hutchinson – Crafts by the bow, Canada https://youtu.be/O3dpZ8E-YUI
Gesche Preißler, Geschtempet Germany – https://youtu.be/tF66pRHlsUw
Emilie Panis, Sweetie Crafty – France – https://youtu.be/7F22txdDWYg
Tracy Bish, Australia – https://youtu.be/m9OA9vKni_s
Alle materialen die zijn gebruikt, staan onderaan dit blog vermeld. Mocht je iets in je voorraad missen of een aanvulling willen, wij verzorgen graag je bestelling. Stuur ons een email (lotte@alottestampingfun.nl) met je wensen en dan komt het dik voor elkaar.
Lieve groetjes van
Dit zijn de producten die we voor dit project hebben gebruikt:

Product List
| | | | |
| --- | --- | --- | --- |
| | | | |
| | | | |
| | | | |
En deze producten gebruiken we altijd
Product List
| | | | | |
| --- | --- | --- | --- | --- |
| | | | | |
| | | | | |