Dear international readers.
Welcome to our blog, Please use the translate button up in the right hand corner to read this blog in your preferred language.
We kunnen er maar geen genoeg van krijgen van de Paper Pumpkin Box of Sunshine. Daarom heeft deze een centrale rol tijdens de laatste Koffie met Kaart van de maand.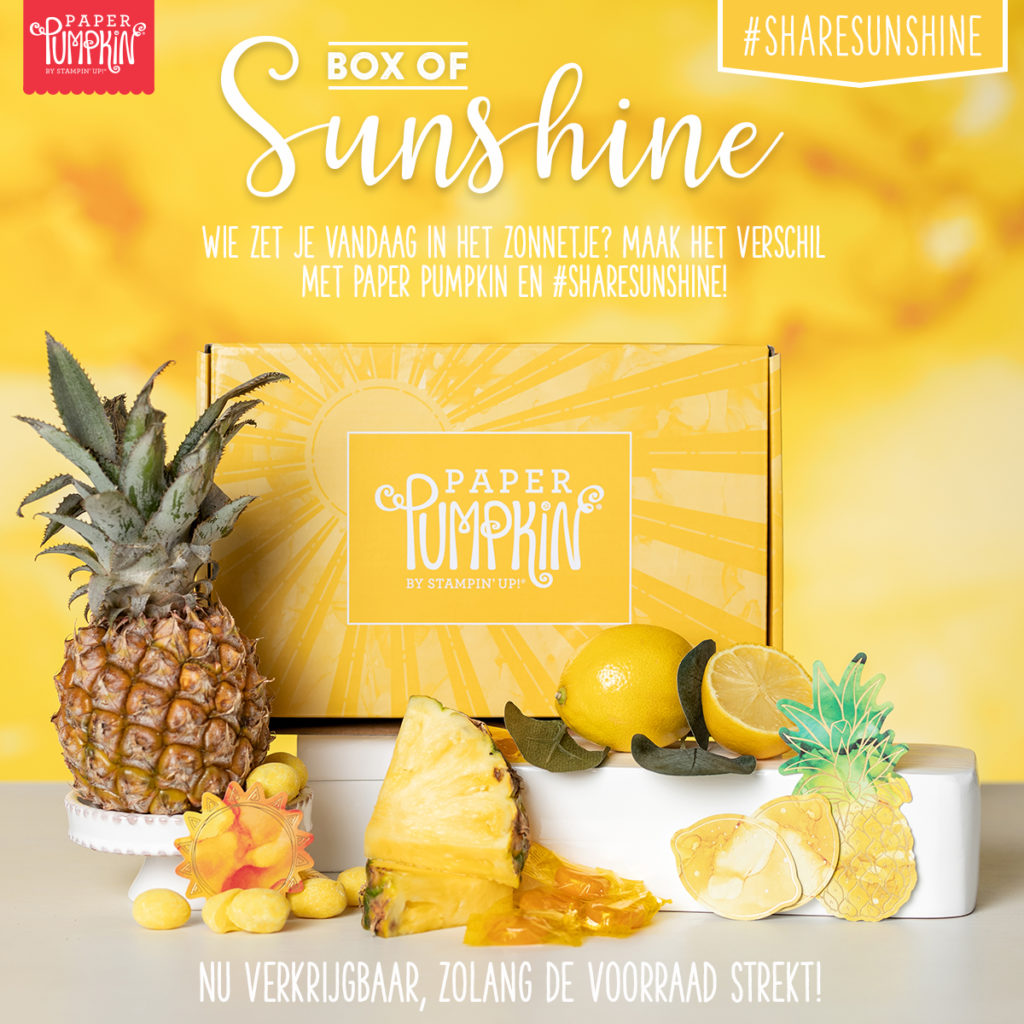 Wat is Paper Pumpkin eigenlijk vraag je je misschien af. Hier alles je er alles over. Bovendien lees je ook de superleuke aanbieding die wij hebben wanneer je de Paper Pumpkin Box of Sunshine bij ons aanschaft. Let op! De Box of Sunshine is verkrijgbaar zolang de voorraad strekt.
Omdat het de laatste donderdag van de maand is, maken we geen kaart maar een doosje. Door een Mini Paper Pumpkin doosje te bewerken met de Sponge Brayers en Sponge Daubers krijg je de zonnige achtergrond. Met de materialen uit de Box of Sunshine versier je dan de voorzijde. Als je dit doosje weggeeft breng je doosje vol met zonneschijn!
Afmetingen
Basisdoosje: Mini Paper Pumpkin Box
Materialen uit de Paper Pumpkin Box of Sunshine
Werkwijze
In de onderstaande registratie van de Facebook live van donderdagavond 24 september 2020 laat Lotte je zie hoe je dit leuke doosje heel gemakkelijk zelf maakt.


Iets bestellen?
Alle materialen die zijn gebruikt, staan onderaan dit blog vermeld. Mocht je iets in je voorraad missen of een aanvulling willen, wij verzorgen graag je bestelling. Stuur ons een email (lotte@alottestampingfun.nl) met je wensen en dan komt het dik voor elkaar.
Lieve groetjes van
Dit zijn de producten die we voor dit project hebben gebruikt:
Product List
En deze producten gebruiken we altijd:
Product List
| | | | | |
| --- | --- | --- | --- | --- |
| | | | | |
| | | | | |