Dear International Readers, Welcome to our Blog.
F or your own convenience please use the translate buttom on your right to select the language of your choice.
Thank you so much for stopping by!

Het thema van de maand juni van de Feel Good Stampin' Bloghop is Heel mijn Hart. Wij zijn een groep van Nederlandse Stampin' Up! Demonstrators die samen zijn gekomen om je te inspireren en je met onze Stampin' Up! projecten een goed (Feel Good) gevoel te geven.
Veel hartjes
Wist je dat er in de Give it a Whirl stans set maar liefst 4 verschillende maten hartjes zitten. Wij gebruiken voor onze kaart de 3 kleinste. En we gebruiken maar heel weinig kleur waardoor de kaart een hele clean en simple look krijgt. Door echter met verschillende hoogtes te werken krijgt de kaart net dat extraatje WOW!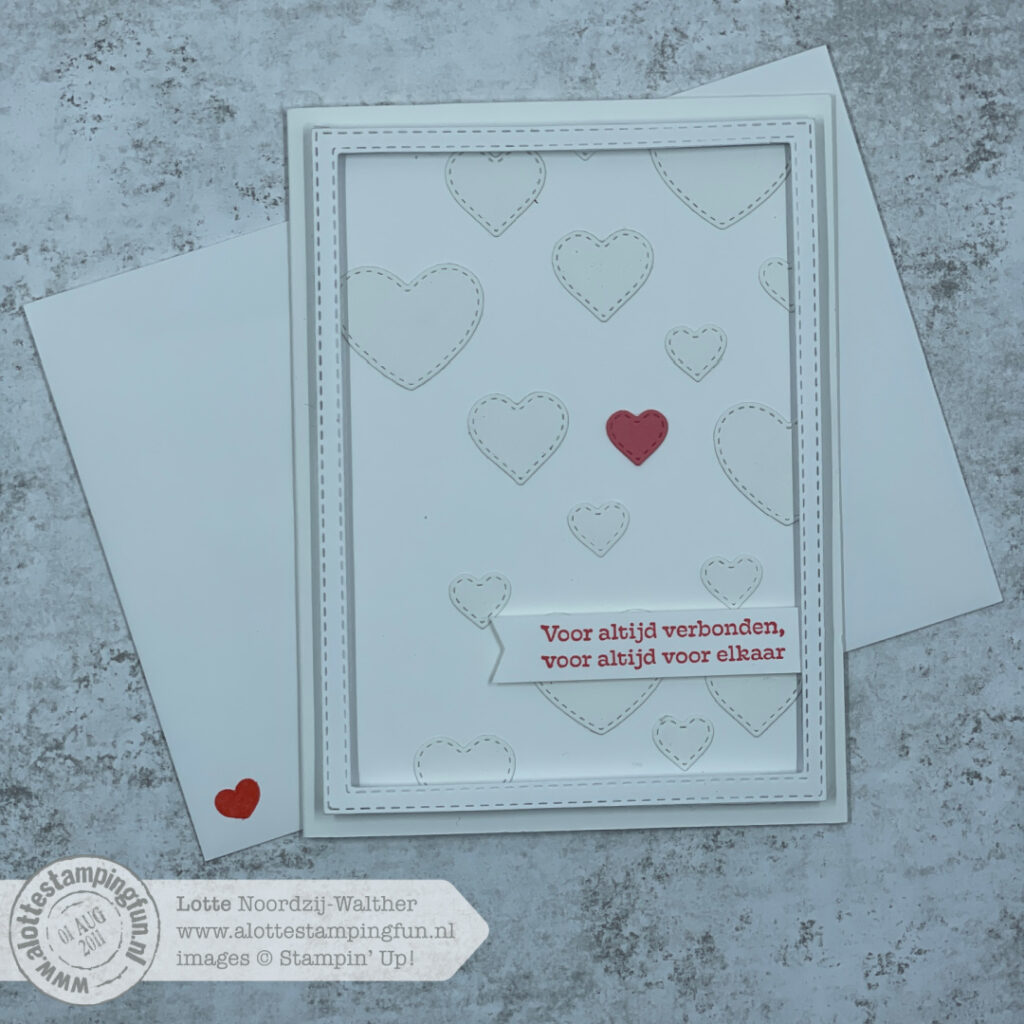 Werkwijze
Wi je deze kaart ook maken? Dan kun je HIER of op onderstaande afbeelding klikken om de projectbeschrijving te downloaden. Daar staat ook de link naar de video in die we hebben gemaakt voor je.

Hop door naar de anderen
Natuurlijk hebben de andere leden van het Feel Good Stampin' Design Team ook weer mooie projecten voor je gemaakt rondom het thema Heel je Hart. Door op de naam onder die van ons te klikken kom je vanzelf bij onze volgende collega terecht. Vergeet je niet te vertellen wat je van onze inspiratie vind? Dat vinden we echt hartstikke leuk!
Iets bestellen?
Heb je iets nodig of heb je een product gezien dat je graag wilt hebben? Wij verzorgen graag je bestelling. Je kunt je bestelling emailen naar lotte@alottestampingfun.nl en wij zorgen ervoor dat het zo snel mogelijk bij je komt!
Lieve groetjes,

Dit zijn de producten die we voor dit project hebben gebruikt:
Product List
En deze producten gebruiken we altijd
Product List

| | | | | |
| --- | --- | --- | --- | --- |
| Paper Trimmer [152392] € 31,00 | Paper Snips [103579] € 13,50 | Stampin' Pierce Mat [126199] € 6,25 | Take Your Pick [144107] € 12,25 | Stampin' Cut & Emboss Machine [149653] € 152,00 |
| Multipurpose Liquid Glue [110755] € 5,00 | Stampin' Dimensionals [104430] € 5,25 | Mini Stampin' Dimensionals [144108] € 5,25 | Tear & Tape Adhesive [138995] € 8,50 | Mini Glue Dots [103683] € 6,50 |
Product List
| | | | | |
| --- | --- | --- | --- | --- |
| | | | | |
| | | | | |