Dear International Readers, Welcome to our Blog.
F or your own convenience please use the translate buttom on your right to select the language of your choice.
Thank you so much for stopping by!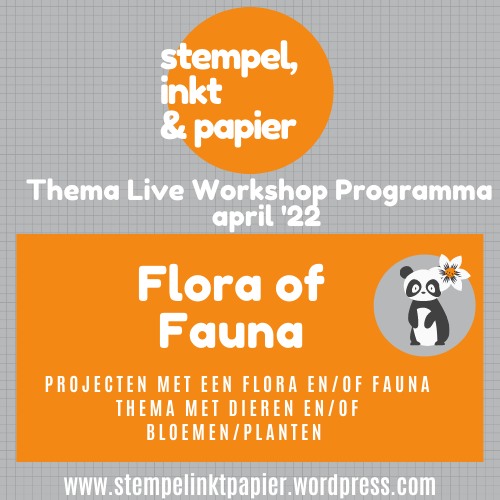 Stempel, Inkt & Papier is een creatief initiatief  van drie Nederlandse Stampin'Up! Demonstratrices die elke maand een specifiek Stampin'Up! Product centraal zetten in een "Live" workshop programma. In dit programma bieden we ten minste 4 online workshops aan via Facebook Live in een besloten Facebook groep. Dit zijn dus "Live" workshops waarbij jij als kijker meteen met ons mee kan doen of later aan de slag kan gaan.
Flora of Fauna
In de maand april wanneer we de live workshops geven kunnen we kiezen of we met flora of fauna willen gaan werken. Of te wel bloemetjes of beestjes. Voor deze bloghop waarin we je vast een voorproefje geven voor wat je in april te wachten staat kozen wij voor Fauna. We zijn aan de slag gegaan met de Happy Hedgehogs stempelset. Bij de stempelset is ook een bijpassende pons verkrijgbaar maar die hebben deze keer niet voor onze kaart gebruikt.
Fauna met toch ook Flora …
In de stempelset zit ook een prachtige tak met kleine bloemetjes dus wij combineren de twee thema's op een kaart. Voor de basiskaart hebben we een notecard & envelop genomen. Daarop een mat gesneden en toen zijn we de compositie gaan maken.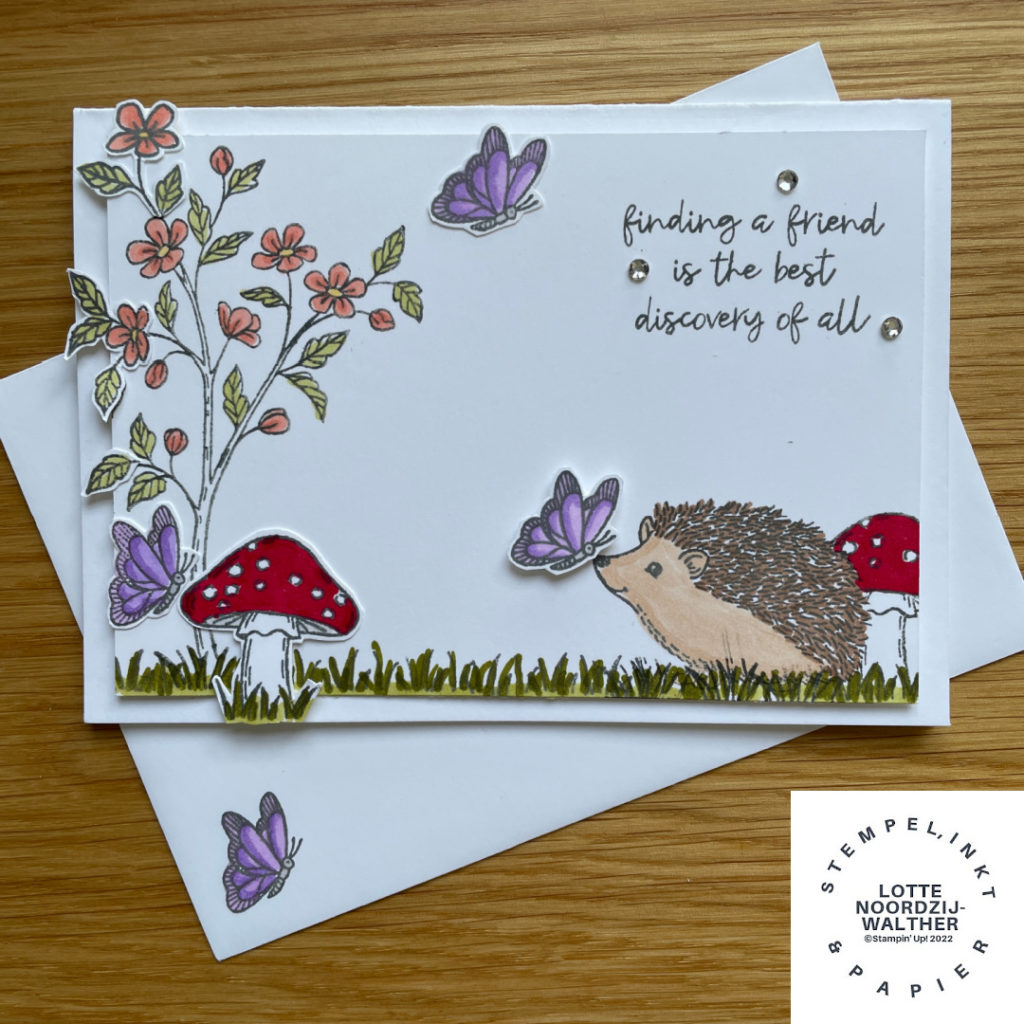 Overhangende elementen
Omdat we het bij de tak zonde vonden wanneer de bloemen en blaadjes hard zouden worden afgesneden, hebben we de bloemen aan de rand nogmaals op een stukje scrap gestempeld en daarna uitgeknipt en opgeplakt en dus over de rand laten hangen. Dat geeft een mooi effect aan het geheel. Uiteraard hebben we er wel op gelet dat de kaart nog wel in envelop past.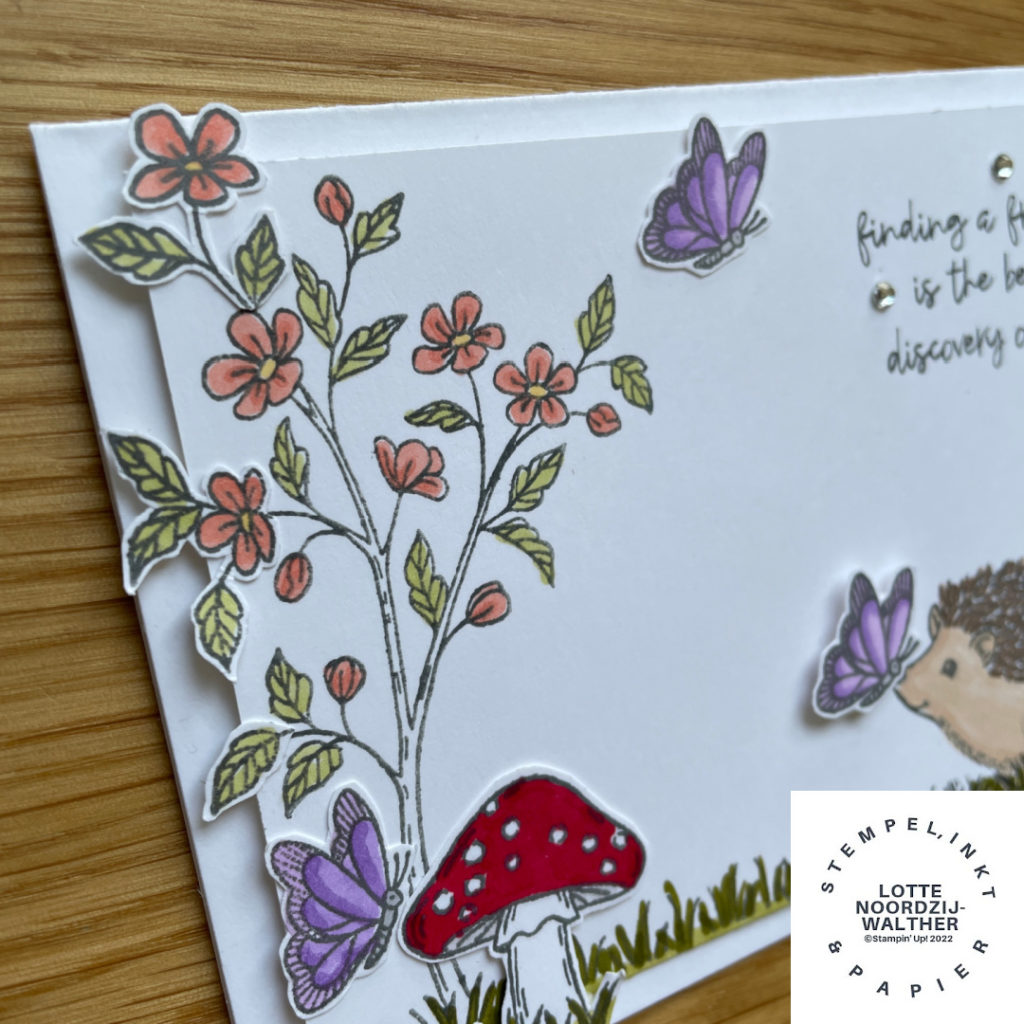 Lekker kleuren
Kleuren is een rustgevende bezigheid, je wordt er lekker "zen" van. Voor het kleuren van de stekels hebben we steeds de hele kleine streepjes op de rug gevolgd. Daardoor blijft het geheel wat open en lijkt het net of de egel echte stekels heeft. De door ons gebruikte kleuren zijn:
Bronze – stekels egel
Ivory – lijf egel
Real Read dark – paddestoel hoed
Calypso Coral light & dark – bloemetjes
So Saffron light – hart bloemetjes
Old Olive light – blaadjes en bodem
Old Olive dark – gras
Gray Granite light – sporen in paddestoel en lijfje vlinder
Highland Hearther light & dark – vleugels vlinder
Hop door naar de anderen
Natuurlijk hebben onze collega's Danielle en Sandra ook weer leuke projecten voor je gemaakt. Ben jij ook zo benieuwd naar hun eindresultaat klik dan hieronder op hun naam en je wordt vanzelf naar hun blog geleid.
Iets bestellen?
Heb je iets nodig of heb je een product gezien dat je graag wilt hebben? Wij verzorgen graag je bestelling. Je kunt je bestelling emailen naar lotte@alottestampingfun.nl en wij zorgen ervoor dat het zo snel mogelijk bij je komt!
Lieve groetjes,

Dit zijn de producten die we voor dit project hebben gebruikt:
Product List
En deze producten gebruiken we altijd
Product List

| | | | | |
| --- | --- | --- | --- | --- |
| Paper Trimmer [152392] € 31,00 | Paper Snips [103579] € 13,50 | Stampin' Pierce Mat [126199] € 6,25 | Take Your Pick [144107] € 12,25 | Stampin' Cut & Emboss Machine [149653] € 152,00 |
| Multipurpose Liquid Glue [110755] € 5,00 | Stampin' Dimensionals [104430] € 5,25 | Mini Stampin' Dimensionals [144108] € 5,25 | Tear & Tape Adhesive [138995] € 8,50 | Mini Glue Dots [103683] € 6,50 |
Product List
| | | | | |
| --- | --- | --- | --- | --- |
| | | | | |
| | | | | |