Dear International Readers, Welcome to our Blog.
F or your own convenience please use the translate buttom on your right to select the language of your choice.
Thank you so much for stopping by!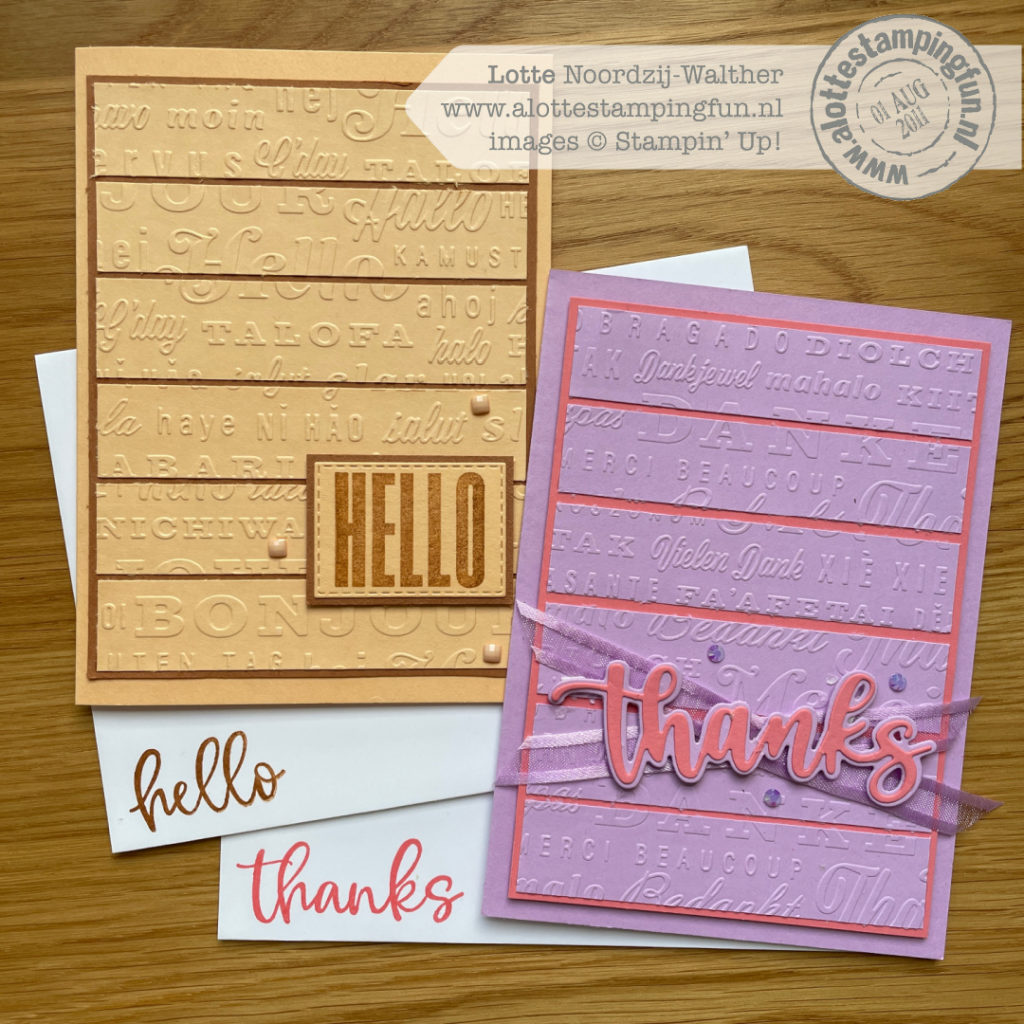 Het is weer tijd voor de bloghop van het Feel Good Stampin' Design team. Dit Design Team bestaat uit een aantal Nederlandse Stampin' Up! demonstratrices die je graag maandelijks willen inspireren rondom een bepaald thema, Deze maand is het thema Textuur & Structuur.
Wat is nu eigenlijk textuur en structuur?
Ook wij moesten ons daar even in verdiepen, maar zijn er achter (google is je beste vriend!)
Textuur en structuur worden vaak door elkaar gehaald. Structuur is hoe iets is opgebouwd, textuur hoe het voelt.
Nou weer wat geleerd. En met die wetenschap zijn we aan de slag gegaan.
Textuur en structuur
Voor de textuur van de kaarten hebben we de Thanks & Hello embossing folders gebruikt. Voor de structuur reepjes en rechthoeken.
Werkwijze
Alle leden van het Feel Good Stampin' Design team maken een project beschrijving van hun project. KLIK HIER om de PDF met alle gegevens van deze textuur en structuur kaarten te downloaden of op onderstaande link. In de projectbeschrijving vind je ook de link naar de video die we hebben gemaakt.

Hop door naar de anderen
Alle andere design team leden hebben natuurlijk weer een leuk project voor je gemaakt met het thema Textuur en Structuur. Dus ga er even lekker voor zitten en hop het rijtje langs. We vinden het natuurlijk erg leuk wanneer je de moeite neemt een commentaar te plaatsen.
Iets bestellen?
Heb je iets nodig of heb je een product gezien dat je graag wilt hebben? Wij verzorgen graag je bestelling. Je kunt je bestelling emailen naar lotte@alottestampingfun.nl en wij zorgen ervoor dat het zo snel mogelijk bij je komt!
Lieve groetjes,

Dit zijn de producten die we voor dit project hebben gebruikt:
Product List

En deze producten gebruiken we altijd
Product List

| | | | | |
| --- | --- | --- | --- | --- |
| Paper Trimmer [152392] € 31,00 | Paper Snips [103579] € 13,50 | Stampin' Pierce Mat [126199] € 6,25 | Take Your Pick [144107] € 12,25 | Stampin' Cut & Emboss Machine [149653] € 152,00 |
| Multipurpose Liquid Glue [110755] € 5,00 | Stampin' Dimensionals [104430] € 5,25 | Mini Stampin' Dimensionals [144108] € 5,25 | Tear & Tape Adhesive [138995] € 8,50 | Mini Glue Dots [103683] € 6,50 |
Product List
| | | | | |
| --- | --- | --- | --- | --- |
| | | | | |
| | | | | |