Dear International Readers, Welcome to our Blog.
F or your own convenience please use the translate buttom on your right to select the language of your choice.
Thank you so much for stopping by
Van simpel naar alles uit de kast
Maakten we begin deze maand een kaartsetje met de Hemelse Hortensia's volgens het "Simple Stamping" principe is het nu tijd voor een "over the top" kaart met dezelfde set. We hebben dan ook alles uit de kast gehaald.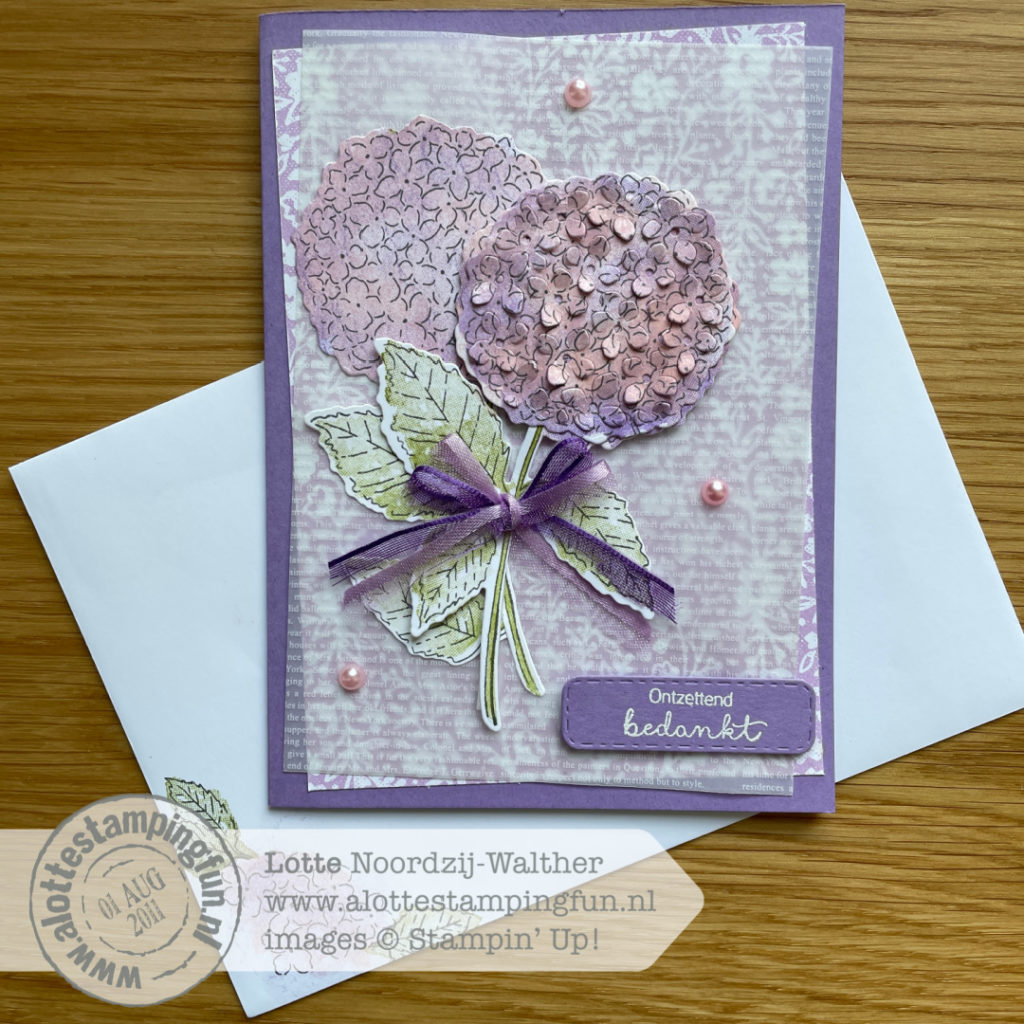 Alles uit de kast
We hebben bijna alles gebruikt wat je dan ook maar kunt gebruiken:
stansen, lint, sponge daubers, vellum, designer papier, embossingpoeder en embellisments. Het zit er allemaal op!
Is het te veel voor je en hou je meer van simpel of ben je een beginner en heb je nog niet alles in huis? Kijk dan nog even naar de Simpel Stamping versie HIER.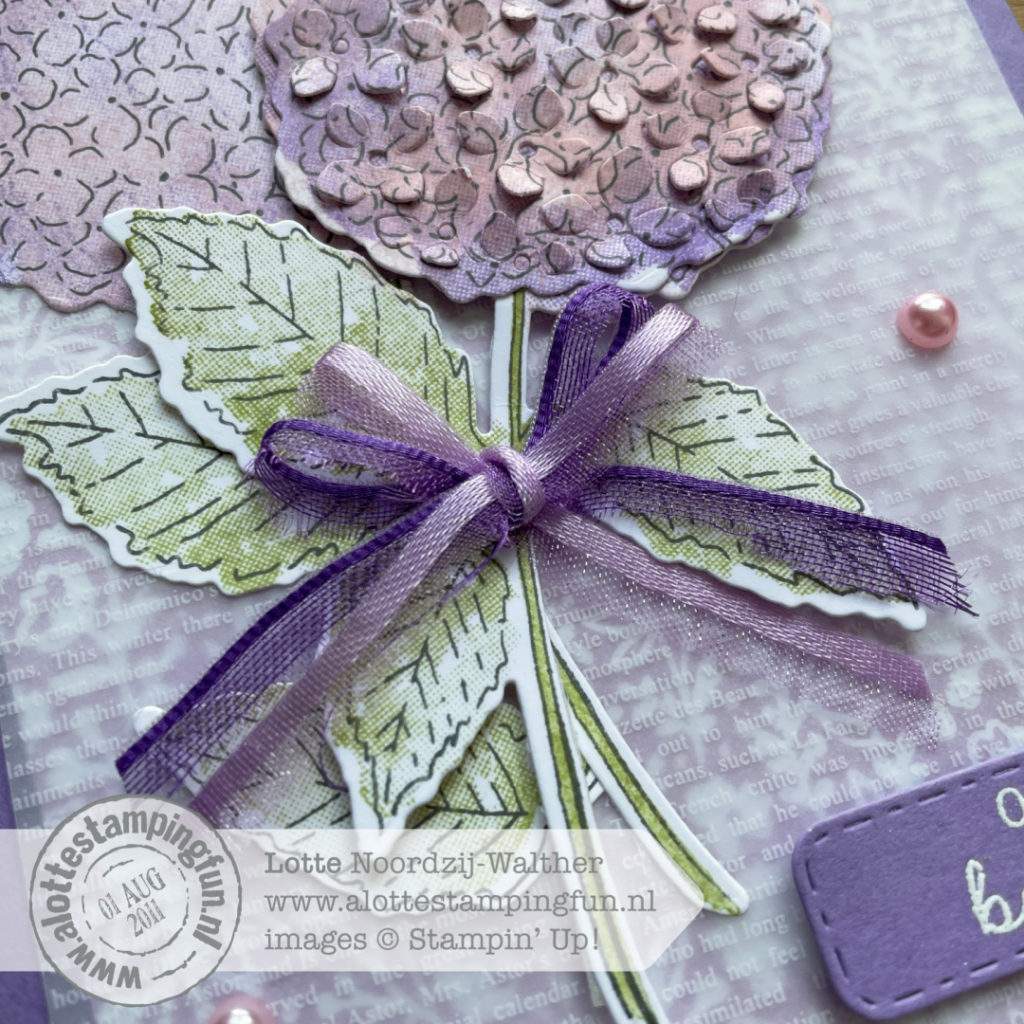 Afmetingen
Basiskaart: 21 x 14,5 cm – 21 cm is gerild op 10,5 cm
Matjes vellum, DSP en Basic White voor binnenzijde: 9,5 x 13,5 cm
Werkwijze
Je kunt de registratie van de Facebook live van 10 maart 2022 terugkijken door HIER te klikken of op onderstaande afbeelding. Lotte legt daar stap voor stap uit hoe je de kaart maakt.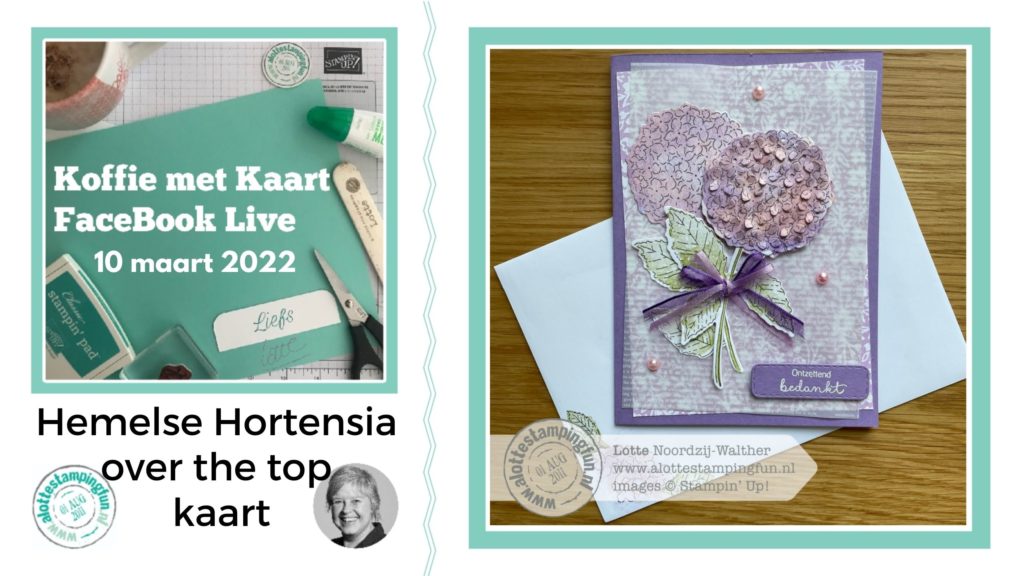 Iets bestellen?
Heb je iets nodig of heb je een product gezien dat je graag wilt hebben? Wij verzorgen graag je bestelling. Je kunt je bestelling emailen naar lotte@alottestampingfun.nl en wij zorgen ervoor dat het zo snel mogelijk bij je komt!
Lieve groetjes,

Dit zijn de producten die we voor dit project hebben gebruikt:
Product List

En deze producten gebruiken we altijd
Product List
| | | | | |
| --- | --- | --- | --- | --- |
| | | | | |
| | | | | |