Dear International Readers, Welcome to our Blog.
F or your own convenience please use the translate buttom on your right to select the language of your choice.
Thank you so much for stopping by!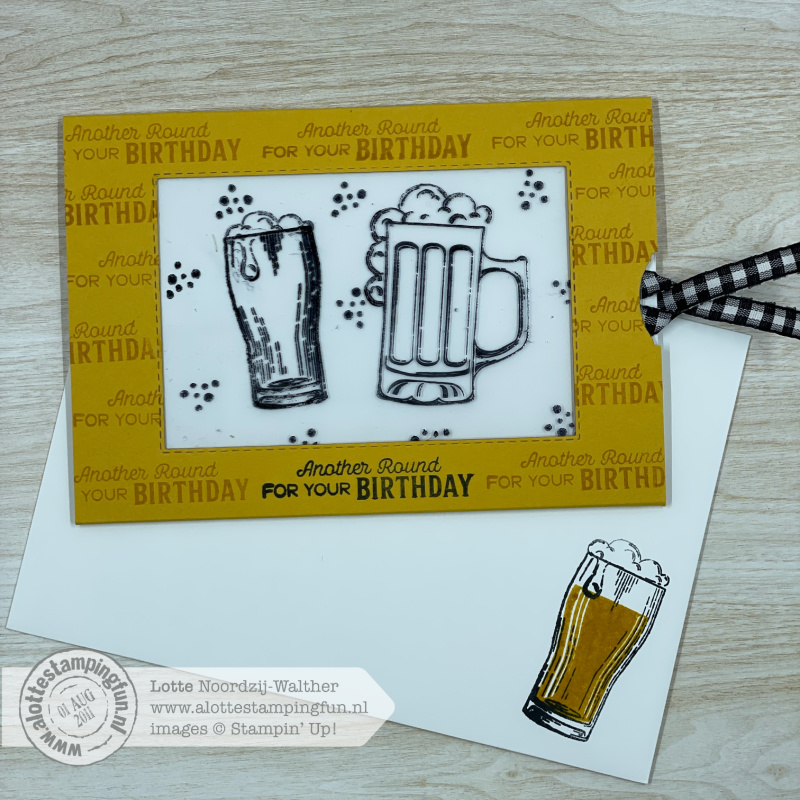 Iedereen kan toveren!
Hoe tof is dat wanneer je een kaart krijgt ontvangt die magisch is. De Brewed for You stempelset leent zich uitstekend voor zo'n kaart. En aangezien we meedoen met de Global Monthly Video Hop met het thema Masculine leek ons dit een superleuke kaart om te laten zien.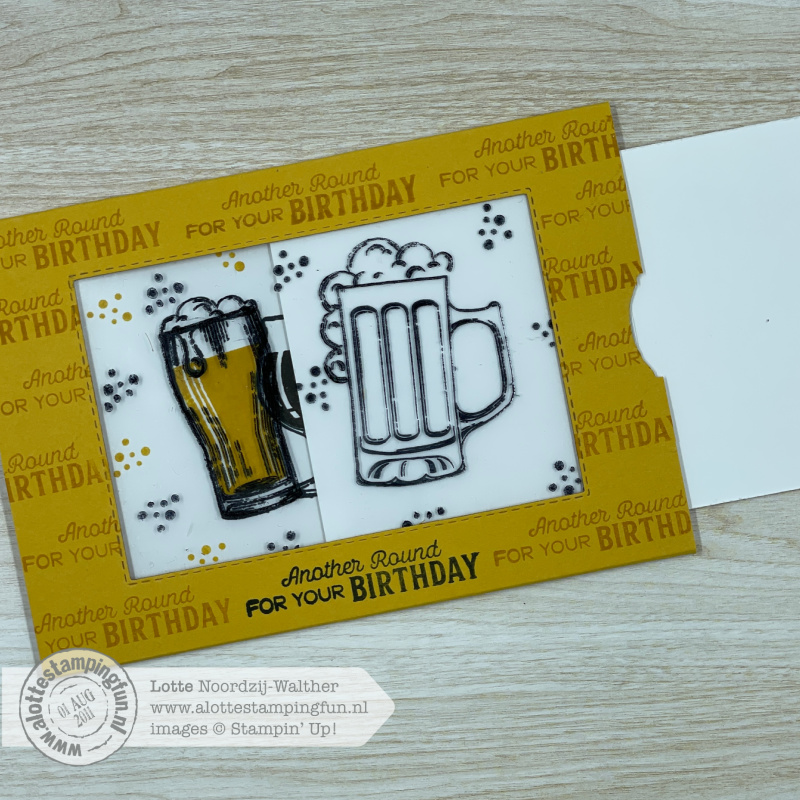 Trek maar aan het lintje
Wanneer de ontvanger van de kaart aan het lintje trekt dan vind de magie plaats. De witte glazen worden gevuld met bier. En er komt ook nog een glas donker bier te voorschijn. Te leuk natuurlijk! Verderop in dit blog vertellen we je hoe ook jij deze kaart kunt maken, maar eerst nog wat informatie over de video hop waar we aan mee doen.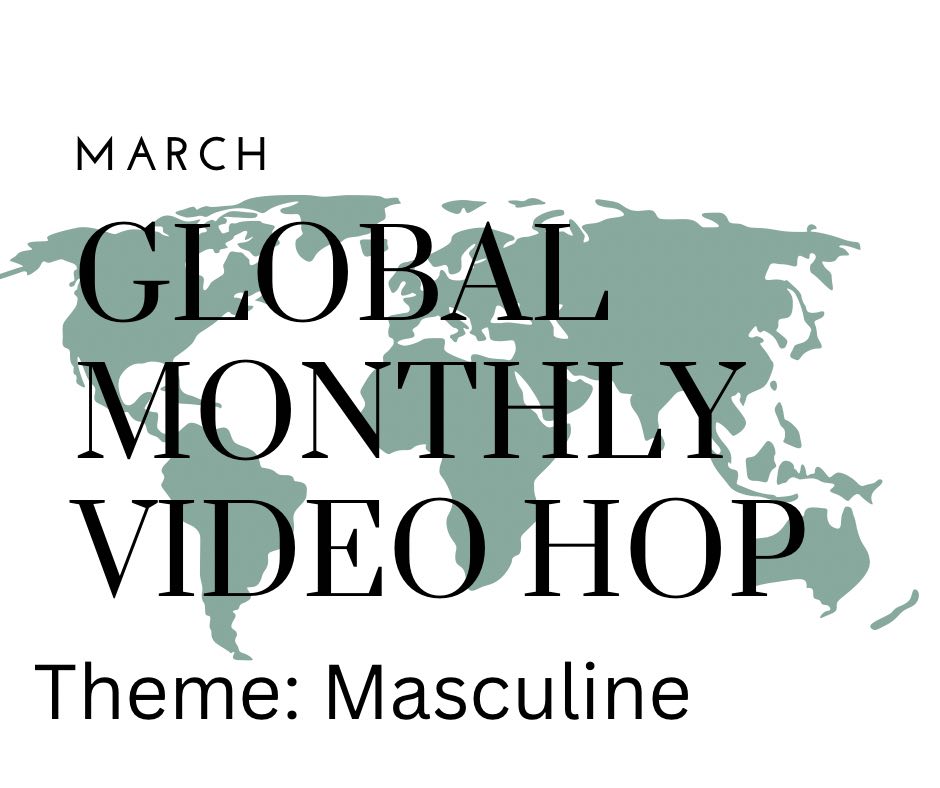 Nog meer leuke mannelijke projecten zien ?
Zoals gezegd is dit een kaart voor de Global Monthly Video Hop. Dat betekent dat collega's van over de hele wereld ook een inspiratie video voor je gemaakt hebben met het thema Masculine. Je kunt hun projecten zien door op de link achter hun naam te klikken, dan wordt je vanzelf naar hun YouTube Kanaal geleid.
Tracy Bish – Australia : https://youtu.be/n6DU55lcupM
Jean Piersanti – Beauty and the Stamper – United States: https://youtu.be/mDVGDeuJmw4
Jackie vanderSar-Boot- The Pampered Stamper- Canada and Europe- https://youtu.be/6rwvgKg6_FY
Michelle Critchley – C & C Designs – New Zealand – https://youtu.be/JypcytsanOQ
Lotte Noordzij-Walther – A Lotte Stamping Fun – the Netherlands: https://youtu.be/E96ZA7hxCUk
Tricia Smith – Smith's Crafty Creations UK: https://youtu.be/RScCtSG-UEU
Jenn Ford – CK Card Connection – Canada: https://youtu.be/yHtq8tm3bLE
Gesche Preißler – geschtempelt – Germany https://youtu.be/gsk3nzpf9b8
Mimi Takehara – United States – https://youtu.be/JwPeIEZOmng
We vinden het allemaal natuurlijk erg leuk als je ons een duimpje geeft, een opmerking plaatst en als je dat nog niet hebt gedaan, je je op ons YouTube kanaal abonneert.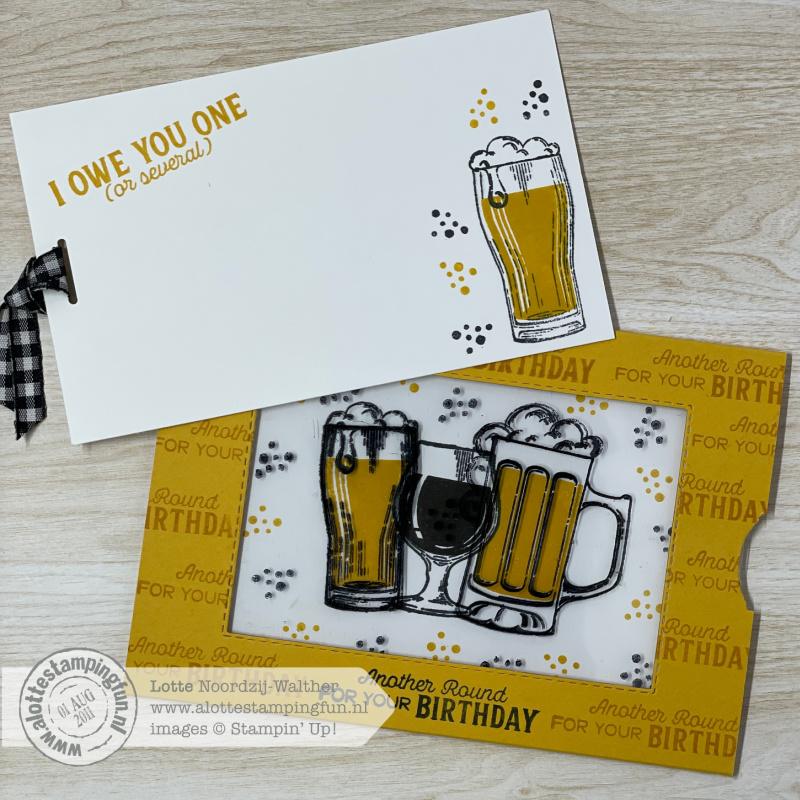 Afmetingen
Basiskaart Crushed Curry: 14,5 x 21 cm – 21 cm rillen op 4,8 – 5, 15 en 15,2 cm
Basic White en Window sheet: 9,5 x 14 cm
Basic White voor label: 8 x 13 cm
Werkwijze
Hoe je deze kaart maakt kun je zien op ons YouTube Kanaal. Daar kom je door HIER of op onderstaande afbeelding te klikken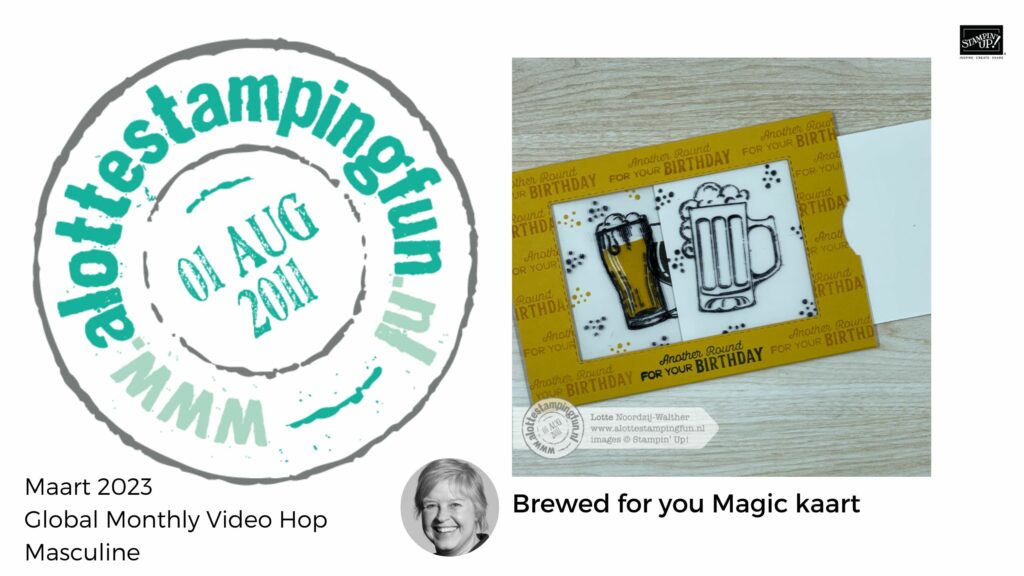 Iets bestellen?
Heb je iets nodig of heb je een product gezien dat je graag wilt hebben? Wij verzorgen graag je bestelling. Je kunt je bestelling emailen naar lotte@alottestampingfun.nl en wij zorgen ervoor dat het zo snel mogelijk bij je komt!
Lieve groetjes,

Dit zijn de producten die we voor dit project hebben gebruikt:
Product List
En deze producten gebruiken we altijd
Product List
| | | | | |
| --- | --- | --- | --- | --- |
| | | | | |
| | | | | |