Dear International Readers, Welcome to our Blog.
F or your own convenience please use the translate buttom on your right to select the language of your choice.
Thank you so much for stopping by!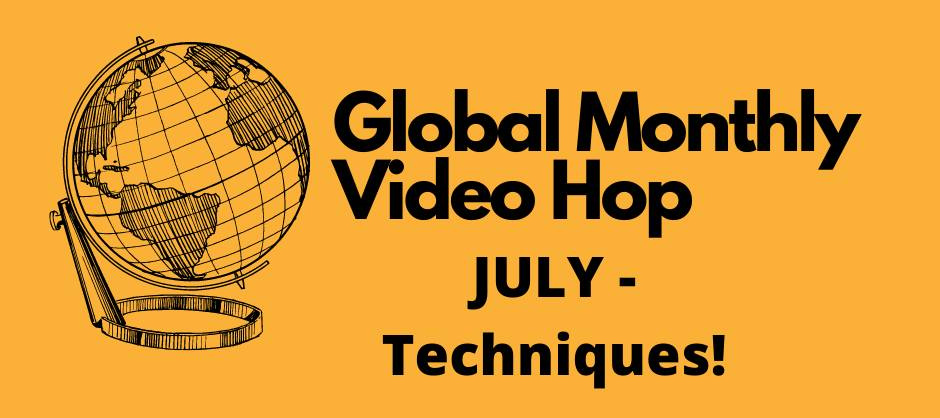 Welkom bij de maandelijkse Global Monthly Video Hop. Tijdens deze videohop word je geinspireerd door Stampin' Up! van over de hele wereld rondom een bepaald thema. Deze maand is het thema technieken.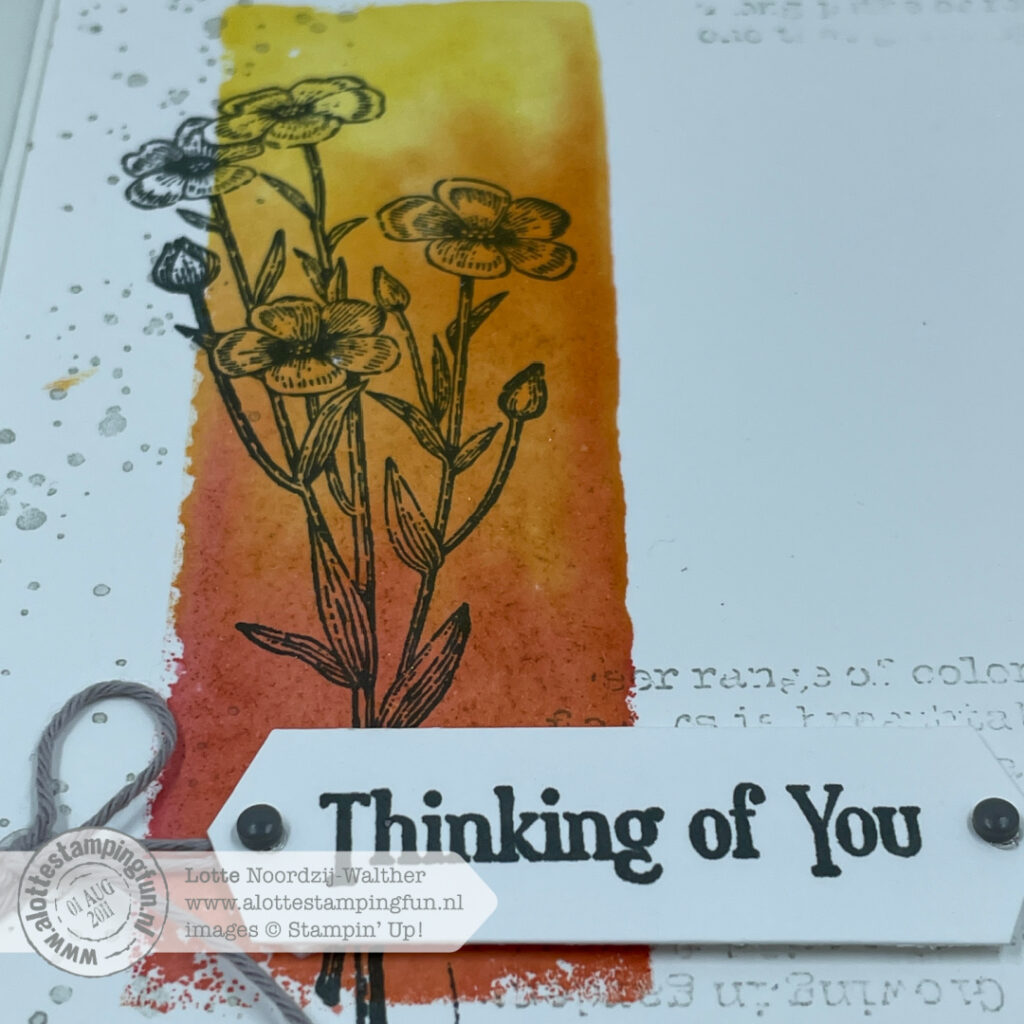 Wij hebben een stempelblok (H) gebruikt tesamen met inkt en alcohol in een Stampi' Spritzer gevuld met alcohol om een prachtig blok met kleurverloop op de kaart te krijgen waarna we met de stempelset Quiet Meadow de kaart hebben gemaakt.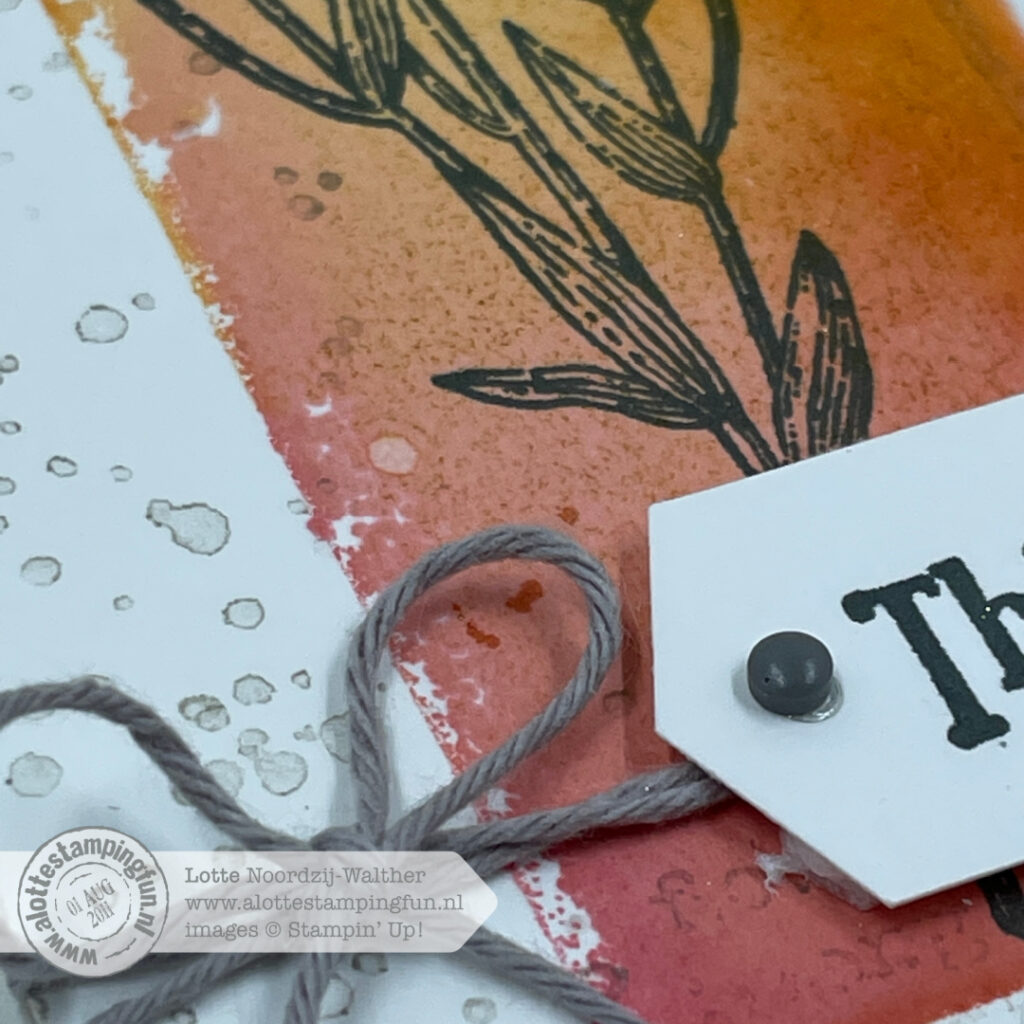 Een strikje van het Granite Gray Basic Twine en een paar dots uit de Classic Matte Dots maken de kaart meteen af.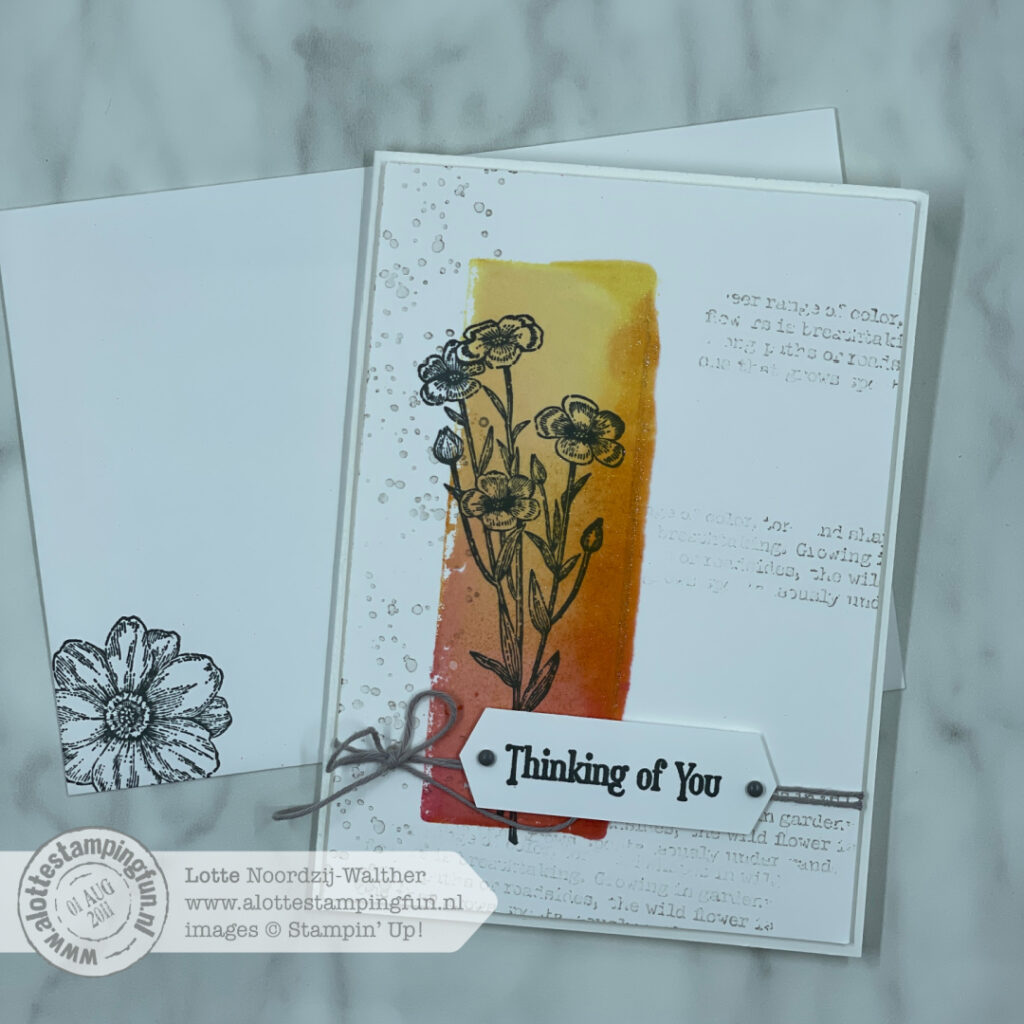 Nog een stempel op de envelop en klaar is je kaart om te versturen.
Hop door naar de anderen
Voor nog meer inspiratie rondom het thema Technieken kun je een rondje langs alle andere designteam leden van het Global Monthly Video Hop team doen. Klik op de link achter hun naam en je komt vanzelf bij hun video.
Tracy Bish – The Inky Stampers – Australia – https://youtu.be/Up15sP1fxLU
Tricia Smith – Smith's Crafty Creations – UK – https://youtu.be/orOWIUN-aJ8
Michelle Critchley – C & C Designs – New Zealand – https://youtu.be/tXlVYTpYtwk 
Rachael Merrick – Merrick Makings – Australia – https://youtu.be/V-yrmEhTMrc
Jackie Bultje- The Pampered Stamper- Canada- https://youtu.be/JR9RR3PM5TA
Afmetingen
Basiskaart: Basic White THICK 21 x 14,5 cm 21 cm zijde rillen op 10,5 cm
Mat: Basic White 10 x 14 cm
Strookje voor tekst: 1,9 cm hoog
Werkwijze
Hoe je de Blokstempelen Techniek met kleurverloop toepast laat Lotte je in een zien in de video. Daar kom je door HIER of op onderstaande afbeelding te klikken.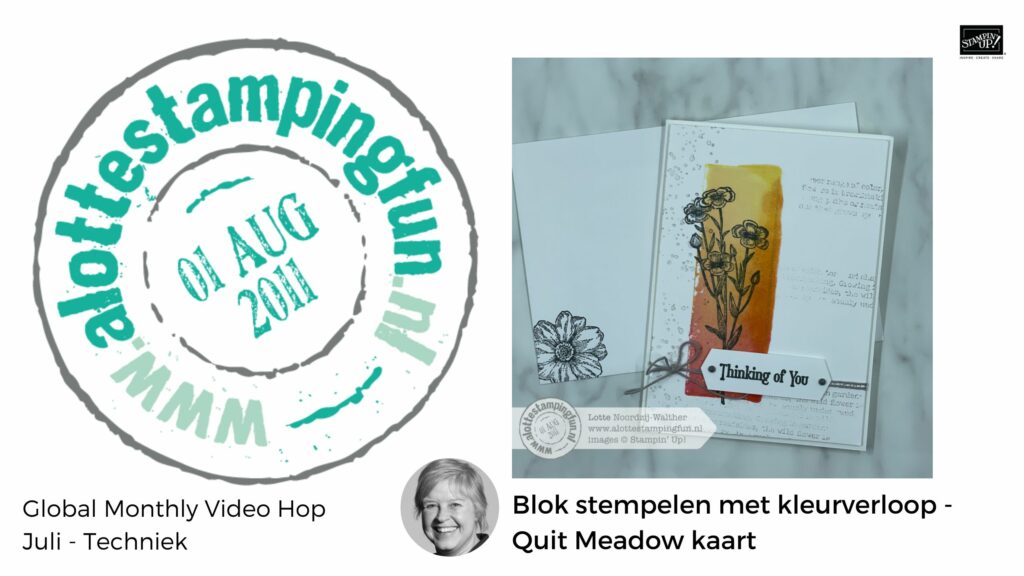 Iets bestellen?
Heb je iets nodig of heb je een product gezien dat je graag wilt hebben? Wij verzorgen graag je bestelling. Je kunt je bestelling emailen naar lotte@alottestampingfun.nl en wij zorgen ervoor dat het zo snel mogelijk bij je komt!
Lieve groetjes,

Dit zijn de producten die we voor dit project hebben gebruikt:
Product List

En deze producten gebruiken we altijd
Product List
| | | | | |
| --- | --- | --- | --- | --- |
| | | | | |
| | | | | |