Dear International Readers, Welcome to our Blog.
F or your own convenience please use the translate buttom on your right to select the language of your choice.
Thank you so much for stopping by!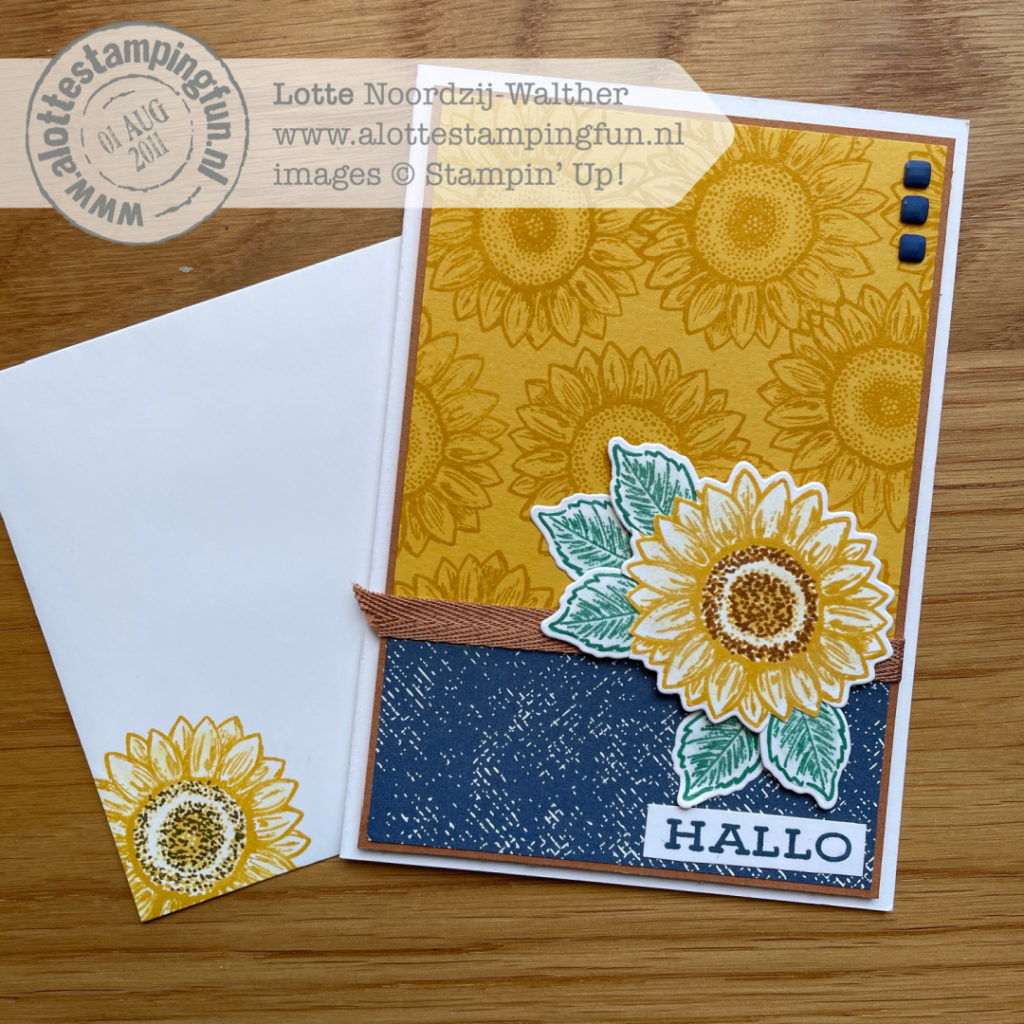 Opvang voor de deur
En dan word je er met je neus op gedrukt. Sinds een paar dagen ligt er een slaapschip in de Schie, vlak voor ons gebouw. Daar worden nu tijdelijk mensen uit Oekraine opgevangen. Elke keer als ik er langs loop sta ik erbij stil hoe vreselijk moet zijn om je vertrouwde omgeving achter te laten en naar een onbekend land te gaan.
Zonnebloemen
Dit kaartje is gemaakt tijdens de Facebook live en ga ik van de week met een bos zonnebloemen naar het schip brengen. Gewoon om ze een hart onder de riem te steken. En daarom hebben we ook onze actie voor Oekraine opgezet – deze is nog geldig tot en met 31 maart. Door hier te klikken lees je er alles over.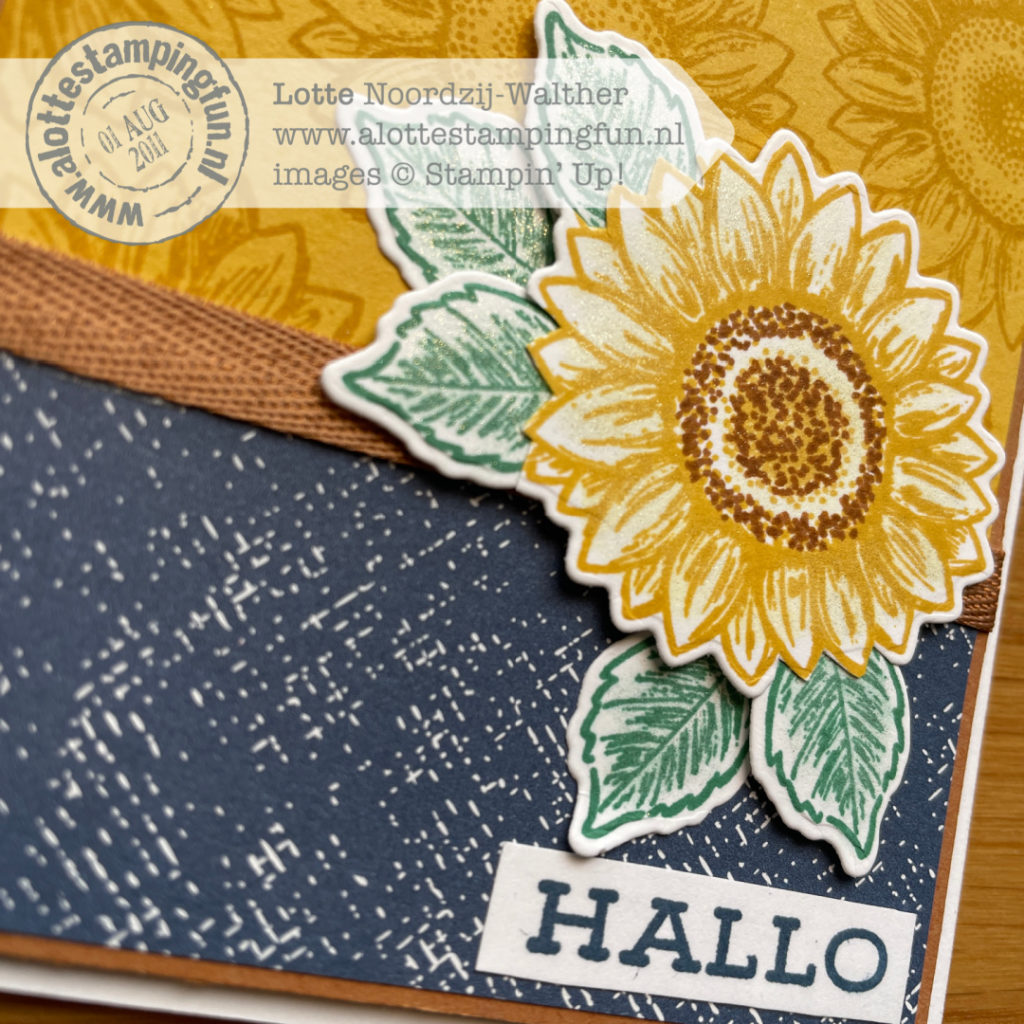 Werkwijze
Tijdens de faebook live heeft Lotte laten zien hoe deze deze kaart maakt met bundel Bijzondere Zonnebloemen. Je kunt de YouTube versie zien door HIER of op onderstaande afbeelding te klikken.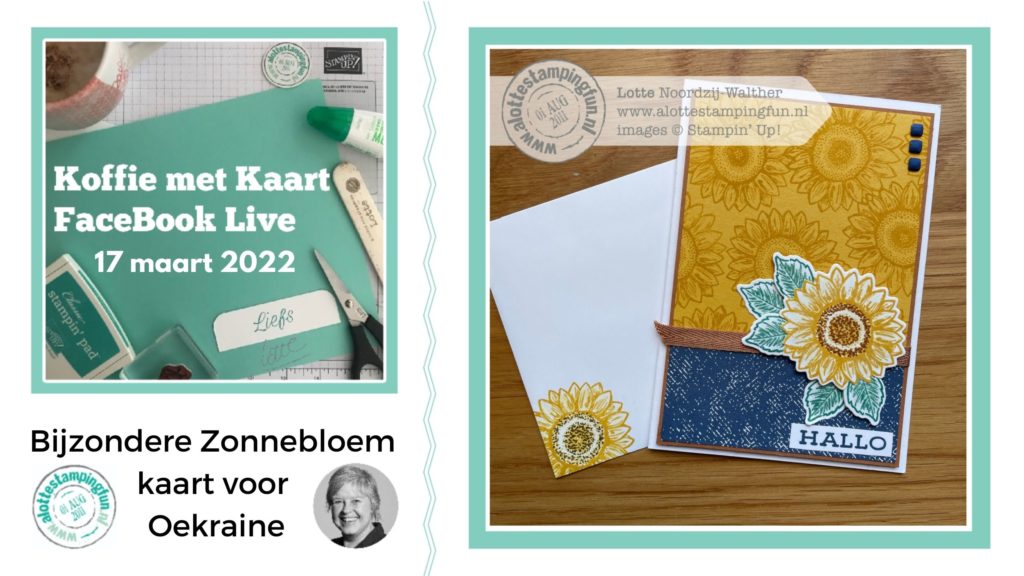 Iets bestellen?
Heb je iets nodig of heb je een product gezien dat je graag wilt hebben? Wij verzorgen graag je bestelling. Je kunt je bestelling emailen naar lotte@alottestampingfun.nl en wij zorgen ervoor dat het zo snel mogelijk bij je komt!
Lieve groetjes,

Dit zijn de producten die we voor dit project hebben gebruikt:
Product List
En deze producten gebruiken we altijd
Product List

| | | | | |
| --- | --- | --- | --- | --- |
| Paper Trimmer [152392] € 31,00 | Paper Snips [103579] € 13,50 | Stampin' Pierce Mat [126199] € 6,25 | Take Your Pick [144107] € 12,25 | Stampin' Cut & Emboss Machine [149653] € 152,00 |
| Multipurpose Liquid Glue [110755] € 5,00 | Stampin' Dimensionals [104430] € 5,25 | Mini Stampin' Dimensionals [144108] € 5,25 | Tear & Tape Adhesive [138995] € 8,50 | Mini Glue Dots [103683] € 6,50 |
Product List
| | | | | |
| --- | --- | --- | --- | --- |
| | | | | |
| | | | | |