Dear International Readers, Welcome to our Blog.
F or your own convenience please use the translate buttom on your right to select the language of your choice.
Thank you so much for stopping by!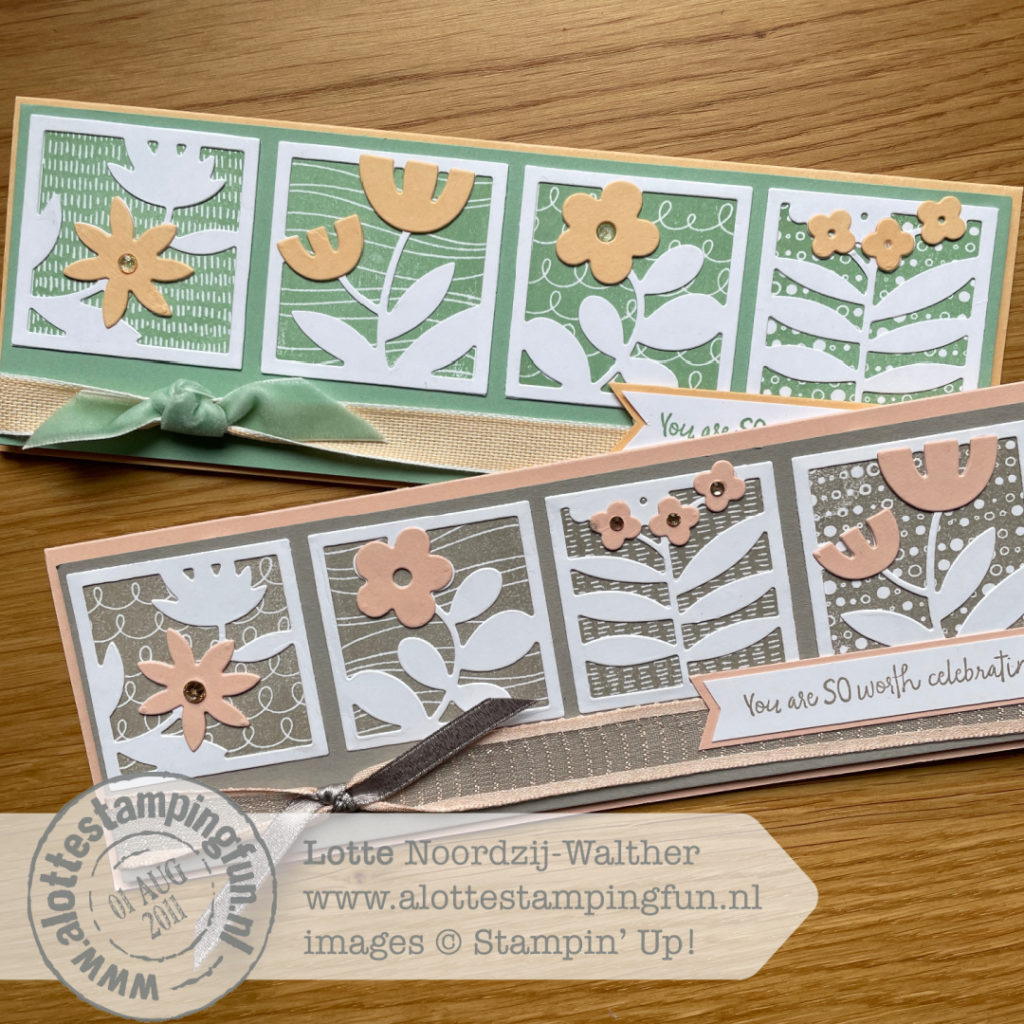 Laagjes
De All Squared Away stempelset en bijpassende stansen leent zicht uitstekend voor het opbouwen van laagjes. Op deze kaart zitten dan ook maar liefst 4 lagen: op de basiskaart een mat, daarna een gestempelde achtergrond en daarboven op een van stansen en daarboven op weer een gestanst bloemetje.
Dubbel lintje
Door met een ander stukje lintje nog een extra accent toe te voegen aan het lint om de kaart krijg je een net wat andere uitstraling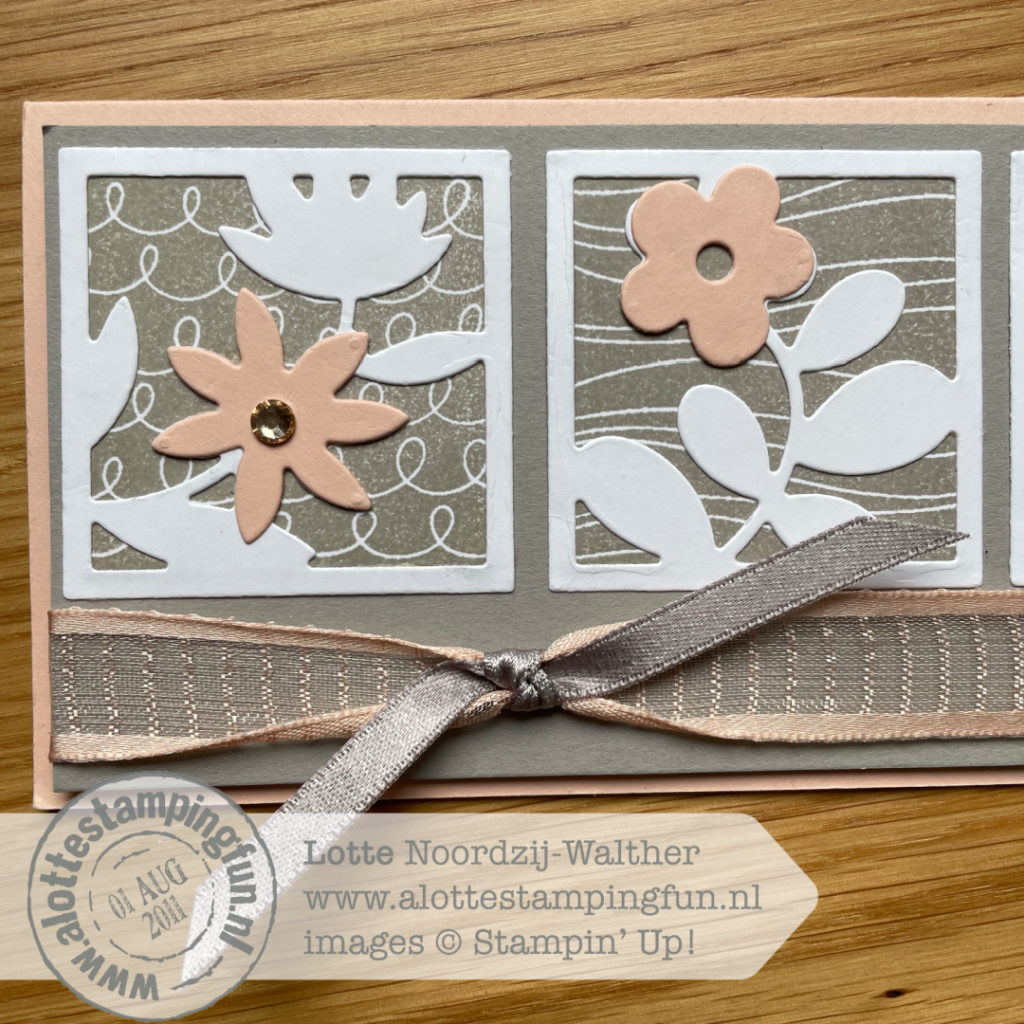 Afmetingen
Basiskaart 21 x 15 cm – 15 cm gerild op 7,5 cm
Mat: 20,5 x 7 cm
Werkwijze
In de facebook live van 31 maart liet Lotte zien hoe je deze kaart kunt maken. KLIK HIER of op onderstaande afbeelding om naar de YouTube versie van de registratie van de FaceBook live te gaan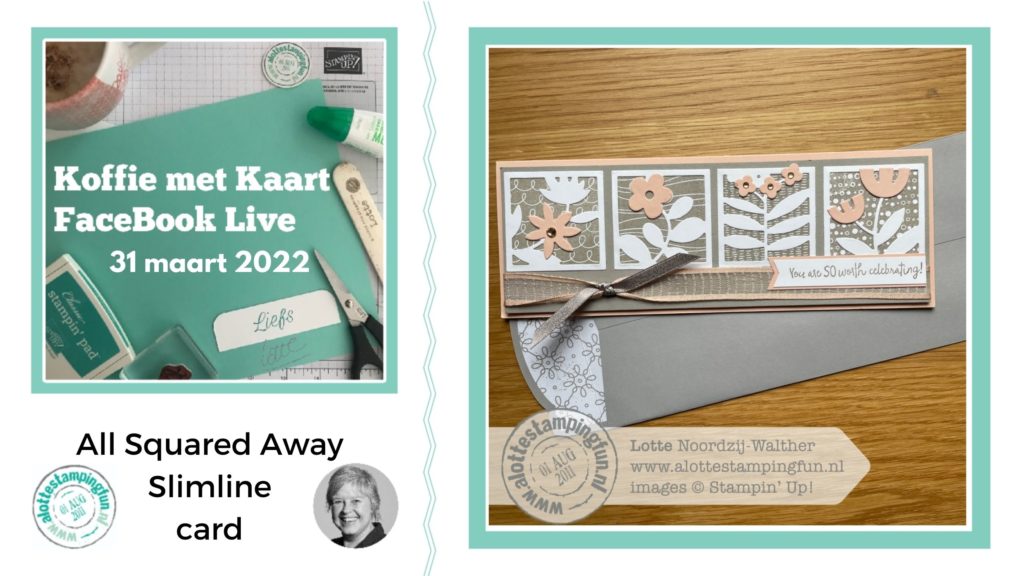 Nog meer inspiratie met de All Squared Away
Wil je nog meer inspiratie zien met deze set? Kijk dan vooral ook even HIER waar we nog 4 andere kaarten laten zien.
Iets bestellen?
Heb je iets nodig of heb je een product gezien dat je graag wilt hebben? Wij verzorgen graag je bestelling. Je kunt je bestelling emailen naar lotte@alottestampingfun.nl en wij zorgen ervoor dat het zo snel mogelijk bij je komt!
Lieve groetjes,

Dit zijn de producten die we voor dit project hebben gebruikt:
Product List
En deze producten gebruiken we altijd
Product List

| | | | | |
| --- | --- | --- | --- | --- |
| Paper Trimmer [152392] € 31,00 | Paper Snips [103579] € 13,50 | Stampin' Pierce Mat [126199] € 6,25 | Take Your Pick [144107] € 12,25 | Stampin' Cut & Emboss Machine [149653] € 152,00 |
| Multipurpose Liquid Glue [110755] € 5,00 | Stampin' Dimensionals [104430] € 5,25 | Mini Stampin' Dimensionals [144108] € 5,25 | Tear & Tape Adhesive [138995] € 8,50 | Mini Glue Dots [103683] € 6,50 |
Product List
| | | | | |
| --- | --- | --- | --- | --- |
| | | | | |
| | | | | |