Dear International readers, welcome to our blog. Please for you convenience use the translate button on the right and select the language of your choice. Thank you so much for stopping by!

Wat is Stempel, Inkt & Papier?
Stempel, Inkt & Papier is een creatief initiatief van drie Nederlandse Stampin'Up! Demonstratrices die elke maand een specifiek Stampin'Up! Product centraal zetten in een "Live" workshop programma. In dit programma bieden we ten minste 4 online workshops aan via Facebook Live in een besloten Facebook groep. Dit zijn dus "Live" workshops waarbij jij als kijker meteen met ons mee kan doen of later aan de slag kan gaan. Wil jij weten hoe je aan dit "Live" workshop programma kunt mee doen klik dan hier om naar de pagina te gaan met uitgebreide info over Stempel, Inkt & Papier programma.
Christmas in July
Je kunt er niet vroeg genoeg mee beginnen – het maken van kerstkaarten. Want voor je het weet is het weer zover! In de maand juli zal het Stempel, Inkt & Papier Design Team je tijdens de live workshops verrassen met verschillende project ideeen voor Kerstmis.
Een stempelset die zich heel goed leent voor het maken van leuke kaartjes is de stempelset Banner Year. Te gebruiken voor verschillende gelegenheden en ook 2 leuke teksten en afbeeldingen om te gebruiken voor kerstkaarten.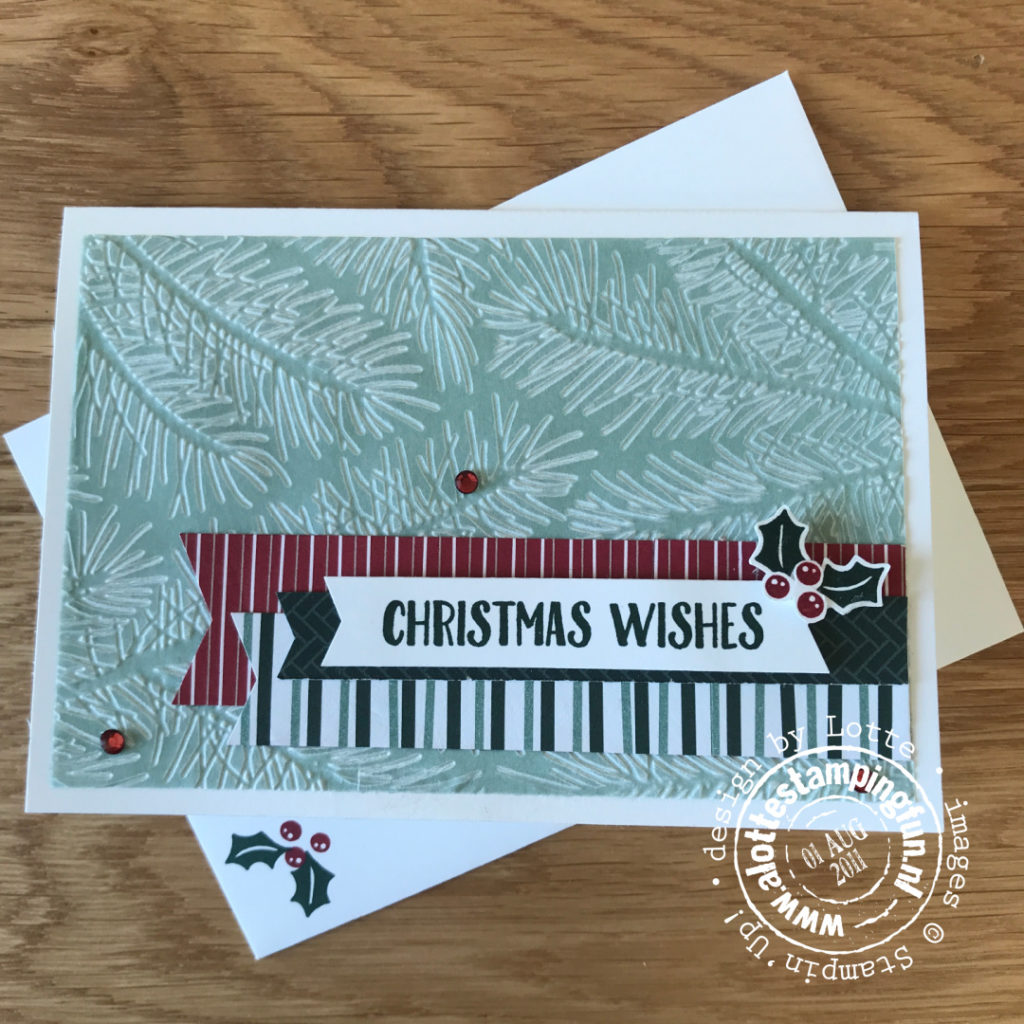 Samen met het mooie Tidings of Christmas Design Papier, de Banners Pick a Punch en de standaard Basic White Note Cards & Envelopes maak je supersnel een aantal leuke kaarten. Zeker wanneer je het Shimmer Vellum embost met de Wintry 3D embossingfolders en dat als achtergrond voor je kaart gebruikt! Nog een paar van de Holiday Rhinestones erop en je maakt er zo een hele stapel !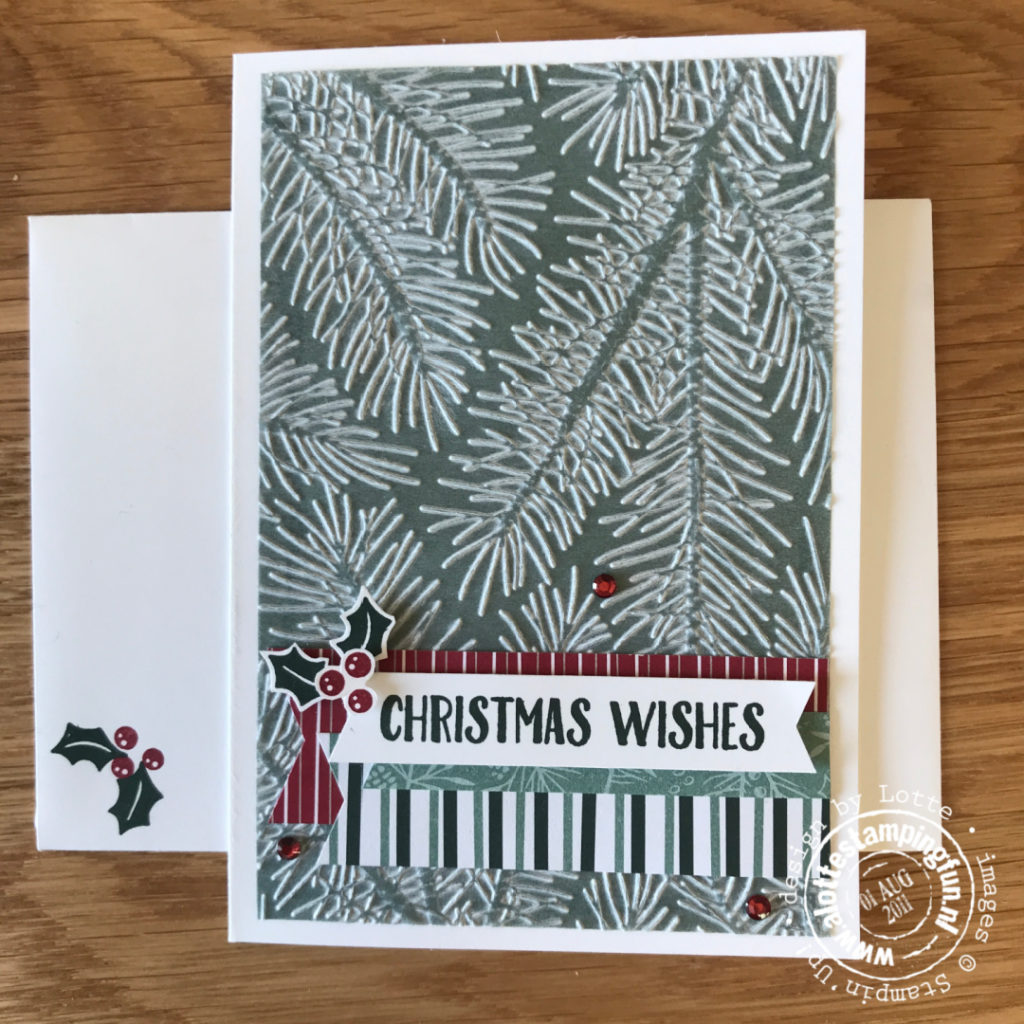 Hop door naar de anderen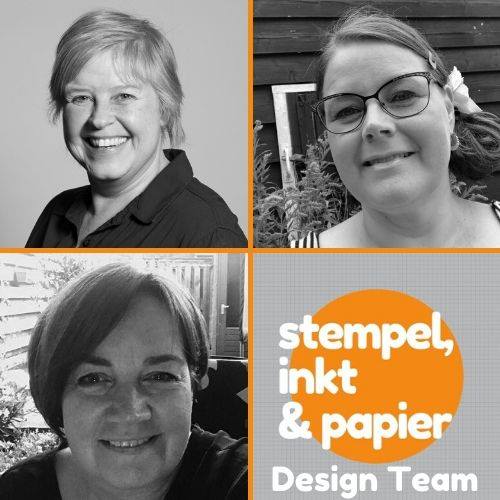 Natuurlijk hebben Danielle en Sandra ook weer hele leuke projecten gemaakt! Ben je ook zo benieuwd wat zij deze keer hebben gemaakt? Klik dan op een van hun namen hieronder en je wordt vanzelf naar hun Christmas in July project gebracht.
Afmetingen
Basiskaart: Basic White Notecard & Envelop
Vellum matje: 8 x 12 cm
Stroken DSP van 2,5 cm – 1,9 cm en 1,3 cm breed
Strook Basic White 1,3 cm
Werkwijze
We hebben een video gemaakt hoe je deze kaart heel gemakkelijk zelf kunt maken, met daarin een paar tips & trick voor het gebruik van het Shimmer vellum en de Banner Pick a Punch. Klik hier of op onderstaande afbeelding om naar de video te gaan.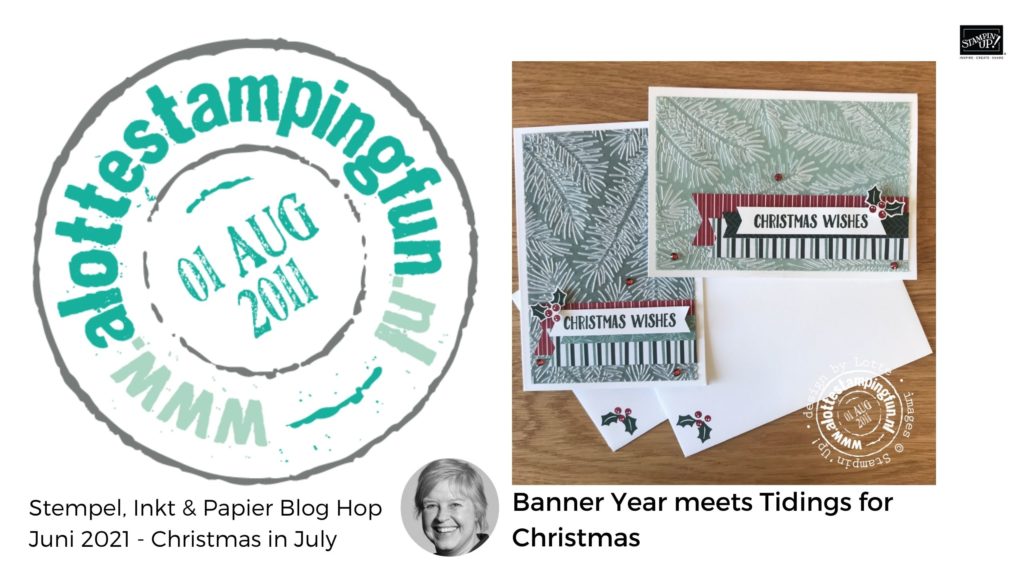 Iets bestellen?
Alle materialen die zijn gebruikt, staan onderaan dit blog vermeld. Mocht je iets in je voorraad missen of een aanvulling willen, wij verzorgen graag je bestelling. Stuur ons een email (lotte@alottestampingfun.nl) met je wensen en dan komt het dik voor elkaar.

Dit zijn de producten die we voor dit project hebben gebruikt:
Product List
En deze producten gebruiken we altijd:
Product List