Dear International Readers, Welcome to our Blog.
F or your own convenience please use the translate buttom on your right to select the language of your choice.
Thank you so much for stopping by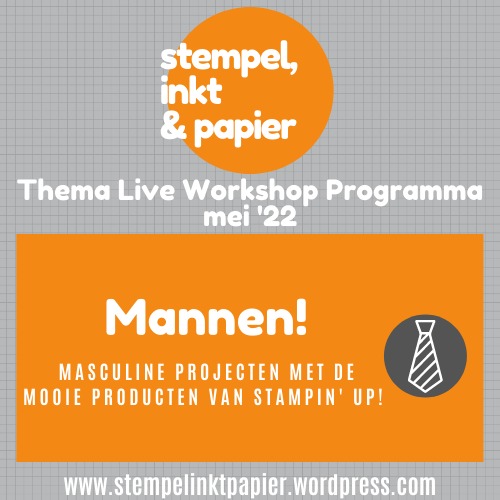 Mannen staan centraal
Stempel, Inkt & Papier is een creatief initiatief  van drie Nederlandse Stampin'Up! Demonstratrices die elke maand een specifiek Stampin'Up! Product of een thema centraal zetten in een "Live" workshop programma. In dit programma bieden we ten minste 4 online workshops aan via Facebook Live in een besloten Facebook groep. Dit zijn dus "Live" workshops waarbij jij als kijker meteen met ons mee kan doen of later aan de slag kan gaan. Wil jij weten hoe je aan dit "Live" workshop programma kunt mee doen klik dan HIER. In de maand Mei zullen de mannen centraal zetten en zien jullie 4 projecten die heel geschikt zijn om aan mannen te sturen of te geven.
Water doet het altijd goed bij mannen
Voor deze bloghop namen we de vreselijk mooie golf stempel uit de stempelset Waves of Inspiration. Deze hebben we met behulp van de Stamperatus in Versamark op Basic White gestempeld. Met behulp van Sponge Daubers en de Soft Pastels hebben we de golf gekleurd.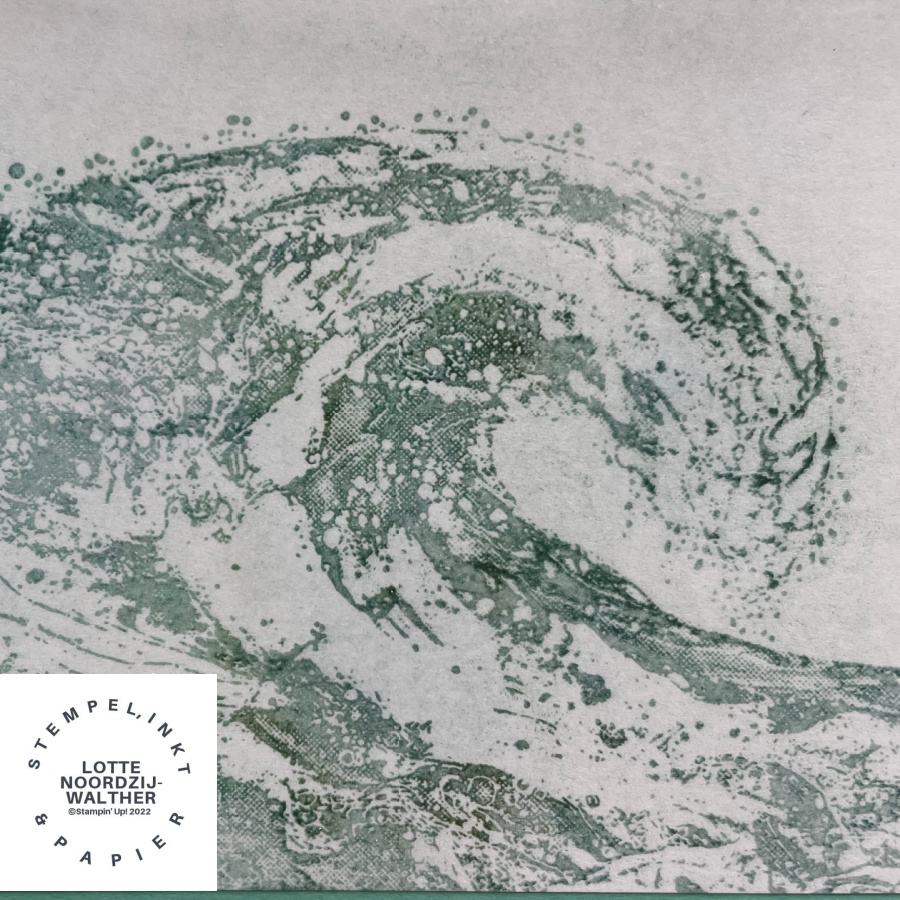 Door wat Soft Pastel poeders van de staafjes Coastal Cabana, Pacific Point, Mossy Meadow en Granny Apple Green goed te mengen krijg je een prachtig effect. Nadat alle poeder is verwijderd kun je nog met de Sponge Dauber over het hele matje gaan om het "wit" er van af te halen en een lucht te creeeren.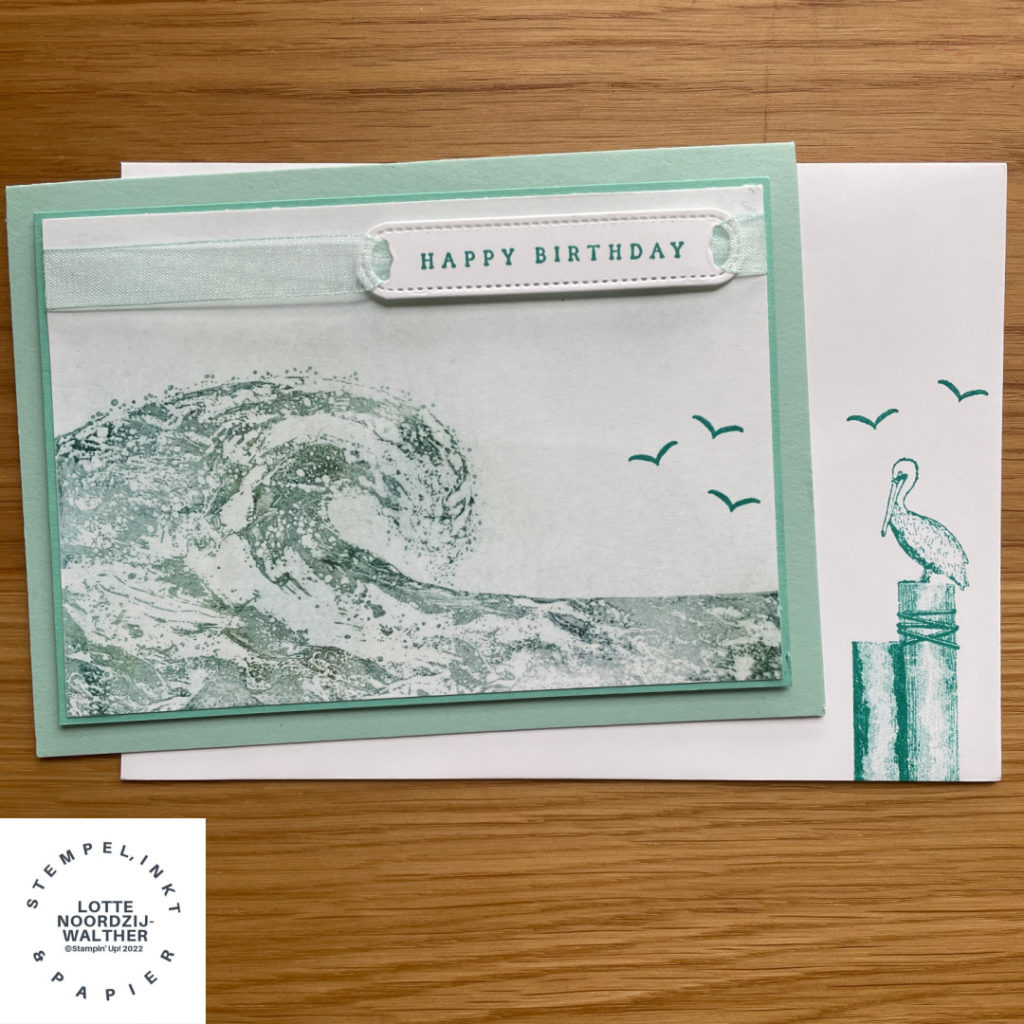 De tekst Happy Birthday hebben we in Bermuday Bay gestempeld (net als de vogels en de pelikaan) en daarna met een van de labels uit de Waves stansen uitgestanst. Door de gaatjes van het label hebben we het Poolparty Sheer Ribbon aangebracht.
Als laatste hebben we natuurlijk ook de envelop bestempeld.
Hop door naar de anderen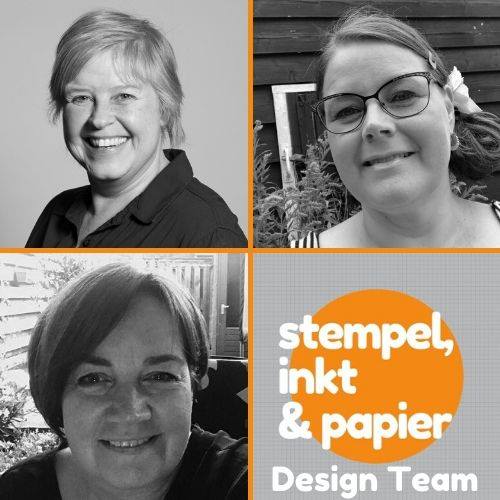 Natuurlijk hebben Danielle en Sandra ook weer hele leuke projecteen gemaakt! Ben je ook zo benieuwd wat zij deze keer hebben gemaakt? Klik dan op een van hun namen hieronder en je wordt vanzelf naar hun speciaal voor deze bloghop gemaakt Mannen project gebracht.
Iets bestellen?
Heb je iets nodig of heb je een product gezien dat je graag wilt hebben? Wij verzorgen graag je bestelling. Je kunt je bestelling emailen naar lotte@alottestampingfun.nl en wij zorgen ervoor dat het zo snel mogelijk bij je komt!
Lieve groetjes,

Dit zijn de producten die we voor dit project hebben gebruikt:
Product List
En deze producten gebruiken we altijd
Product List
En deze producten gebruiken we altijd
Product List
| | | | | |
| --- | --- | --- | --- | --- |
| | | | | |
| | | | | |