Dear international readers.
Welcome to our blog, Please use the translate button up in the right hand corner to read this blog in your preferred language.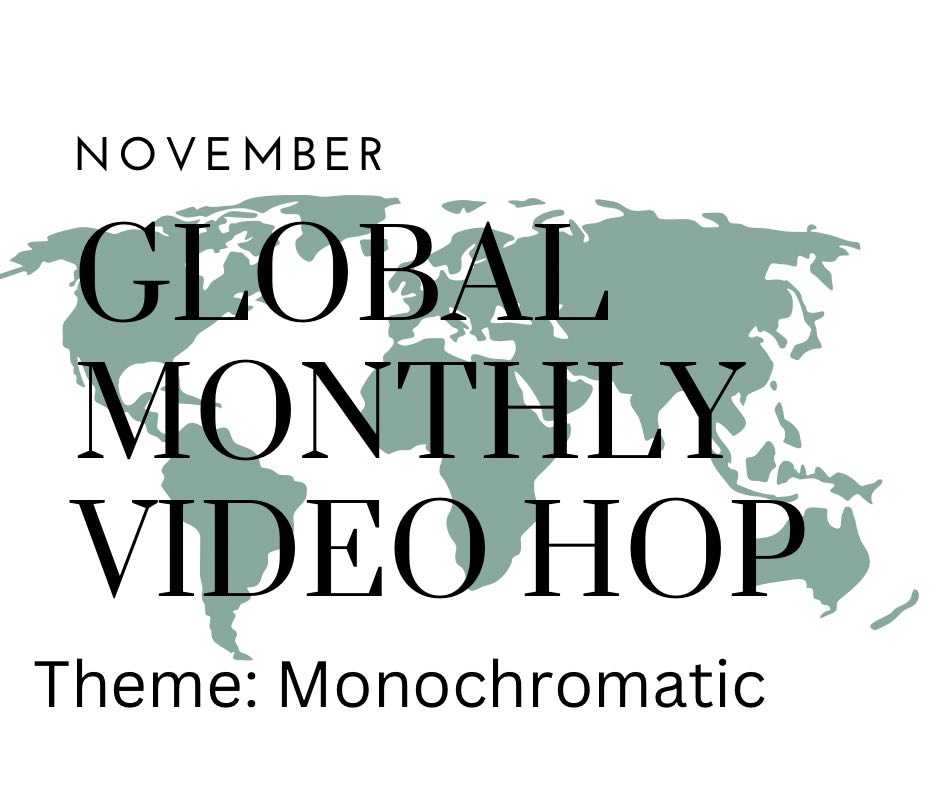 Gezellig dat je komt kijken naar de Global Monthly Video Hop. Deze keer het thema Monochromatic. Dus een kleur met een steunkleur.
Sneeuwwit
Lotte vindt een sneeuwwitte kerstkaart altijd heel mooi. Niet alleen om te maken maar ook om te ontvangen 😀. De bundel Beary Cute in combinatie met de Merriest Trees leent zich daar heel goed voor.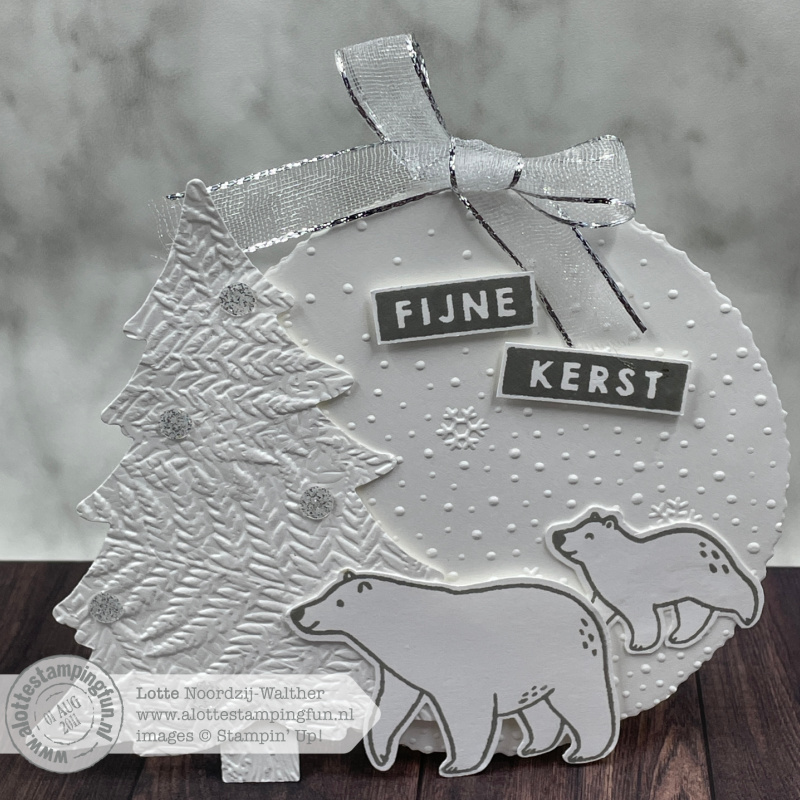 Ronde kaart
Met de Deckled Circles hebben we een ronde kaart gemaakt, en daarna versiert met geknipte, geponste, gestanste en ge-emboste elementen. Wat bling erop en een mooie strik maken de kaart helemaal af.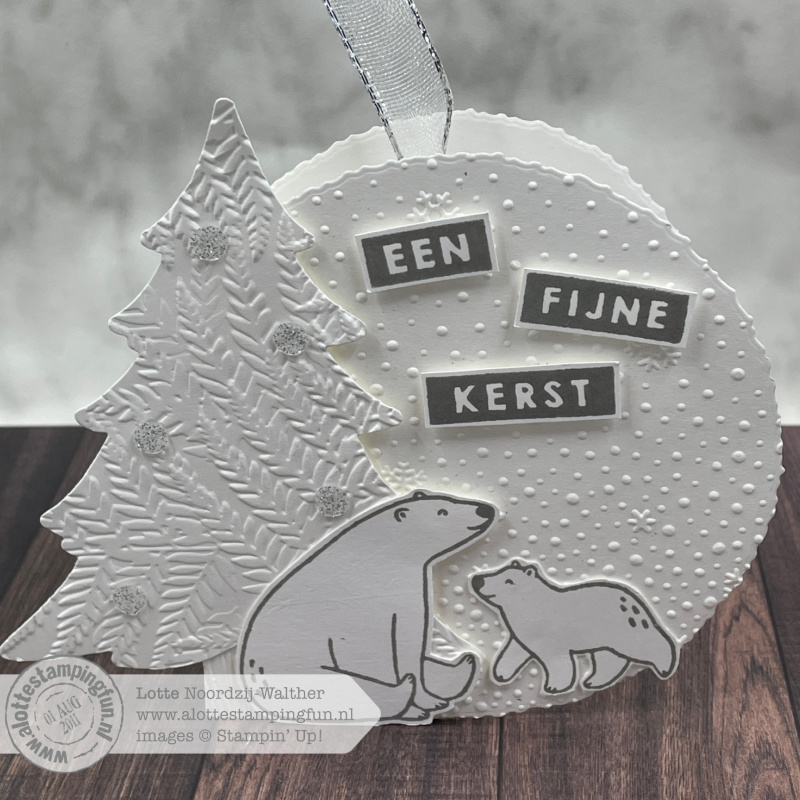 Tip
Plak aan de binnenzijde van de kaart een mini dimensional en laat het beschermlaagje er op zitten, dan kan de ontvanger, wanneer ze de kaart als ornament wilt gebruiken dichtplakken, dan blijft hij mooier hangen.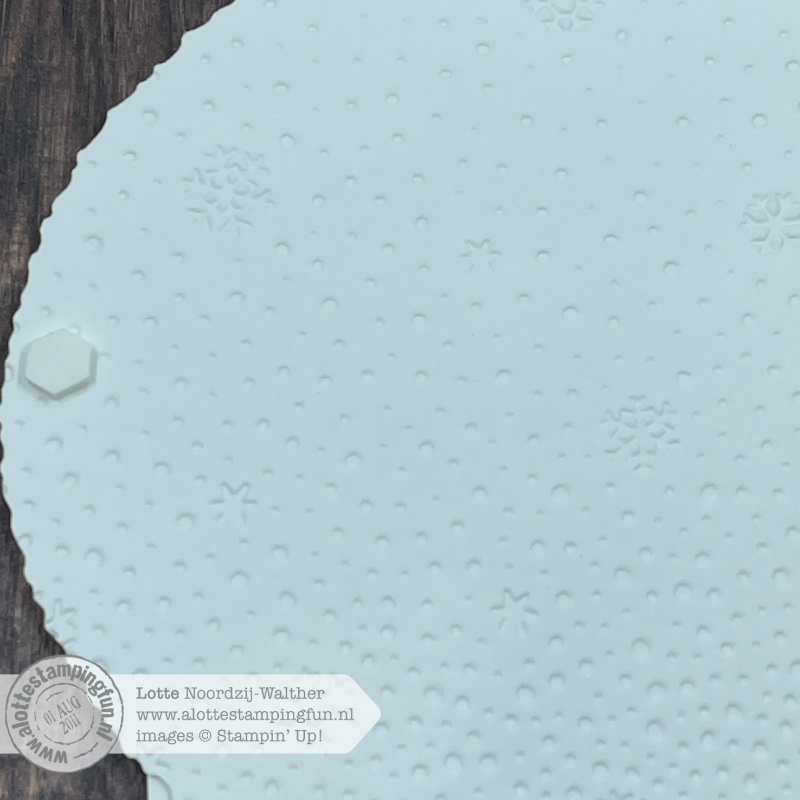 Onder aan deze blogpost vind je de afmetingen, de video en de materialen die we hebben gebruikt voor de sneeuwwitte Beary Cute kaart. Die beren blijven superschattig!
Hop door naar de anderen
De andere leden van het Design Team hebben ook weer wat leuks voor je gemaakt met het thema Monochromatic. Je kunt hun video's bekijken door in onderstaande lijst op de link achter hun naam te klikken. Wanneer je bij ons begint kom je eerst op ons YouTube kanaal terecht en daarna kun je vandaar ook doorhoppen
Tracy Bish – Australia – https://youtu.be/QESd1kE6f8w
Gesche Preißler – geschtempelt – Germany – https://youtu.be/4x7yx-cfq74
Danielle Bennenk – Mrs. Brightside – Netherlands – https://youtu.be/Ri1ie0F5xEc
Michelle Critchley – C & C Designs – New Zealand – https://youtu.be/Yf1YL8oT59w
Lotte Noordzij-Walther – A Lotte Stamping Fun – The Netherlands: https://youtu.be/__wive8z_SM
Jackie VanderSar-Boot- The Pampered Stamper- Canada- https://youtu.be/k23g7dRqJKI
Jean Piersanti – BeautyandtheStamper – USA – https://youtu.be/TFz0CYjbZA8
Rachael Merrick – Merrick Makings – Australia – https://youtu.be/PKBd2ubRgBQ 
Jeannette Gauthier-Cardmaking Plus Canada – https://youtu.be/XcNGWcsM_VE
Afmetingen
Basiskaart: 21 x 10,5 cm – 21 cm rillen op 10,5 cm
Stansen met de 9e cirkel geteld vanuit het midden van de Deckled Cirkel stansen – in de video wordt voorgedaan hoe je het doet.
Werkwijze
Hoe je deze ronde kaart heel eenvoudig zelf maakt zie je in de video die we voor de Global Monthly Video hop hebben gemaakt. Je kunt de video HIER of door te klikken op onderstaande afbeelding bekijken.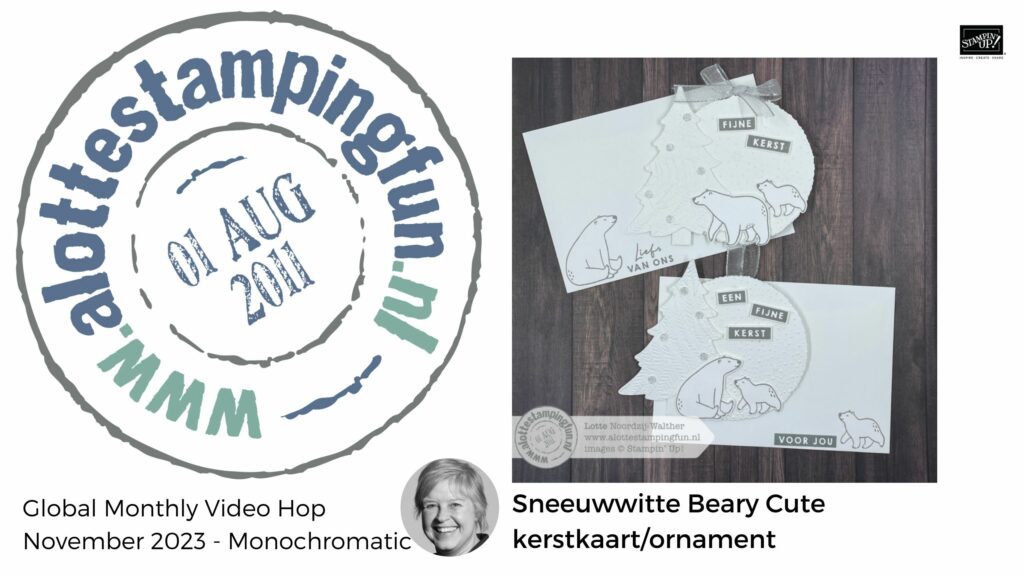 Iets bestellen?
Heb je iets nodig of heb je een product gezien dat je graag wilt hebben? Wij verzorgen graag je bestelling. Je kunt je bestelling emailen naar lotte@alottestampingfun.nl en wij zorgen ervoor dat het zo snel mogelijk bij je komt!
Lieve groetjes,

Dit zijn de producten die we voor dit project hebben gebruikt:
Product List

En deze producten gebruiken we altijd
Product List
| | | | | |
| --- | --- | --- | --- | --- |
| | | | | |
| | | | | |