Dear International Readers, Welcome to our Blog.
F or your own convenience please use the translate buttom on your right to select the language of your choice.
Thank you so much for stopping by!

Party!
Tijdens deze bloghop van het Feel Good Stampin' Design Team maken we er een feestje van. Ieder van ons heeft een project voor je gemaakt met het thema "Slingers ophangen". Dat thema hebben we deze keer een beetje letterlijk genomen.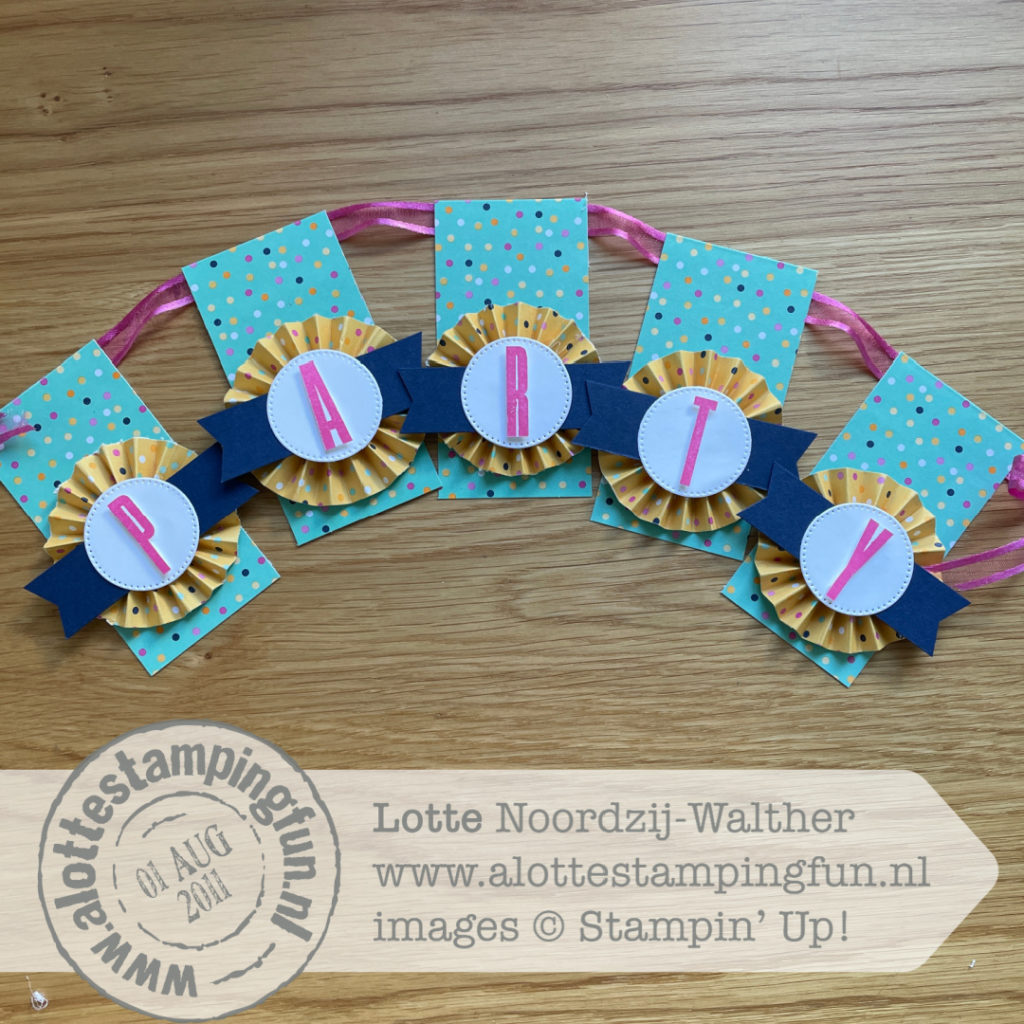 Men neme de Light the Candles Card kit
Voor de slinger hebben we de producten uit de Light the Candles Card kit gebruikt. Want wat zit daar veel leuks in zeg! Je kunt niet alleen 8 hele toffe kaarten maken met alle materialen die daar in zitten, maar je houdt ook nog eens de stempelset, het stempelblok en de inktspot in de kleur Coastal Cabana over.
Deze leuke Light the Candles Card kit en vele andere kits kun je op je gemak HIER BEKIJKEN
Een kaart en 2 enveloppen
Van een kaart en 2 enveloppen maakten we de slinger. De letters PARTY hebben we gestempeld met de Biggest Wish stempelset. De afmetingen van alle onderdelen hebben we voor je op een rijtje gezet in de projectbeschrijving. Wist je trouwens dat ieder van ons in deze bloghop een project beschrijving maakt die kunt downloaden en bewaren? Door op onderstaande afbeelding of HIER te klikken kom je bij de PDF.

Hop door naar de anderen
Geinspireerd geraakt? Hop dan vooral door naar de anderen, want ook zij hebben heel veel leuks gemaakt. Natuurlijk vinden wij het heel leuk als je een berichtje voor ons wilt achterlaten in de comments.
Iets bestellen?
Heb je iets nodig of heb je een product gezien dat je graag wilt hebben? Wij verzorgen graag je bestelling. Je kunt je bestelling emailen naar lotte@alottestampingfun.nl en wij zorgen ervoor dat het zo snel mogelijk bij je komt!
Lieve groetjes,

Dit zijn de producten die we voor dit project hebben gebruikt:
Product List
En deze producten gebruiken we altijd
Product List
| | | | | |
| --- | --- | --- | --- | --- |
| | | | | |
| | | | | |