Dear International Readers, Welcome to our Blog.
F or your own convenience please use the translate buttom on your right to select the language of your choice.
Thank you so much for stopping by!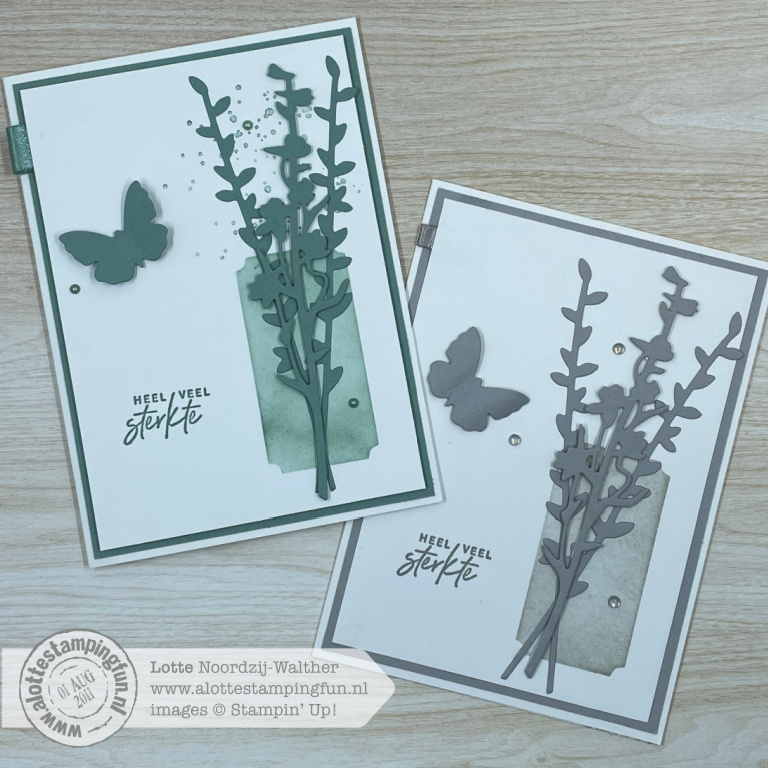 Veel sterkte
Wanneer iemand het moeilijk heeft een zelfgemaakte kaart die je met liefde hebt gemaakt vaak nog meer impact en wordt dat zeer gewaardeerd. Je hoeft niet altijd sombere kleuren te gebruiken. Subtiele kleuren doen het ook altijd goed.
Hetzelfde maar toch anders
Hierboven zie je dezelfde kaart maar gemaakt in twee verschillende kleuren: Links in Smoky Slate en de rechter in Soft Succulent. Beide Clean & Simpel. Je kunt ze natuurlijk ook nog in andere tinten maken. Het is altijd fijn om een voorraadje te hebben liggen.
Afmetingen
Basiskaart: 14,5 x 21 cm – 21 cm rillen op 10,5
Gekleurde mat: 14 x 10 cm
Basic White mat: 13,5 x 9,5 cm
Werkwijze
In de registratie van de Facebook live op YouTube kun je zie hoe je deze kaart maakt. Je kunt HIER klikken of op onderstaande afbeelding om naar de video te gaan.
Iets bestellen?
Heb je iets nodig of heb je een product gezien dat je graag wilt hebben? Wij verzorgen graag je bestelling. Je kunt je bestelling emailen naar lotte@alottestampingfun.nl en wij zorgen ervoor dat het zo snel mogelijk bij je komt!
Lieve groetjes,

Dit zijn de producten die we voor dit project hebben gebruikt:
Product List
En deze producten gebruiken we altijd
Product List
| | | | | |
| --- | --- | --- | --- | --- |
| | | | | |
| | | | | |