Dear international readers, welcome to our blog. Please use the translate button in the right top corner of this page to have this post translated in the language of your choice.

Wat leuk dat je een kijkje op ons blog komt nemen. We doen vandaag mee aan de Feel Good Stampin Blog Hop. 12 Nederlandse Stampin' Up! demonstratrices inspireren je maandelijks door middel van deze hop rondom een bepaald thema. Het leuke van deze bloghop is dat we er allemaal ook een projectbeschrijving bij maken zodat je deze kunt uitprinten en naast je kunt leggen als je het project wilt namaken. Het kan ook zijn dat er video met instructies is gemaakt. Helemaal makkelijk!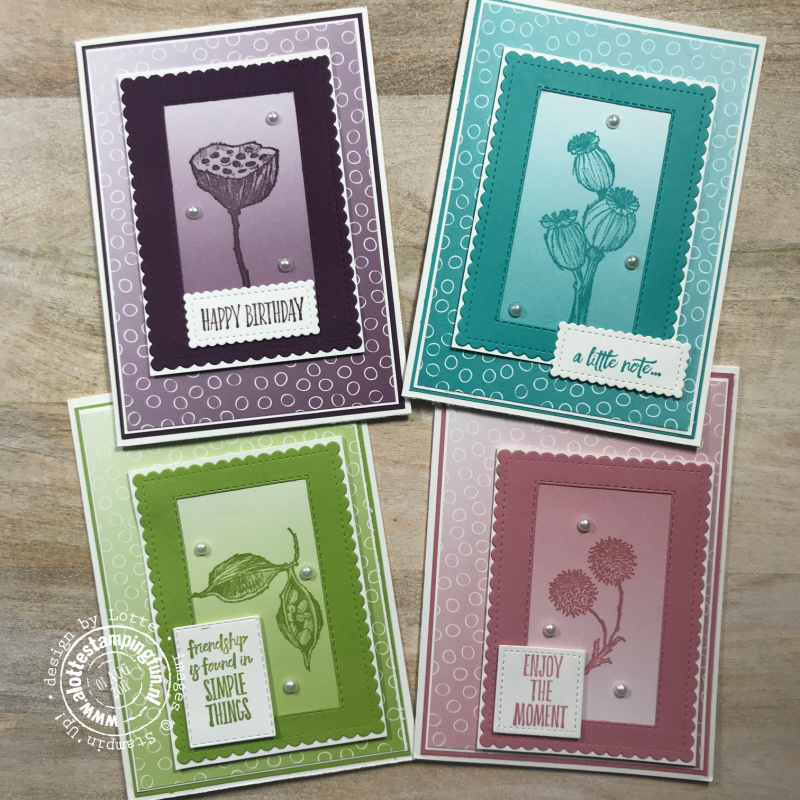 Gebruik maar een kleur
Het thema van deze maand is Monochroom – dus we gebruiken slechts 1 kleur die wordt ondersteund door wit, vanille of zwart. Laat nou het Oh So Ombre design papier wat je gratis kunt kiezen bij een bestelling van €60,00 of een veelvoud daarvan tijdens de Sale-A-Bration actie die loopt tot en met 28 februari daar perfect op aansluiten.
Een serie Design Papier en een stempelset
We namen het Oh So Ombre design papier als uitgangspunt voor een kaartenset. Samen met de stempelset Enjoy the Moment is dit een perfect paar! Wil je deze leuke kaartset zelf maken klik dan hier of op onderstaande knop voor de pfd. Wil je meteen naar de video? Klik dan hier

Vier verschillende versies
Door de vier verschillende kleuren te gebruiken en verschillende afbeeldingen en teksten maak je zo heel snel een leuke kaartenset.
Nog meer leuks zien?
Hieronder zie je lijst van alle Nederlandse Stampin' Up! demonstratrices die aan deze bloghop meedoen. Superleuk als je ook bij hen een kijkje gaat nemen om te zien wat voor monochroom moois zij gemaakt hebben. We vinden het trouwens superleuk als je een reactie achterlaat. Klik op een van de onderstaande namen om te beginnen en maak je rondje. Veel plezier!
Een leuk mapje om de kaartset heen?
Tijdens onze wekelijkse Facebook Live van 14 januari maakt Lotte een heel leuk mapje waarin je een kaartset kunt opbergen of cadeau kunt geven.
Iets bestellen?
Alle materialen die zijn gebruikt, staan onderaan dit blog vermeld. Mocht je iets in je voorraad missen of een aanvulling willen, wij verzorgen graag je bestelling. Stuur ons een email (lotte@alottestampingfun.nl) met je wensen en dan komt het dik voor elkaar.
Lieve groetjes van

Dit zijn de producten die we voor dit project hebben gebruikt:
Product List

En deze producten gebruiken we altijd:
Product List