Dear International Readers, Welcome to our Blog.
F or your own convenience please use the translate buttom on your right to select the language of your choice.
Thank you so much for stopping by!
Welkom bij de workshop
Eind januari geven we een workshop met de Birthday Card Organizer Kit van Stampin' Up! Voor de dames die de workshop in Rotterdam komen volgen ligt er dan een klein aardigheidje klaar in de sfeer van de workshop. Deze keer verpakken we een mini Rittersportje.
Cottage Rose
In de kit wordt gewerkt met afbeeldingen uit de Cottage Rose stempelset en de bijpassende stansen dus die hebben we gebruikt voor de aankleding van het doosje.
Afmetingen
Basis: 10,5 x 14 cm – ril 10,5 cm op 1,5 en 3 cm en ril 14,5 cm zijde op 1,5 – 6,5 – 8 en 13 cm
Strook (bellyband) 1,5 cm breed
Strook (tekst) 1 cm breed
Werkwijze
Tijdens een Facebook Live heeft Lotte uitgelegd hoe je deze mini rittersport verpakking kunt maken. Je kunt deze HIER op ons YouTube kanaal bekijken of door op onderstaande afbeelding te klikken.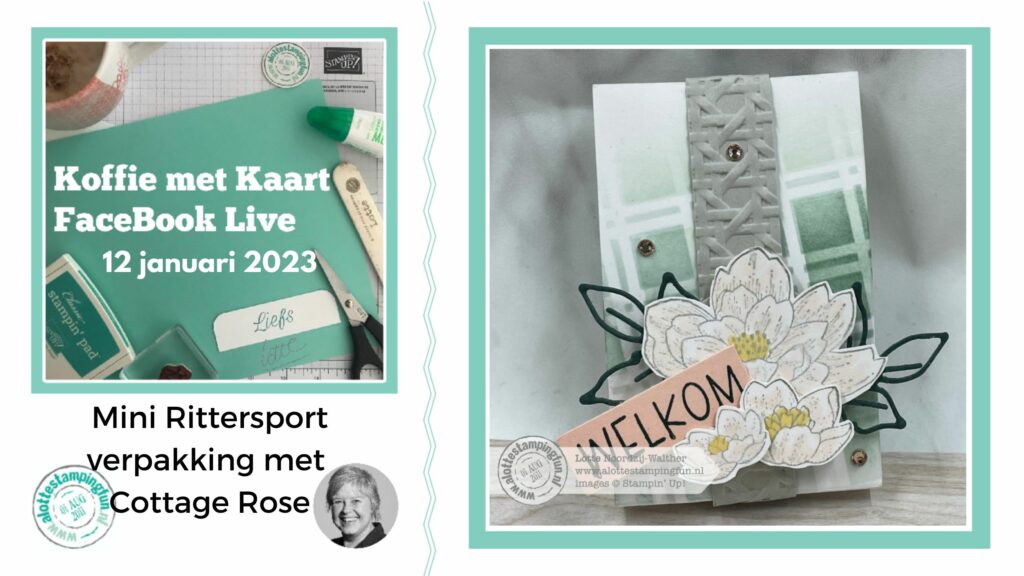 Iets bestellen?
Heb je iets nodig of heb je een product gezien dat je graag wilt hebben? Wij verzorgen graag je bestelling. Je kunt je bestelling emailen naar lotte@alottestampingfun.nl en wij zorgen ervoor dat het zo snel mogelijk bij je komt!
Lieve groetjes,

Product List
| | | | | |
| --- | --- | --- | --- | --- |
| | | | | |
| | | | | |
| | | | | |
En deze producten gebruiken we altijd
Product List
| | | | | |
| --- | --- | --- | --- | --- |
| | | | | |
| | | | | |