Dear international readers.
Welcome to our blog, Please use the translate button up in the right hand corner to read this blog in your preferred language.
Het is weer tijd voor de Global Monthly Video Hop waarin een aantal Stampin'Up! demonstratrices je in een video laten zien wat ze hebben gemaakt voor het thema. Deze maand is dat het thema "SPRING/LENTE". Wanneer je aan lente denkt, denk je aan jonge dieren, lekker weer, Pasen, chocola en aan bloesems aan de bomen.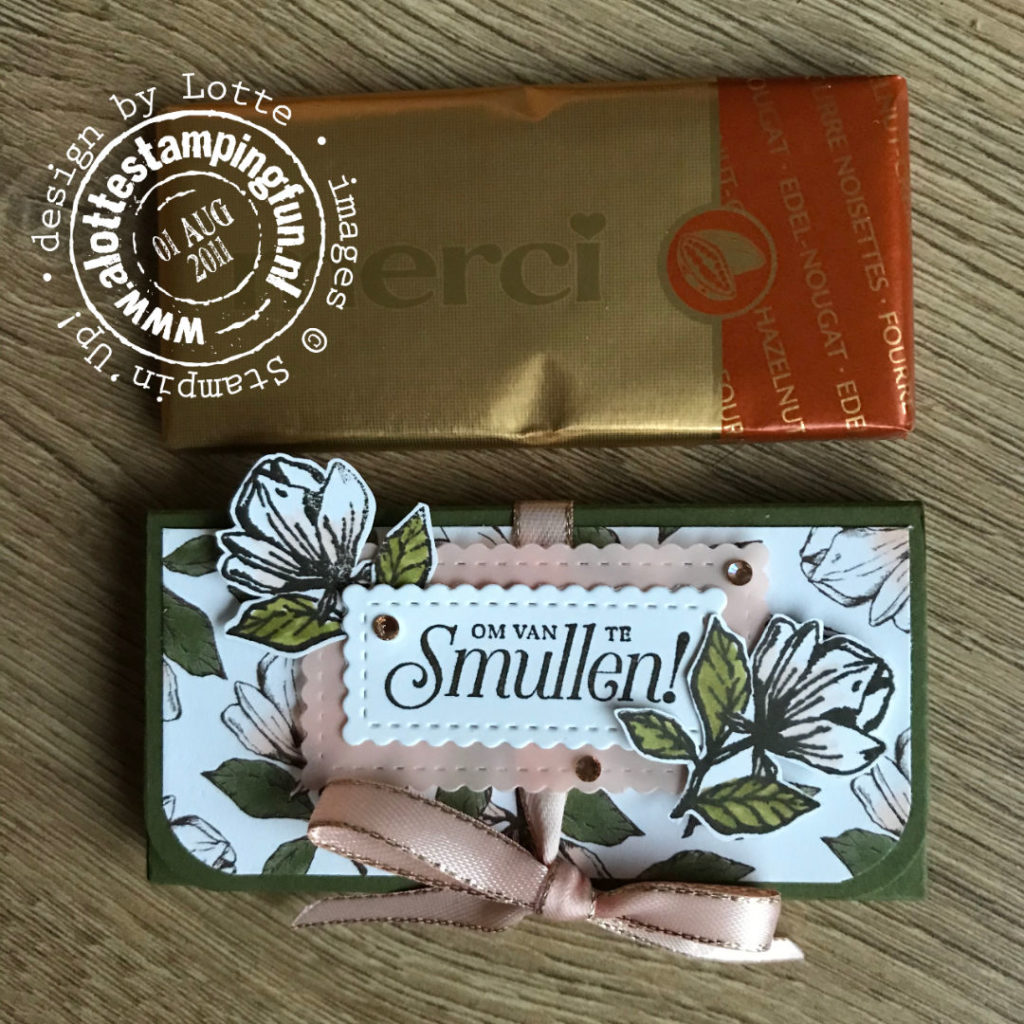 Voor deze videohop hebben we een Merci chocolade reepje verpakt in een doosje versierd met bloesems. Hoe we dat hebben gedaan zie je in onderstaande video:
Centimeters:
Papiermaat: 15,1 x 13 cm
ril 15,1 cm zijde op:
2 – 2,8 – 12,3 en 13,1 cm
ril 13 cm zijde op:
2 – 2,8 – 7,5 en 8,3 cm
Matmaat: 4,2 x 9 cm (2x)
Inches:
Papiermaat: 6 x 5 inch
ril 6 inch zijde op:
3/4, 1-1/8, 4-7/8 en 5-1/4 inch –
ril 5 inch zijde op:
3/4, 1-1/8, 2-7/8 en 3-1/4 inch
Matmaat: 1-5/8 x 3-5/8 inch (2x)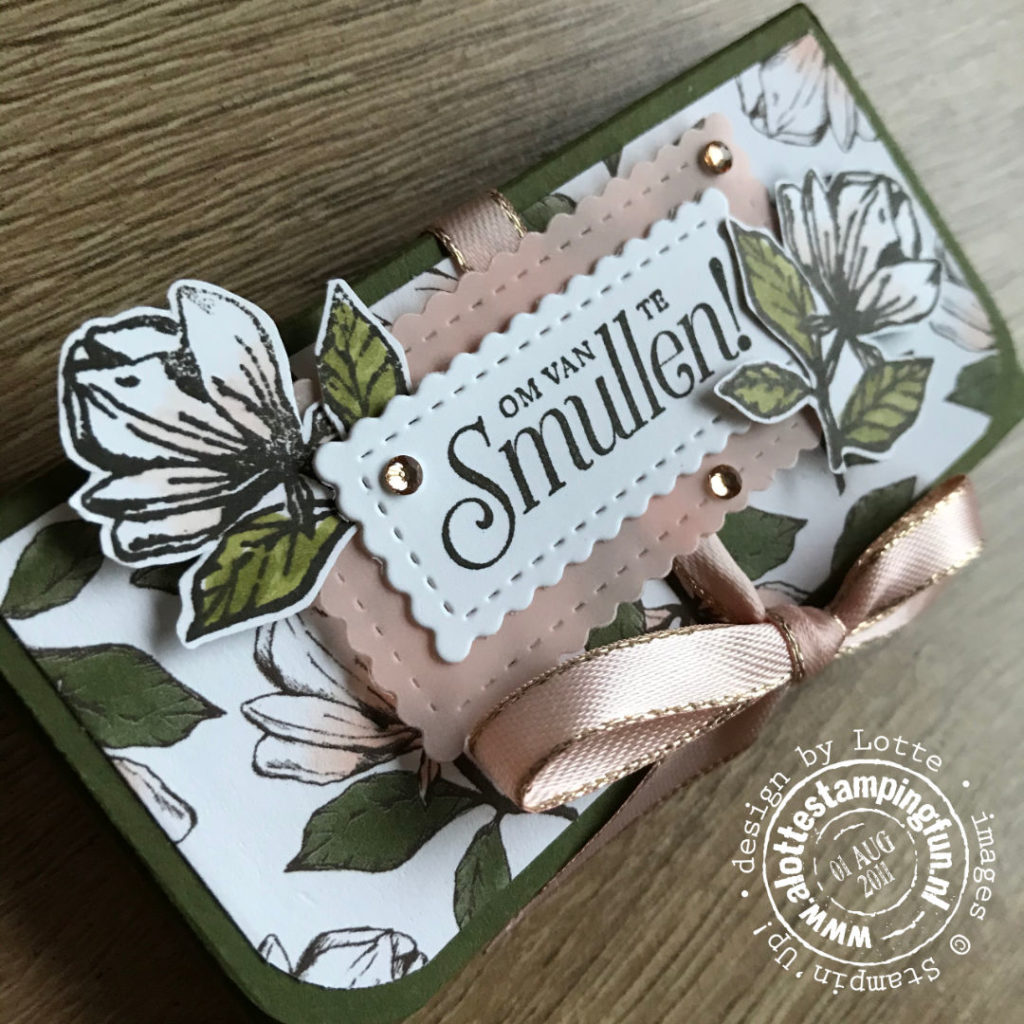 Nog meer leuke voorbeelden?
Onze internationale collega's hebben ook weer erg hun best gedaan om je te inspireren. Je kunt heel eenvoudig doorhoppen naar hun video's door op de link naast hun naam te klikken.
Tracy Bish: https://bit.ly/3c4Fp7Q
Tricia Smithy -Smiths Crafty Creations – Scotland UK: https://youtu.be/d80ESC65ljA
Gesche Preißler – Geschempelt – Germany: https://youtu.be/pTme-Fu_CIc
Jean Piersanti – Beauty and the Stamper – USA: https://youtu.be/y5efpHE-Ofo
Emilie Panis – Sweety-crafty – France: https://youtu.be/Y-cdAwpE7b4
Diane Hutchinson – Canada: https://youtu.be/dCQkZ4NTdWQ
Liz Yuille – Old Stables Crafts – UK: https://youtu.be/h5mjzXJxeDY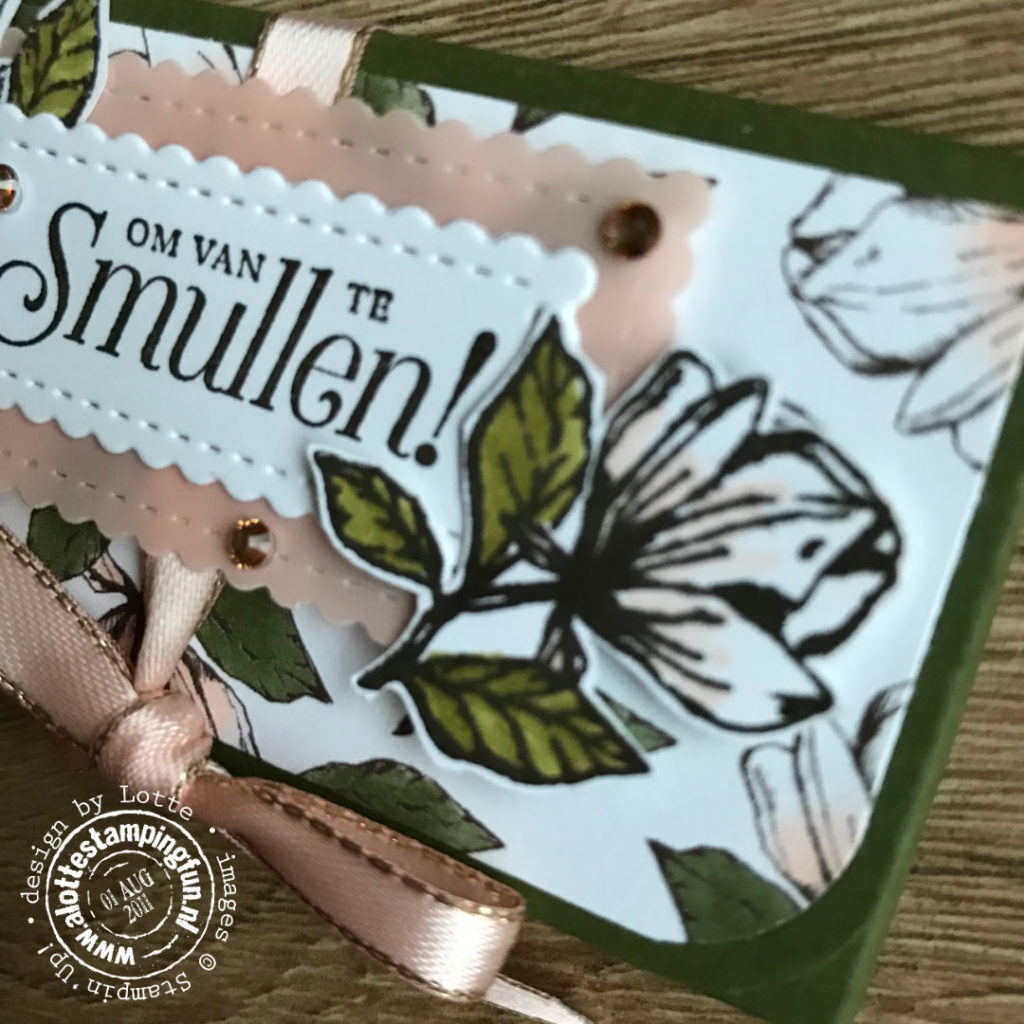 Duimpje omhoog
Superleuk als je bij de video een duimpje omhoog geeft en nog leuker vinden we het als je een reactie wilt plaatsen, we horen graag wat je van onze bijdrages vindt!
Heb je iets nodig of heb je een product gezien dat je graag wilt hebben? Wij verzorgen graag je bestelling. Je kunt je bestelling emailen naar lotte@alottestampingfun.nl en wij zorgen ervoor dat het zo snel mogelijk bij je komt!
Lieve groetjes,
Dit zijn de producten die we voor dit project hebben gebruikt:
Product List
En deze producten gebruiken we altijd
Product List
| | | | | |
| --- | --- | --- | --- | --- |
| | | | | |
| | | | | |