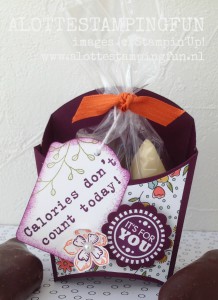 Afgelopen donderdagavond ben ik naar een Ladies Night geweest. Deze werd georganiseerd door Ronald Koorengevel bij Van Kooren Brood en Delicatessen waar ik altijd op donderdagochtend de Koffie met Kaart miniworkshop doe. We dachten dat het een aardige geste was om alle aanwezigen iets mee naar huis te geven. Ronald stelde de met chocolade overgoten spekkies ter beschikking en ik maakte het doosje. Aangezien er heel veel lekkers was bleek de tekst op het label erg toepasselijk.
Last Thursday I went to a Ladies Night. This one was organized by Ronald Koorengevel of Van Kooren Brood and Delicatessen, where I do my Coffee and Cards workshop every Thursday morning. We thought it would be nice to give the ladies a treat to take home. Ronald donated the chocolate dipped marshmallows and I made the box. The text on the tag was very appropriate, as there were tons of nice treats that evening.
Ik vind het leuk als je een berichtje achterlaat!
I do like to read your comments!