Dear international readers.
Welcome to our blog, Please use the translate button up in the right hand corner to read this blog in your preferred language.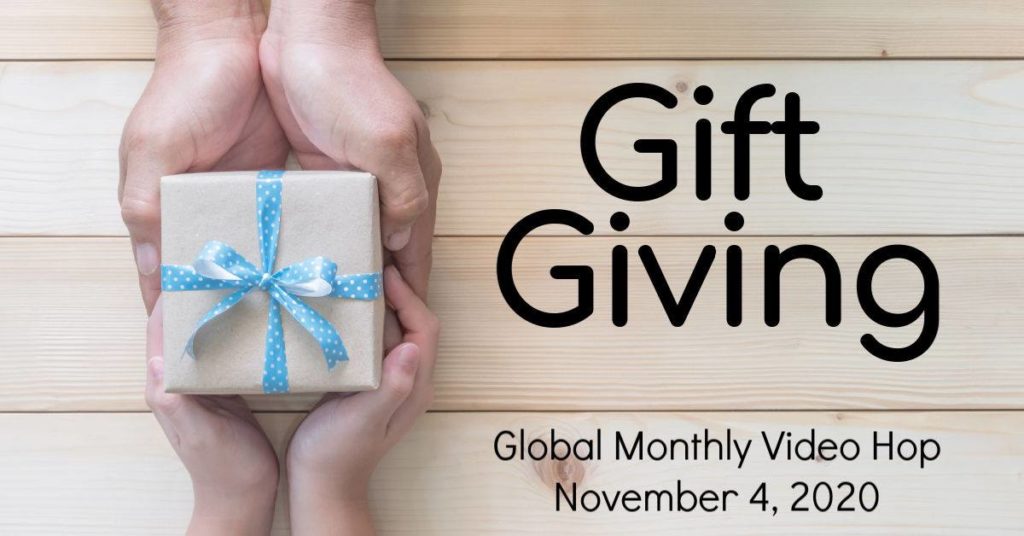 Het is weer tijd voor de maandelijkse "Global Monthly Video Hop" waarin een aantal Stampin' Up! demonstratrices van over de hele wereld je inspireren via YouTube video's rondom een bepaald thema. Deze keer het thema Gift Giving.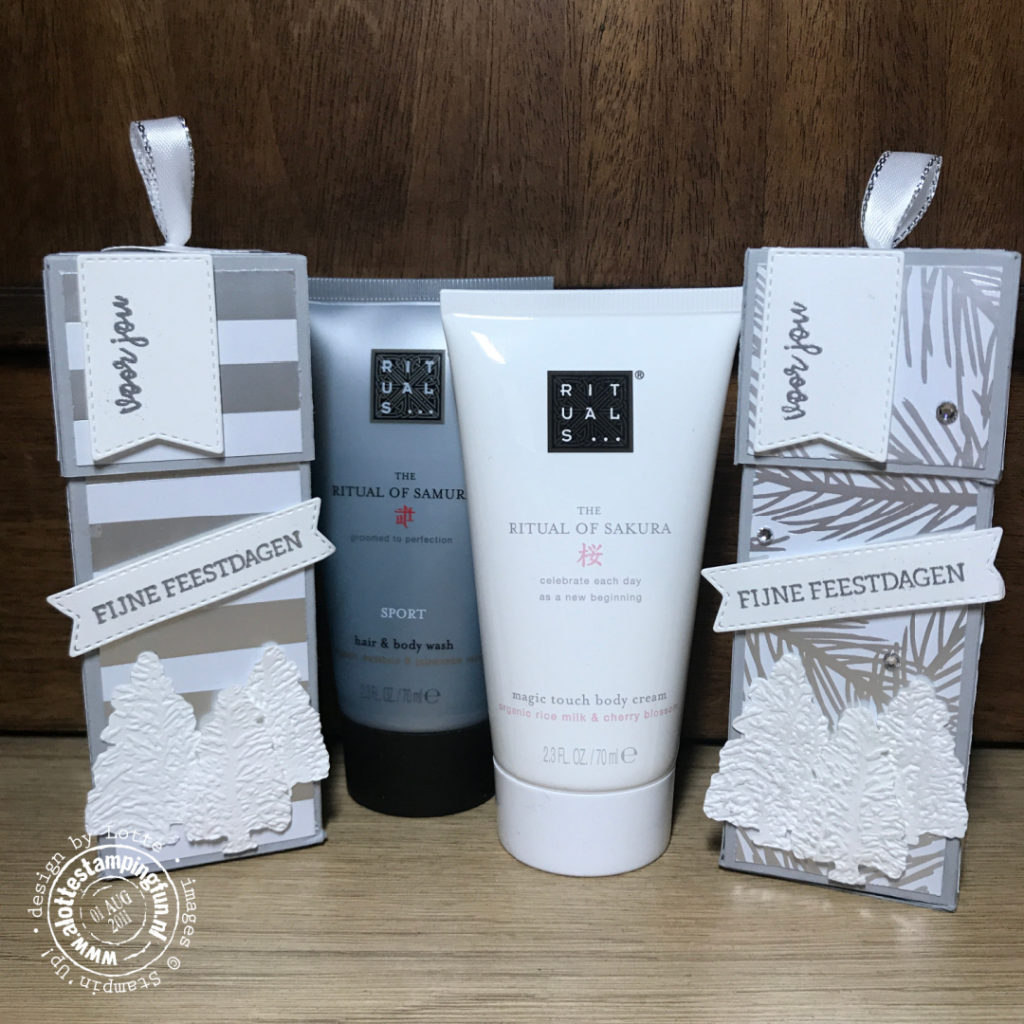 Elk jaar maken we diverse cadeauverpakkingen in opdracht. Deze keer kwam de vraag of we met in de kleuren wit en zilver een groot aantal Rituals 70 ml tubes konden verpakken. Ja hoor, geen probleem!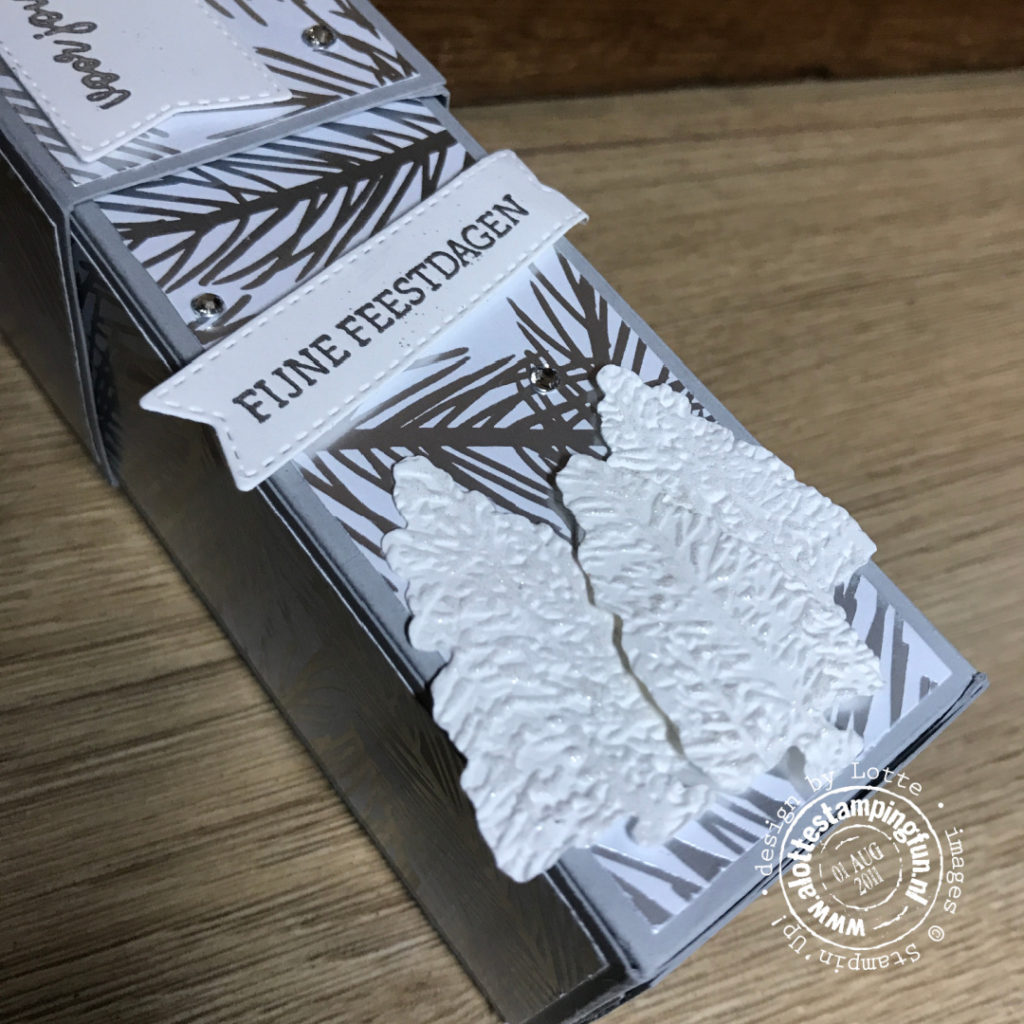 Voor de basis gebruikten we Smoky Slate wat heel mooi past bij het Feels Like Frost Design Papier. Door de uitgestanste bomen uit de Nature's Roots stansen te embossen met de Evergreen Forest embossing folder en daarna met de Wink of Stella te bewerken krijgen ze een hele mooie look. De teksten op de labels uit de Thoughtful Labels stansen zijn geembossed met Silver Embossing poeder. De verpakkingen vielen erg in de smaak: They are gorgeous !!! – Love E.
De mannenversie is vrij strak en zonder bling, de damesversie heeft meer een "female touch".
CENTIMETER
Doosje: 19 x 17 cm
Ril 19 zijde op 4,5 – 9 – 13,5 en 18 cm
Ril 17 zijde op 4,5 cm

Deksel: 12,7 x 12,7 cm
Ril rondom op 4 cm
INCHES:

Doosje: 7-1/2″ x 6-3/4″
Ril 7-1/2″ zijde op 1-3/4″, 3-1/2″, 5-1/4″ en 7″
Ril 6-3/4″ zijde op 1-3/4″

Deksel: 5″ x 5″
Ril rondom op 1-9/16″
In onderstaande video laat Lotte zien hoe je dit leuke doosje zelf kunt maken.

Nog meer leuks zien?
Je kunt nog meer Gift Giving inspiratie opdoen bij onze internationale Stampin' Up! collega's. Klik op de link achter hun naam en je wordt automatisch naar hun YouTube video geleid.
Diane Hutchinson, Crafts by the Bow – Canada: https://bit.ly/35UsW4n
Tracy Bish – Australia: https://bit.ly/2TIqDvw
Jean Piersanti, Beauty and the Stamper – USA : https://bit.ly/2I173bO
Emilie Panis, Sweety Crafty – France : https://bit.ly/34NOEbd
Gesche Preißler, Geschtempelt – Germany : https://bit.ly/3kV2GgQ
Heb je iets nodig of heb je een product gezien dat je graag wilt hebben? Wij verzorgen graag je bestelling. Je kunt je bestelling emailen naar lotte@alottestampingfun.nl en wij zorgen ervoor dat het zo snel mogelijk bij je komt!
Lieve groetjes,
Dit zijn de producten die we voor dit project hebben gebruikt:
Product List
| | | | | |
| --- | --- | --- | --- | --- |
| | | | | |
| | | | | |
| | | | | |
En deze producten gebruiken we altijd
Product List
| | | | | |
| --- | --- | --- | --- | --- |
| | | | | |
| | | | | |