Dear international readers.
Welcome to our blog, Please use the translate button up in the right hand corner to read this blog in your preferred language.
Het is de eerste woensdag van de maand, dus tijd voor de Global Monthly Video Hop.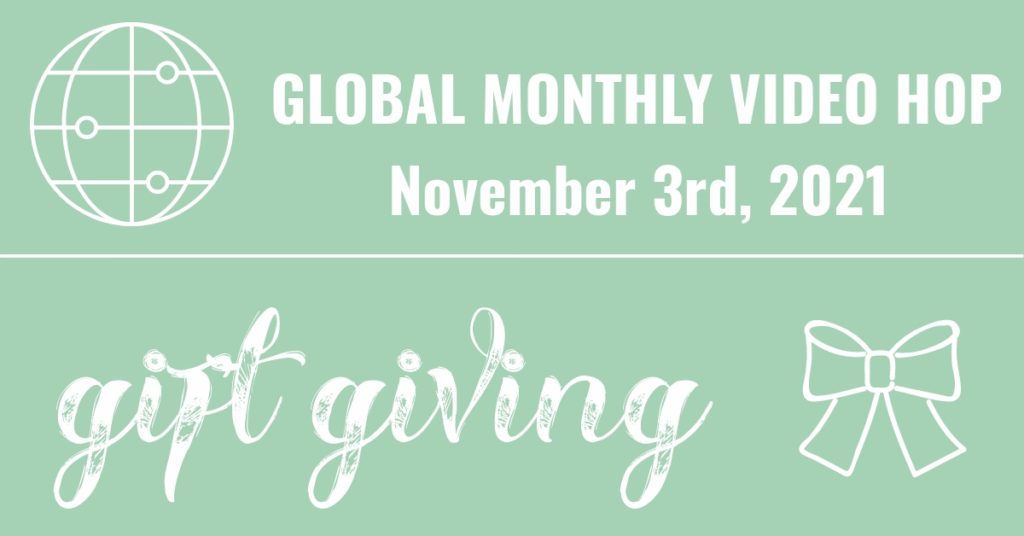 Vandaag hoppen we langs een aantal YouTube video's waarin Stampin' Up! demonstratrices van over de hele wereld je inspireren rondom een bepaald thema. Vandaag is dat Gift Giving. En een cadeautje hoeft niet groot te zijn. Het mag ook klein zijn. Een lekker chocolaatje leuk ingepakt voor na het diner of bij het weggaan bij een feestje. Er zijn mogelijkheden genoeg om dit schattige kleine doosje weg te geven.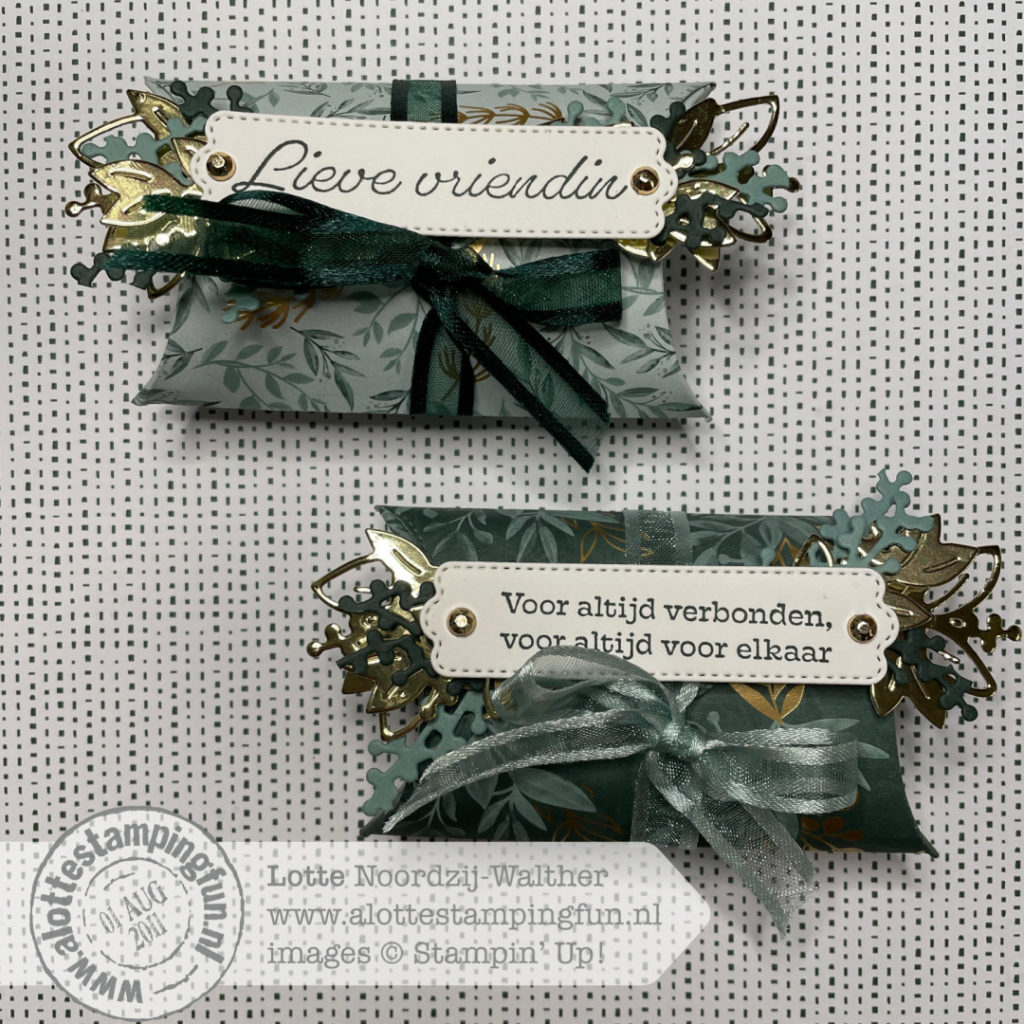 Snel een doosje maken met de Pretty Pillow Box stansen
Met de Pretty Pillow Box stansen maak je heel gemakkelijk en snel de basis voor deze leuke doosjes. Snij een strook van 11,5 cm breed van het Ever Eden Designer Series Paper en uit een strook kun je er twee halen. Dat is makkelijk als je er een groot aantal wilt maken.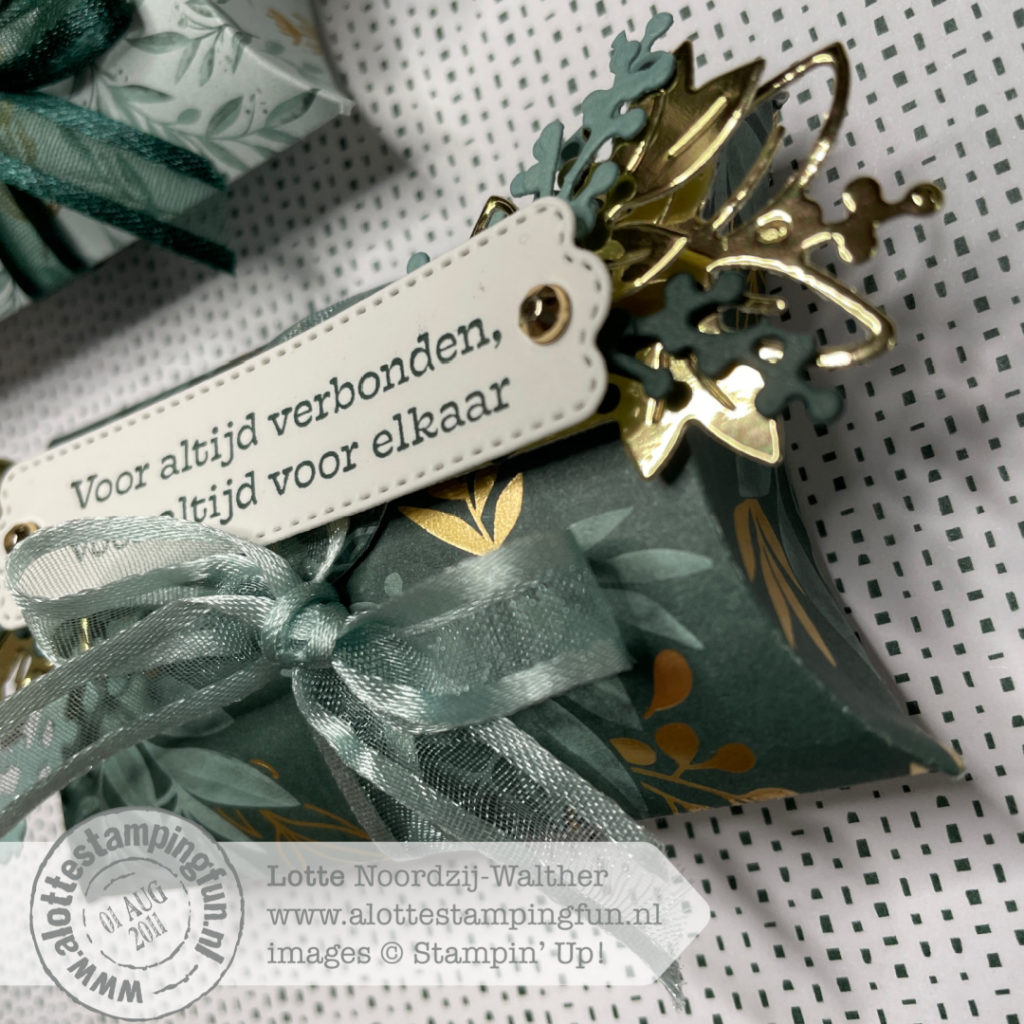 Hof van Eden suite
Het doosje is gemaakt met de Hof van Eden suite. Een suite die vandaag is gelanceerd door Stampin' Up! Aangezien daar veel over te vertellen is kun je alles over deze suite in een apart blogpost lezen. Door HIER te klikken kom je daar terecht.
Werkwijze
Je kunt doorklikken naar de video waarin Lotte uitlegt hoe je dit doosje maakt door HIER te klikken of op onderstaande afbeelding.
Hop door naar de anderen
Een groot aantal Stampin' Up! demonstratrices van uit de hele wereld hebben ook een inspirerende video voor je gemaakt. Hieronder zie je lijst en door op de link achter hun naam te klikken ga je vanzelf naar hun YouTube kanaal.
Tracy Bish – Australia: https://bit.ly/3Gl4Pgy
Michelle Critchley – New Zealand : https://bit.ly/2ZNnL7A
Jean Piersanti – USA : https://bit.ly/3k0PpVq
Gesche Preißler – geschtempelt – Germany: https://bit.ly/3mFUYKO
Tricia Smith – UK: https://bit.ly/3GO07Iv
Iets bestellen?
Heb je iets nodig of heb je een product gezien dat je graag wilt hebben? Wij verzorgen graag je bestelling. Je kunt je bestelling emailen naar lotte@alottestampingfun.nl en wij zorgen ervoor dat het zo snel mogelijk bij je komt!
Lieve groetjes,

Dit zijn de producten die we voor dit project hebben gebruikt:
Product List
En deze producten gebruiken we altijd
Product List
| | | | | |
| --- | --- | --- | --- | --- |
| | | | | |
| | | | | |