Dear international readers, welcome to our blog. Please use the translate button in the right top corner of this page to have this post translated in the language of your choice.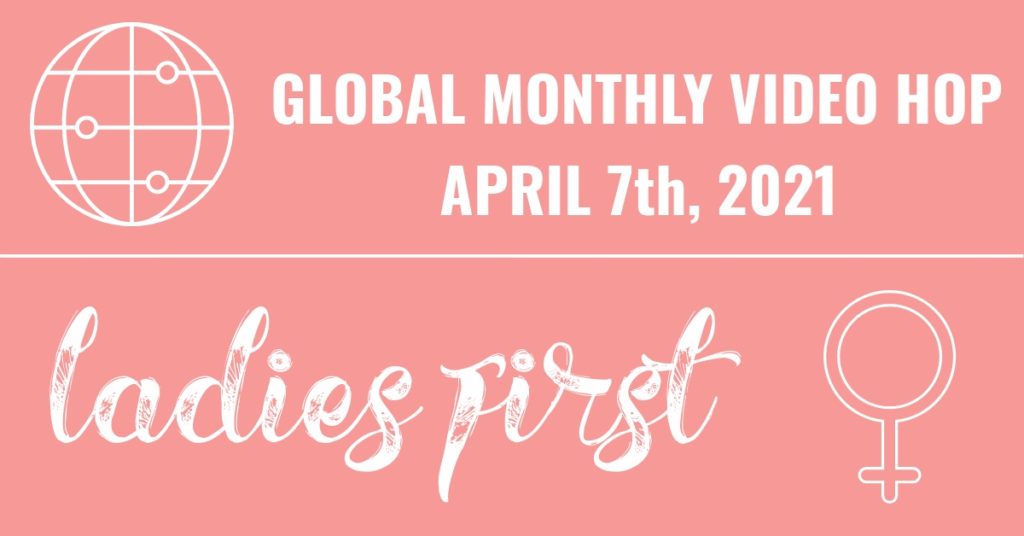 Hello Fabulous!
Vandaag een "ladies first" bloghop met het design team van de Global Monthly Video Hop. De titel zegt het al we zetten dames in het zonnetje. Voor deze hop maakten we een giftcard holder voor een cadeaukaart van een drogisterij/parfumerie. Je kunt de kleuren natuurlijk aanpassen aan de huiskleuren van de keten waarvan je de giftcard geeft.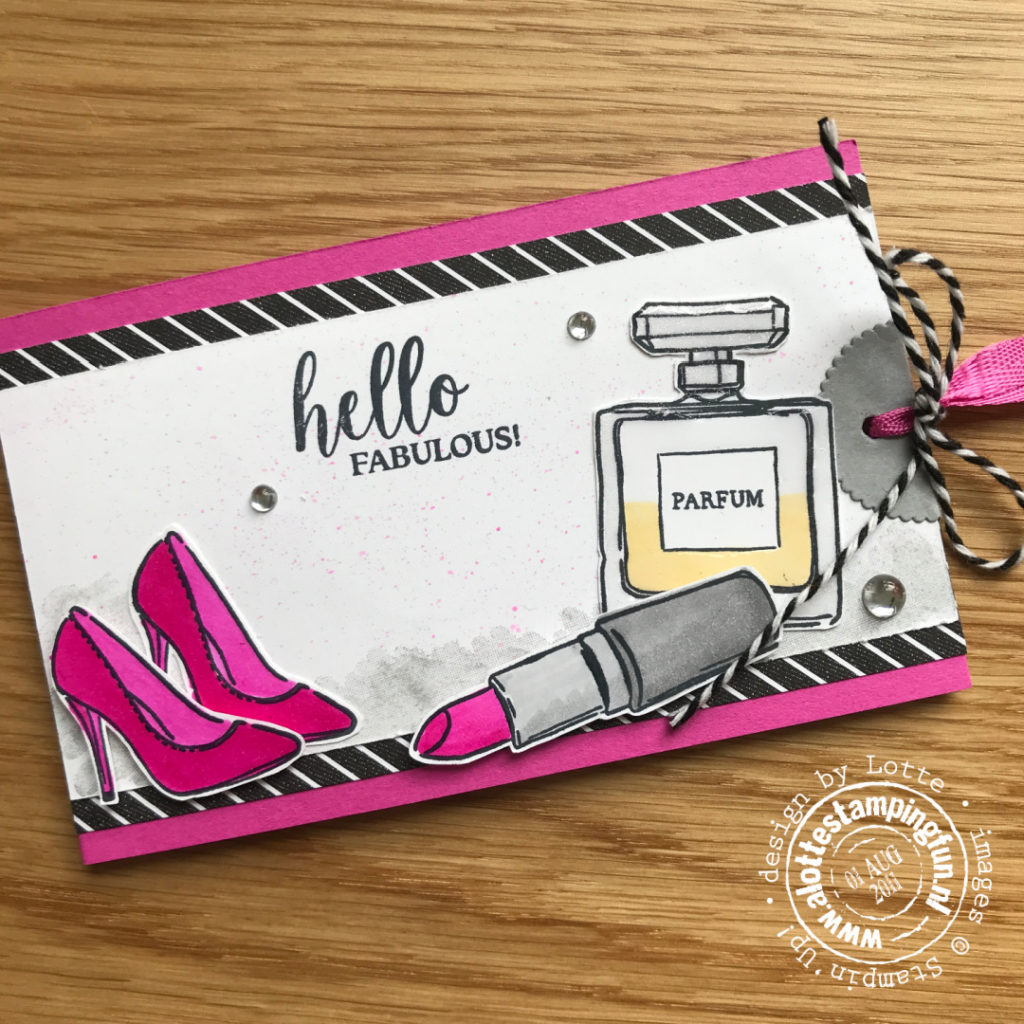 Bij dit voorbeeld is Magenta Madness gebruikt en zou goed passen bij een cadeaukaart van ICI Paris. Wanneer je hem in Mint Macaron maakt is hij heel geschikt voor een cadeaukaart van Parfumerie Douglas. De stempelset Dressed to Impress heeft superleuke stempels die je voor deze giftcardholder kunt gebruiken.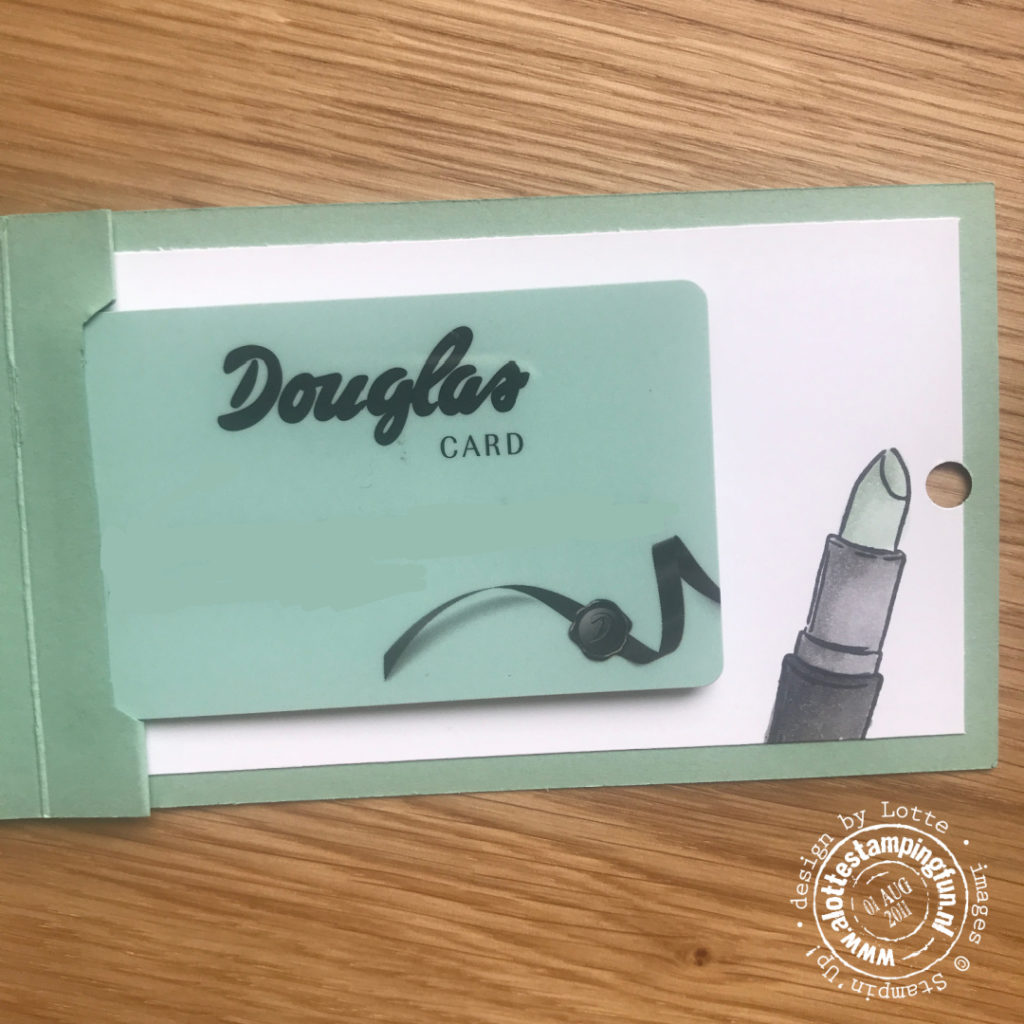 Glazen flesje look & feel
Niet alleen met de Crystal Effects, maar ook met de Fine Tip Glue pen kun je het parfum flesje een echte glazen look & feel geven. Lotte laat in de video zie hoe je dat doet.
Afmetingen
CENTIMETERS:
Basis voor giftcard holder: 29 x 8 cm – ril 29 cm zijde op 13 – 14,5 en 16 cm
Mat DSP voorzijde: 13 x 7 cm
Mat Basic White voorzijde: 13 x 6 cm
Mat Basic White binnenzijde: 12 x 7 cm
INCHES:
Basis voor giftcard holder: 11-1/2 x 3-1/4 inch – score 11-1/2 at 5-1/4, 5-3/4 and 6-1/4 inch
Mat DSP voorzijde: 5-1/4 x 3 inch
Mat Basic White voorzijde: 5-1/4 x 2-3/4 inch
Mat Basic White binnenzijde: 5 x 3 inch
Werkwijze
Wil je zien hoe Lotte deze giftcard holder heeft gemaakt, klik dan hier of op onderstaande afbeelding om naar de Youtube video te gaan.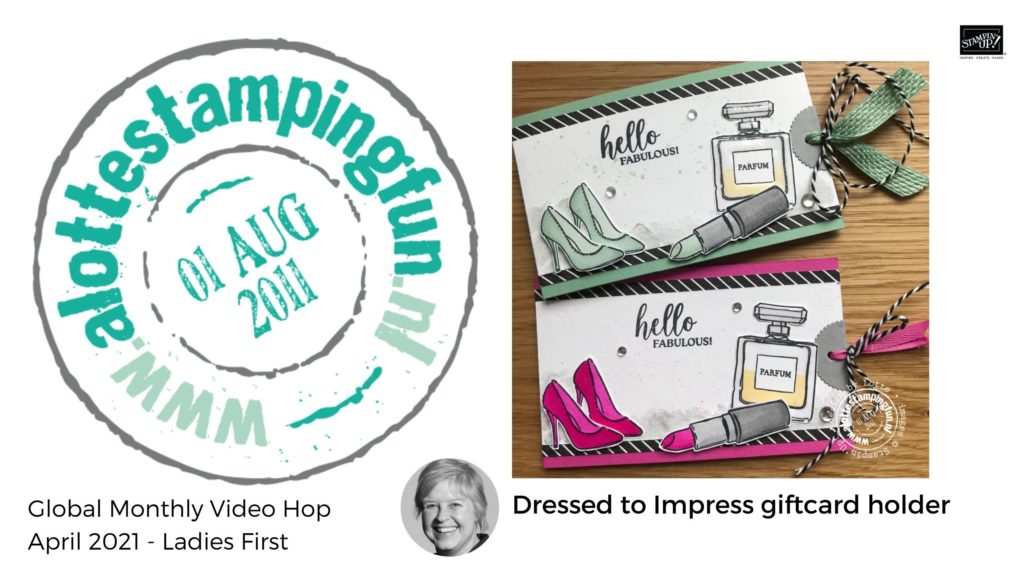 Hop door naar de anderen
Onze internationale collega's hebben ook voor het thema "Ladies First" superleuke dingen gemaakt. Klik op de link achter hun naam en dan wordt je automatisch naar hun YouTube video's gebracht.
Diane Hutchinson – Canada: https://bit.ly/3dGoWbN
Tracy Bish – Australia: https://bit.ly/2NCRbyX
Gesche Preißler, Geschtempet – Germany : https://bit.ly/2OsOGzQ
Michelle Critchley – New Zealand : https://bit.ly/2Ondx7Z
Emilie Panis – France : https://bit.ly/3fNGGon
Eve van de Ploeg – KreatEve – Austria : https://bit.ly/3mqkL7S
Iets bestellen?
Alle materialen die zijn gebruikt, staan onderaan dit blog vermeld. Mocht je iets in je voorraad missen of een aanvulling willen, wij verzorgen graag je bestelling. Stuur ons een email (lotte@alottestampingfun.nl) met je wensen en dan komt het dik voor elkaar.
Lieve groetjes van

Dit zijn de producten die we voor dit project hebben gebruikt:
Product List

En deze producten gebruiken we altijd:
Product List