Dear international readers.
Welcome to our blog, Please use the translate button up in the right hand corner to read this blog in your preferred language.
Het is weer de 10e van de maand en dan is het weer tijd om aan te kondigen welk product volgende maand centraal staat in de live workshops van Stempel, Inkt en Papier.
Stempel, Inkt & Papier is een creatief initiatief  van drie Nederlandse Stampin'Up! Demonstratrices die elke maand een specifiek Stampin'Up! Product centraal zetten in een "Live" workshop programma. In dit programma bieden we ten minste 4 online workshops aan via Facebook Live in een besloten Facebook groep. Dit zijn dus "Live" workshops waarbij jij als kijker meteen met ons mee kan doen of later aan de slag kan gaan. Je kunt in DEZE VIDEO bekijken hoe je mee kunt doen aan deze workshops.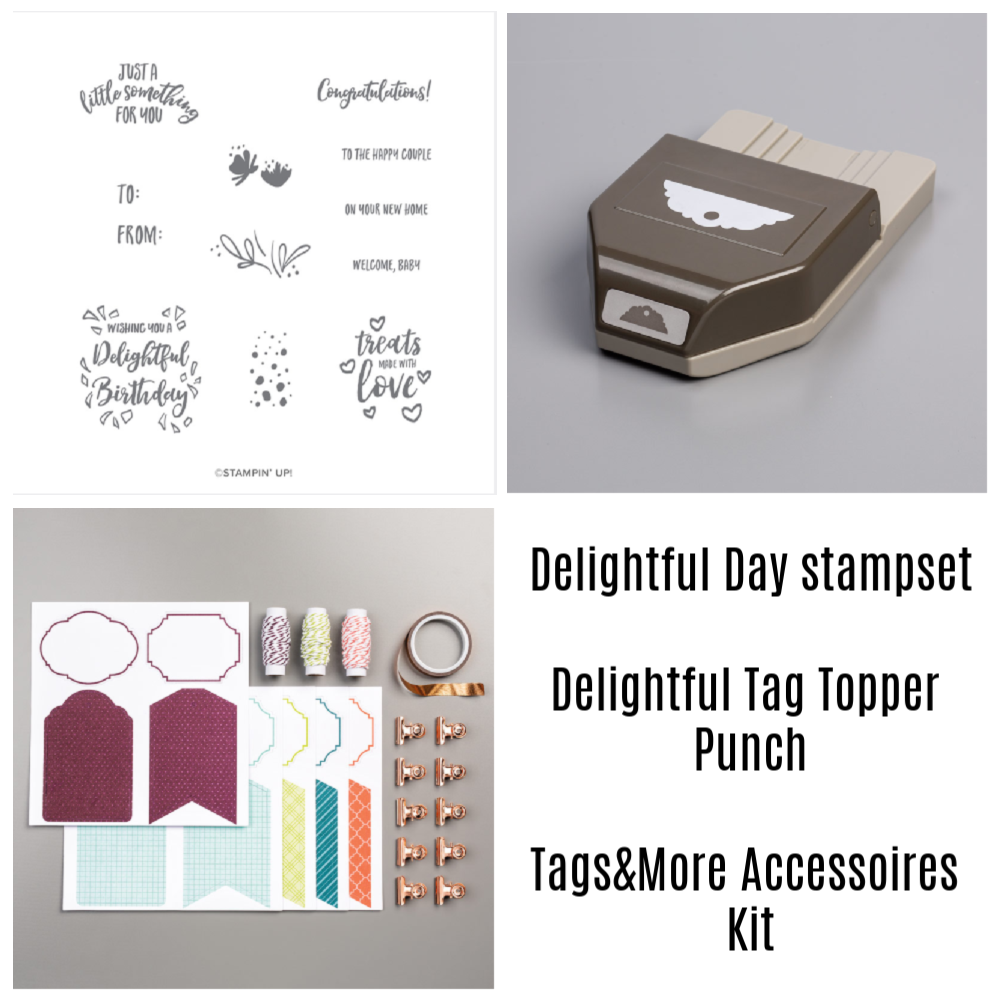 Voor de maand mei is dat Delightful Day stempelset met bijbehorende Delightful Tag Topper pons en Tags&More Accessories Kit. En wat een leuke dingen kun je daarmee maken. In deze bloghop geven we je alvast wat inspiratie!
Het is nu zo vlak voor Pasen de tijd om een klein aardigheidje bij iemand op gepaste afstand te brengen. De leuke Printed Gusseted Cellophane Bags vul je met wat lekkers. Op de voorgestanste labels van de Tags&More Accessories Kit stempel je de bloemetjes en een tekst uit de Delightful Day stempelset. De gebruikte kleuren zijn: Pretty Peacock, Granny Apple Green en Terracotta Tile. Je sluit het geheel met het bakerstwine en een koperen klemmetjes. Zo heb je heel snel een leuk weggevertje.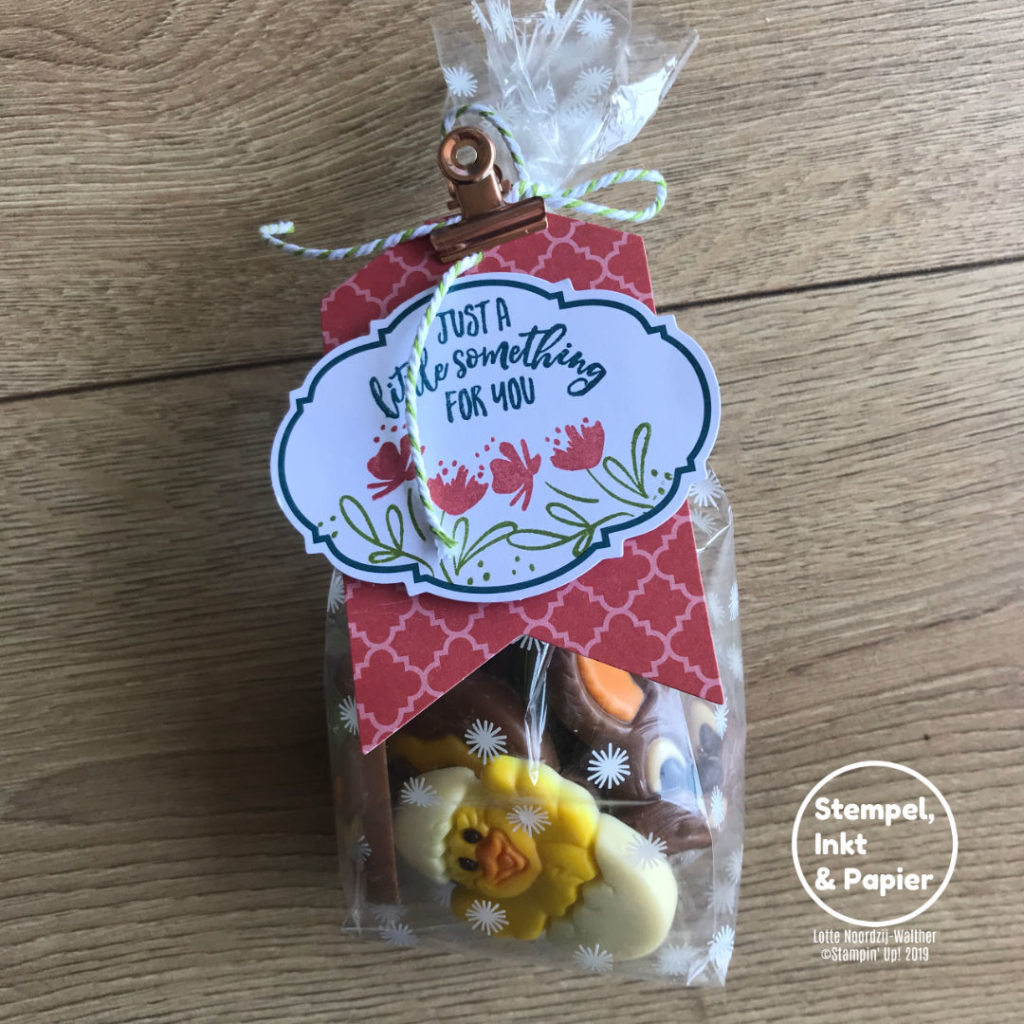 Een ander leuk cadeautje wat je kun weggeven is een klein flesje handreiniger. Deze stond bij de kassa van de Etos en viel op door de frisse kleur van het Granny Apple Green.
Dat vroeg om een leuk doosje. Het cardstock (basismaat 16 x 20,5 cm) is eerst bestempeld met de spetters uit de Delightful Day stempelset. Daarna is het cardstock omgetoverd tot het doosje. Wil je zien hoe je het doosje maakt? Klik dan hier om naar de video te gaan.
Het label is net als het label hierboven afkomstig uit de Tags&More Accessories Kit. Erachter zit een strookje van het In Color 6×6 Designpapier in de kleur Terracotta Tile en meet 2,5 x 12 cm met aan weerzijden een vlaggetje geknipt.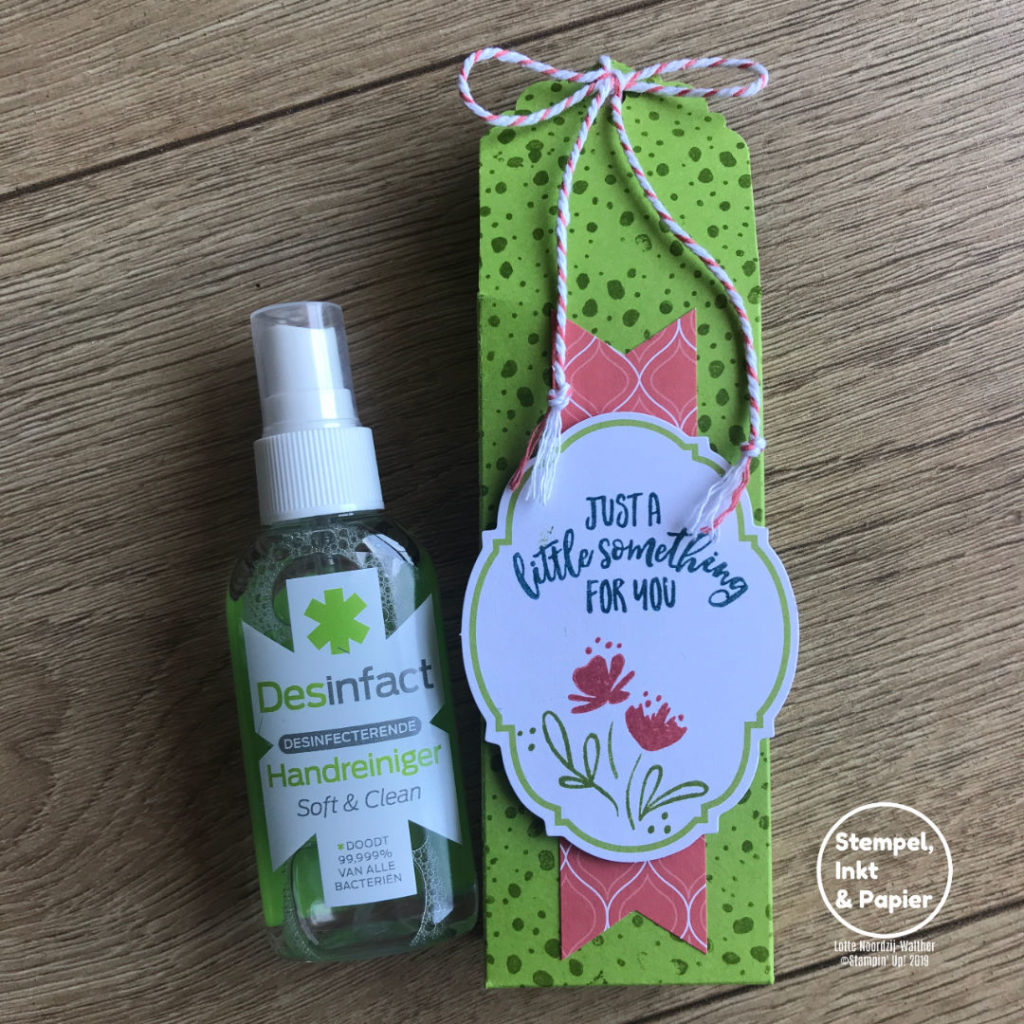 Nog meer leuks met deze set zien?
Hop dan door naar onze collega's van Stempel, Inkt & Papier. Ook Janneke, Danielle en Sandra hebben weer iets heel leuks gemaakt. Klik op een van hun namen om door te hoppen.
Heb je iets nodig of heb je een product gezien dat je graag wilt hebben? Wij verzorgen graag je bestelling. Je kunt je bestelling emailen naar lotte@alottestampingfun.nl en wij zorgen ervoor dat het zo snel mogelijk bij je komt!
Lieve groetjes,
Dit zijn de producten die we voor dit project hebben gebruikt:
Product List
En deze producten gebruiken we altijd
Product List
| | | | | |
| --- | --- | --- | --- | --- |
| | | | | |
| | | | | |