Dear International Readers, Welcome to our Blog.
F or your own convenience please use the translate buttom on your right to select the language of your choice.
Thank you so much for stopping by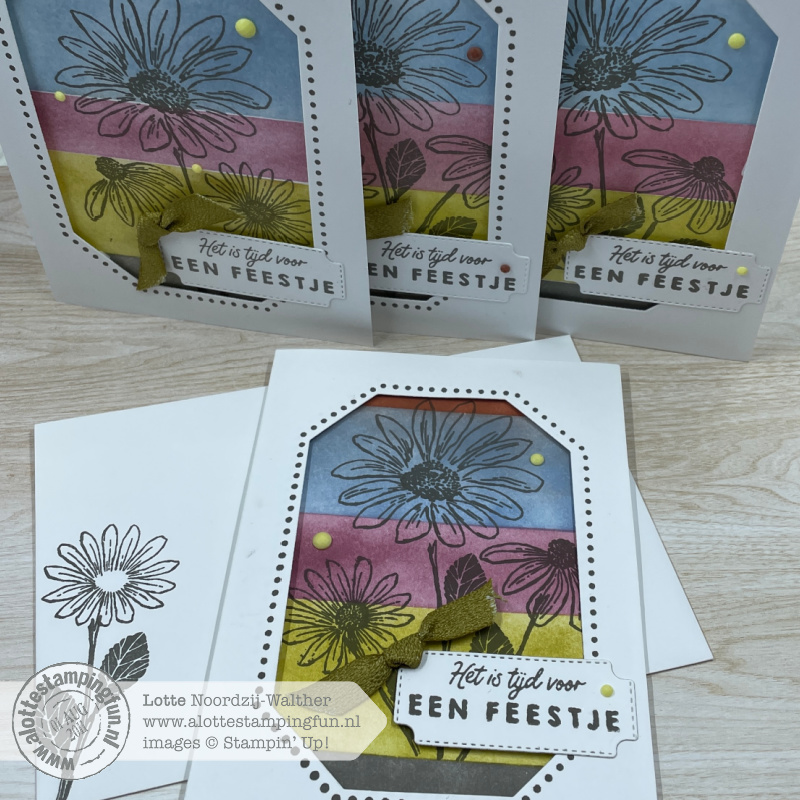 In Color Inspiratie
Dat is het thema van de Feel Good Stampin' Video hop van deze maand. Een groot aantal Stampin' Up! demonstrators inspireren je met projecten waarin een of meerdere In Colors centraal staan. Wij kozen voor een colorblock achtergrond met nieuwe 2023 – 2025 In Colors voor die leuke Cheerful Daisies.
Projectbeschrijving
Je kunt een PDF met projectbeschrijving (maten, link naar video en gebruikte materialen) HIER downloaden of door op onderstaande afbeelding te klikken.

Werkwijze
In de onderstaande video legt Lotte stap voor stap uit hoe ze deze colorblock heeft gemaakt. Onderaan de video staan trouwens ook de linken naar de video's van de andere Stampin' Up! demonstators die aan deze video hop mee doen. Hop gerust door want iedereen heeft weer erg zijn best gedaan om je te inspireren.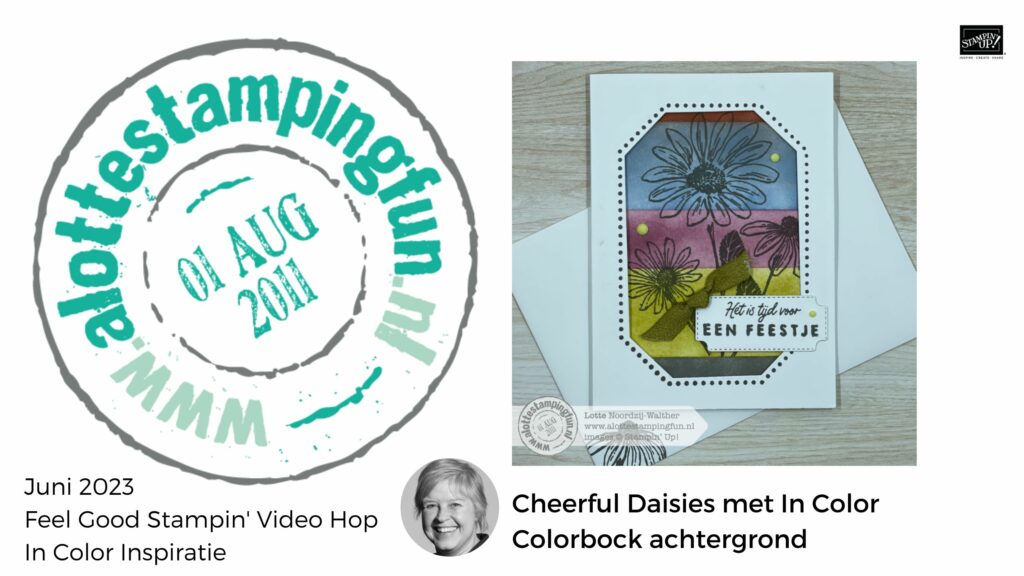 Hop door naar de anderen
Nog meer In Color inspiratie zien? Hop dan door naar de andere – ook zij hebben een superleuk project met InColors voor je gemaakt. Klik op de link achter hun naam en je wordt vanzelf naar hun project gebracht. Veel inspiratie plezier!
Lotte Noordzij-Walther – ALotteStampingFun – https://youtu.be/0Bkt8d0fQKo
Danielle Bennenk – Mrs. Brightside – https://youtu.be/muINyHBFooA
Elly Rijnvis – PapierPlezier – https://youtu.be/z0gtcR7g5Cc
Sarine Zijderveld – Stamping Matters – https://youtu.be/rWh8oOeAslw
Annette Koolmees – Kreaneeltje – https://youtu.be/6e6YfNEBP0Q
Iets bestellen?
Heb je iets nodig of heb je een product gezien dat je graag wilt hebben? Wij verzorgen graag je bestelling. Je kunt je bestelling emailen naar lotte@alottestampingfun.nl en wij zorgen ervoor dat het zo snel mogelijk bij je komt!
Lieve groetjes,

Dit zijn de producten die we voor dit project hebben gebruikt:
Product List
| | | | | |
| --- | --- | --- | --- | --- |
| | | | | |
| | | | | |
| | | | | |
En deze producten gebruiken we altijd
Product List
| | | | | |
| --- | --- | --- | --- | --- |
| | | | | |
| | | | | |