Dear international readers, welcome to our blog. Please use the translate button in the right top corner of this page to have this post translated in the language of your choice.
De eerste kaart is een vlechtwerk kaart. De smalle strookjes zijn aan de uiteindes bewerkt met de Classic Label pons. De tekst Hello Friend komt uit de stempelset A Touch of Ink, een van de vele producten die je gratis kunt kiezen tijdens de Sale-A-Bration actie die loopt tot en met 28 februari 2021.
Voor de tweede kaart gebruikten we de Ice Cream Cone Builder pons om de driehoekjes uit te ponsen. Door een aantal van de driehoekjes met dimensionals te bevestgen krijgt de kerstboom wat dimensie. Een van de bloemetjes uit de Boho Indigo Project Kit refill hebben we gekleurd met de Misty Moonlight Stampin' Blends en met een Mini Gluedot op de top van de boom geplaatst.
Afmetingen
Vlechtwerkkaart:
Basiskaart: standaard Stampin' Up! Noce card & Envelop (17,8 x 12,8 cm – 17,8 cm zijde rillen op 8,9 cm)
Mat: Night of Navy: 12 x 8,1 cm
Mat: Very Vanilla: 11,4 x4 x 7,4 cm

Kerstkaart:
Basiskaart: 21 x 14,5 – 21 cm zijde rillen op 10,5 cm
Mat: Misty Moonlight: 14,2 x 9,7 cm
Mat: Very Vanilla: 14 x 9,5 cm
Werkwijze
Klik hier of op onderstaande afbeelding om naar de video te gaan waar Lotte laat zien hoe je deze kaarten heel gemakkelijk zelf kunt maken.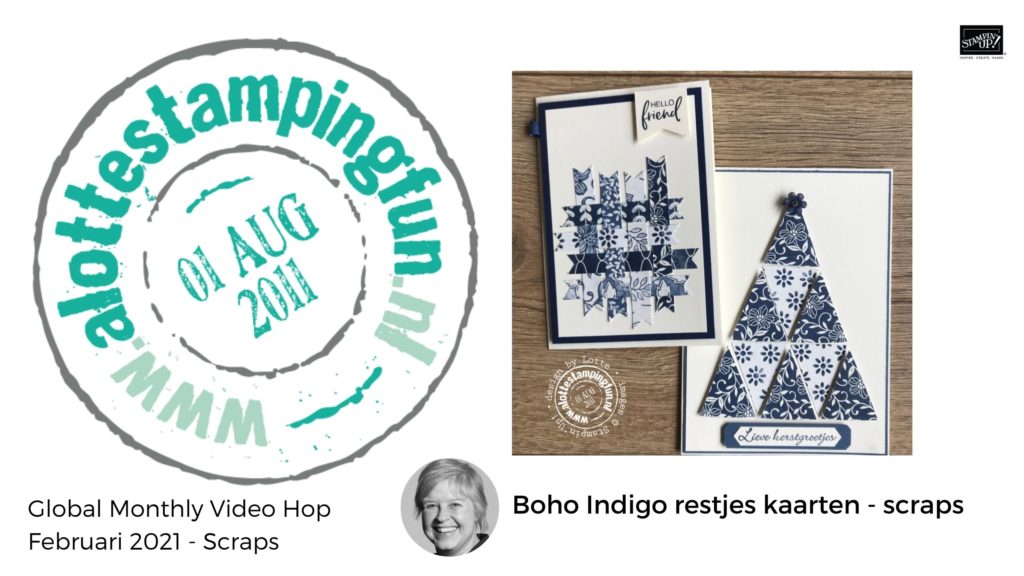 Nog meer ideeen opdoen om restjes te gebruiken?
Hieronder tref je de lijst aan van de internationale Stampin' Up! demonstratrices die met deze videohop meedoen. Achter hun naam staat de link naar de YouTube video die ze voor jou hebben gemaakt. Heel veel kijkplezier!
Diane Hutchinson, Crafts by the bow – Canada: https://bit.ly/36xqJNu
Tracy Bish – Australia: https://bit.ly/2NRIxMM
Gesche Preißler, Geschtempelt – Germany : https://bit.ly/3ayxccq
Eve van der Ploeg, Kreat.Eve.Doula – Austria : https://bit.ly/2YGs3cF
Michelle Critchley, C&C Designs – New Zealand : https://bit.ly/3asegvJ
Jean Piersanti, The Beauty and the Stamper – USA : https://bit.ly/3cCu0iC
Iets bestellen?
Alle materialen die zijn gebruikt, staan onderaan dit blog vermeld. Mocht je iets in je voorraad missen of een aanvulling willen, wij verzorgen graag je bestelling. Stuur ons een email (lotte@alottestampingfun.nl) met je wensen en dan komt het dik voor elkaar.
Lieve groetjes van

Dit zijn de producten die we voor dit project hebben gebruikt:
Product List
| | | | | |
| --- | --- | --- | --- | --- |
| | | | | |
| | | | | |
| | | | | |
En deze producten gebruiken we altijd:
Product List