Dear International readers, welcome to our blog. Please for you convenience use the translate button on the right and select the language of your choice. Thank you so much for stopping by!
Stempels, inkt en papier en meer heb je niet nodig om deze leuke kaartenset in een doosje je maken. Door een grote stempel te gebruiken zoals de Blossoms in Bloom van Stampin' Up! kun je door in het midden van een A4 een kruisvorm te stempelen makkelijk en snel de basis leggen voor 4 kaarten.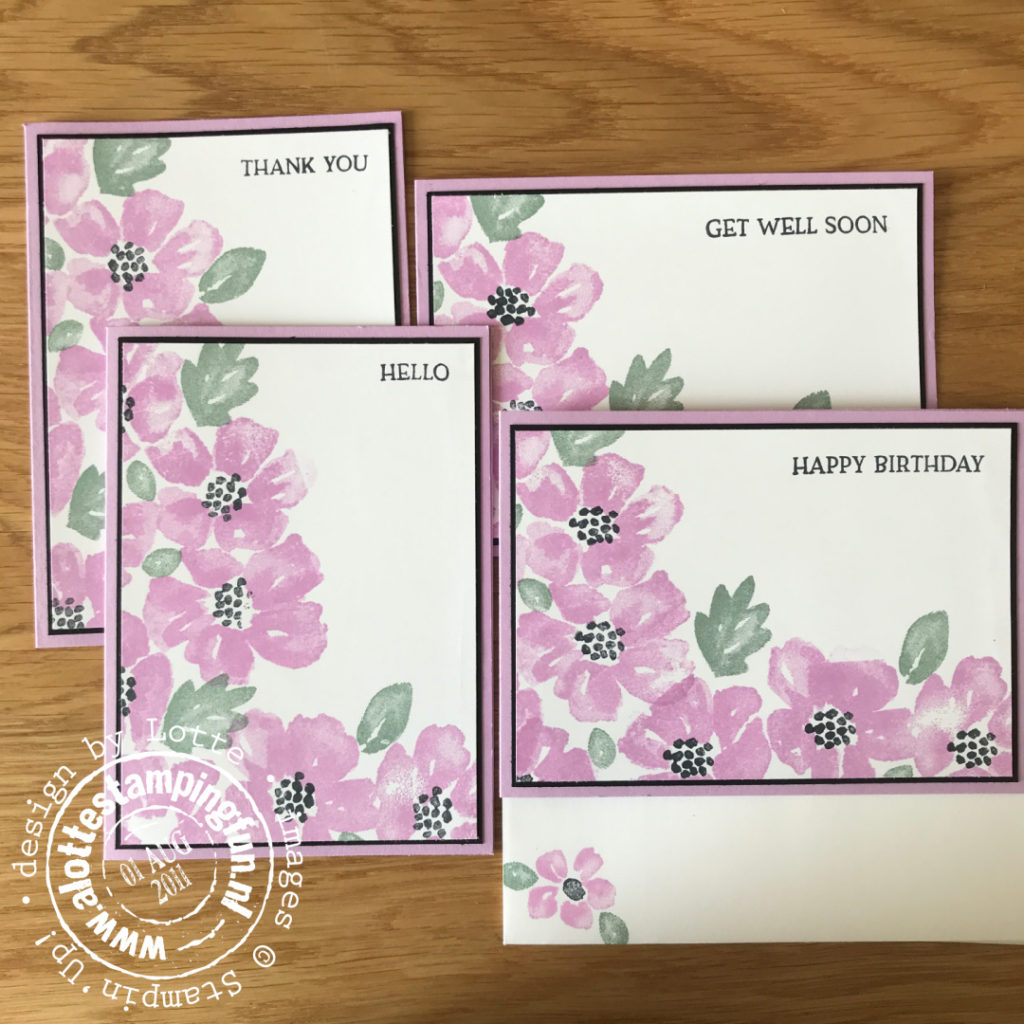 Als je de 4 kaarten samen met 4 enveloppen dan in zo'n leuk Acetate Card Box stopt en je maakt er een leuke band omheen dan heb je een superleuk cadeautje.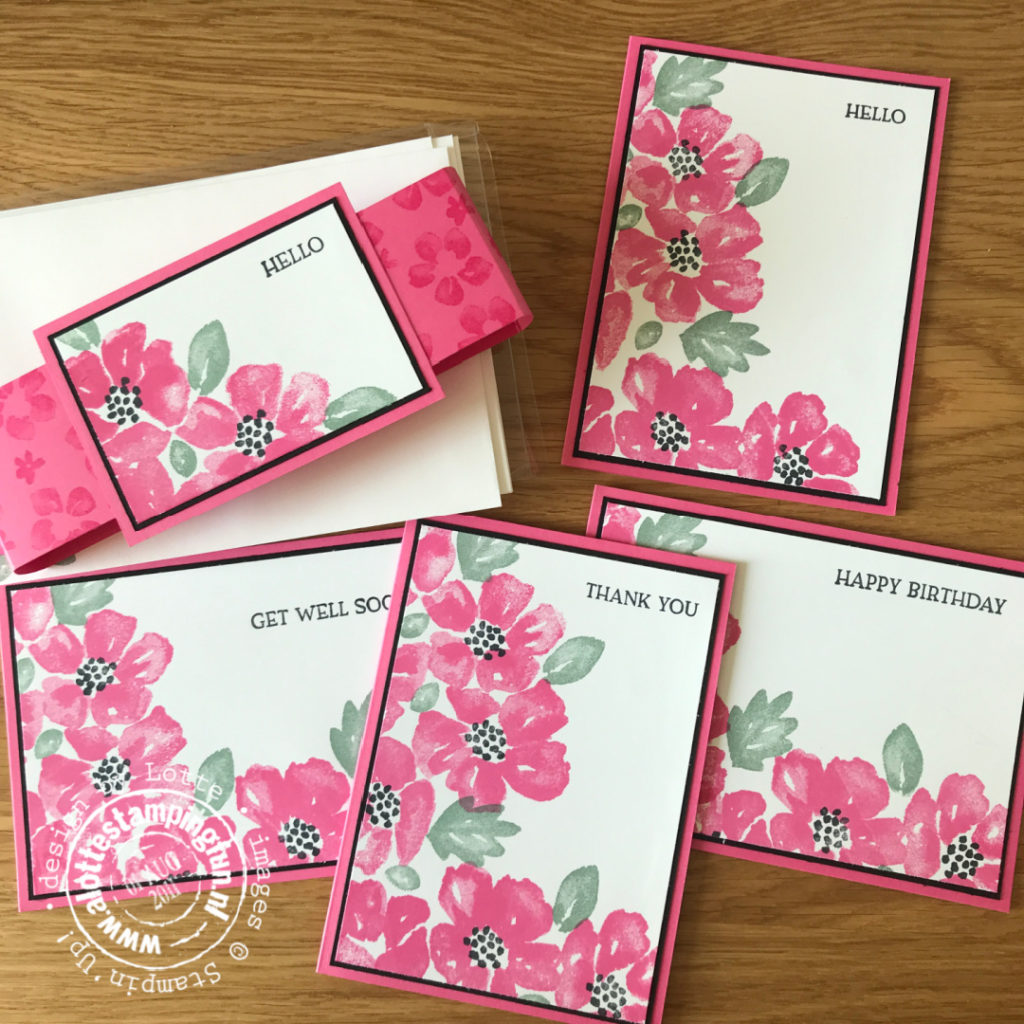 Afmetingen
Basiskaart (staand – hamburger stijl) 21 x 14,5 cm – 21 cm zijde rillen op 10,5 cm
Basiskaart (liggend – hotdog stijl) 29 x 10,5 cm – 29 cm zijde rillen op 14,5 cm
Mat (Basic Black) 13,8 x 9,8 cm
Mat (Basic White) 13,5 x 9,5 cm
Band: 29,7 x 5 cm – 29,7 cm zijde rillen links op 5 en 7 cm en rechts op 4,5 en 6,5 cm
Basis kaartje op band: 7 x 10 cm
Mat (Basic Black) 6,3 x 9,3 cm
Mat (Basic White) 6 x 9 cm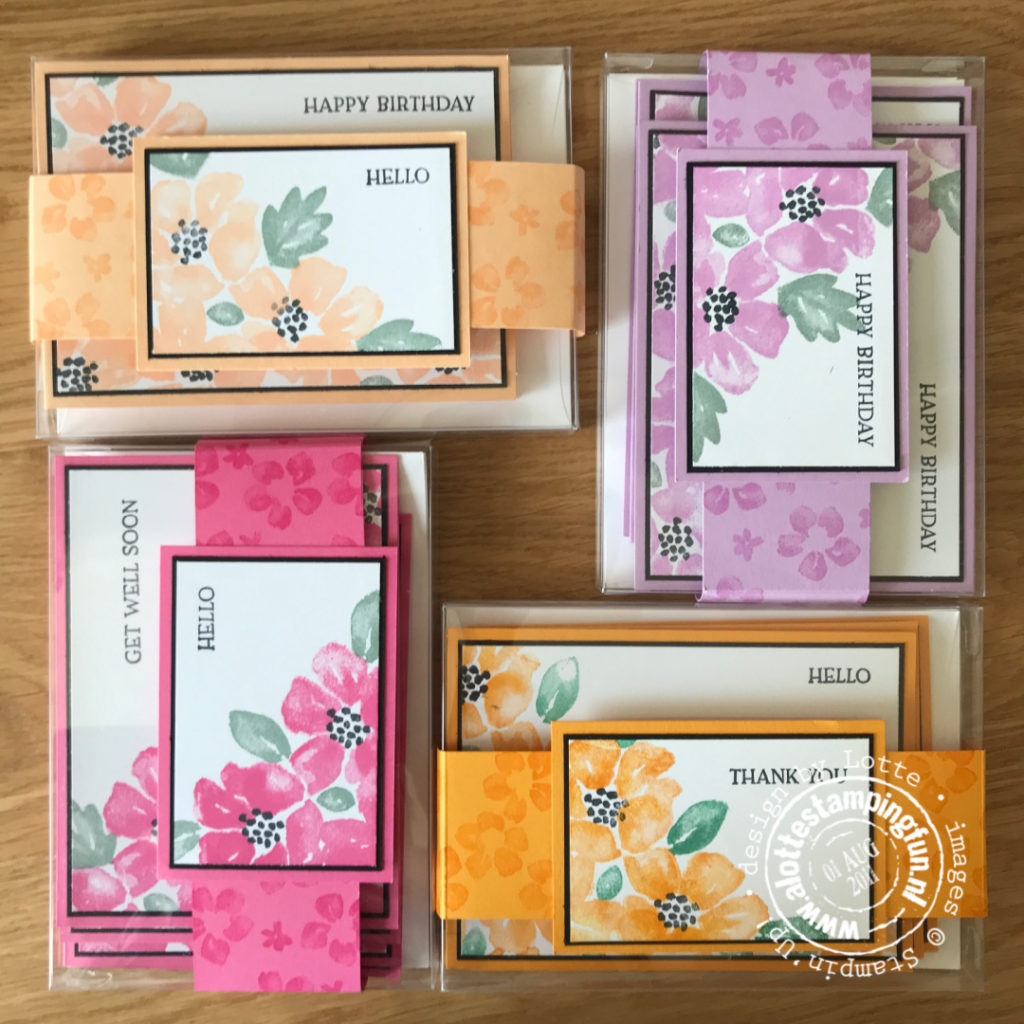 Wij konden er maar geen genoeg van krijgen en hebben een paar sets in voorraad in verschillende kleuren gemaakt!
Werkwijze
Klik hier of op onderstaande afbeelding om naar de registratie van de Facebook live op ons YouTube kanaal te gaan waarin Lotte precies uitlegt hoe je deze 4 kaarten en de band om de doos kunt maken.
Iets bestellen?
Alle materialen die zijn gebruikt, staan onderaan dit blog vermeld. Mocht je iets in je voorraad missen of een aanvulling willen, wij verzorgen graag je bestelling. Stuur ons een email (lotte@alottestampingfun.nl) met je wensen en dan komt het dik voor elkaar.
Lieve groetjes

Dit zijn de producten die we voor dit project hebben gebruikt:
Product List
En deze producten gebruiken we altijd:
Product List