Dear International Readers, Welcome to our Blog.
F or your own convenience please use the translate buttom on your right to select the language of your choice.
Thank you so much for stopping by!
We hoppen weer
Vandaag hoppen we met het Global Monthly Video Design Team rondom het thema Favoriete Suite. Er is natuurlijk in de nieuwe catalogus heel veel keuze, maar voor ons sprong er vanaf het begin een suite heel erg uit: de Abigail Rose suite. Een suite bestaande uit de Cottage Rose stempelset, de Cottage Rose stansen, het Abigail Rose DSP en het prachtige Natural Finish ribbon.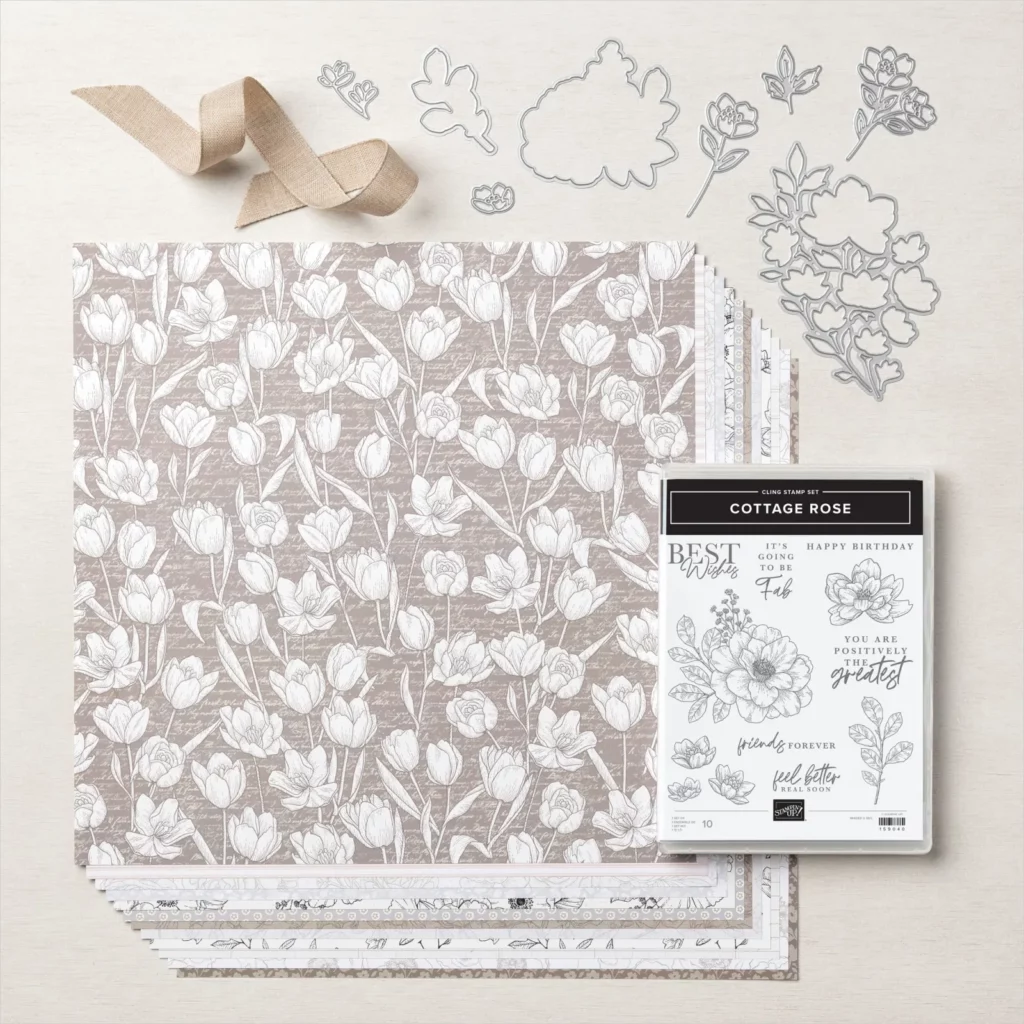 Heel veelzijdig
Deze suite is heel veelzijdig te gebruiken. De stempels inkleuren met alle mogelijke technieken, maar ook het DSP is heel goed in te kleuren door het gebruik van de neutrale tinten. Op pag. 56 en 57 van de jaarcatalogus vind je een aantal prachtige voorbeelden. Maar ook voor Vintage kaarten leent deze suite zich heel goed. Die hebben wij dan ook gemaakt.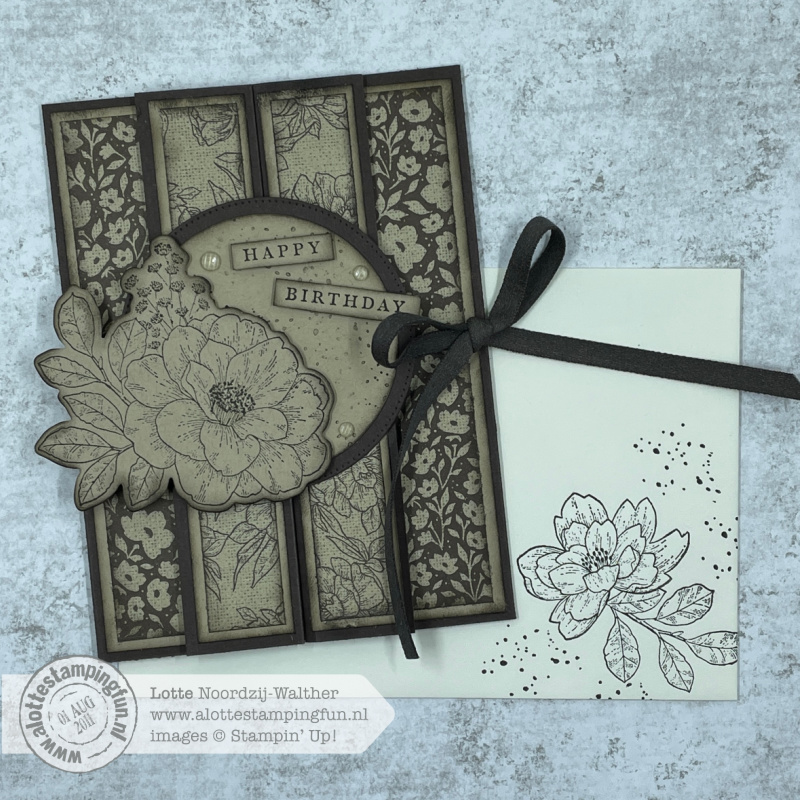 2 kleuren
Voor deze fun fold kaart hebben wij maar 2 kleuren bruin gebruikt. Early Espresso en Crumb Cake, Dat legt al de basis voor de vintage look. En wanner je dan ook nog alle randen sponst maakt dat de kaart helemaal af.
Afmetingen
Basiskaart: 14,5 x 28 cm – 28 cm rillen op 3 – 8,5 – 19,5 en 25 cm
Binnenzijde: 14 x 10,5 cm
Paneel 1 cardstock: 2 * 14 x 5 cm
Paneel 2 cardstock: 2 * 14 x 2,5 cm
Paneel 1 DSP: 2 * 13,5 x 4,5 cm
Paneel 2 DSP: 2 * 13,5 x 2 cm

Werkwijze
Zoals gezegd heeft ieder van ons van het project wat we voor deze hop hebben gemaakt een video voor je klaarstaan. Die van ons vind je door HIER te klikken of op onderstaande afbeelding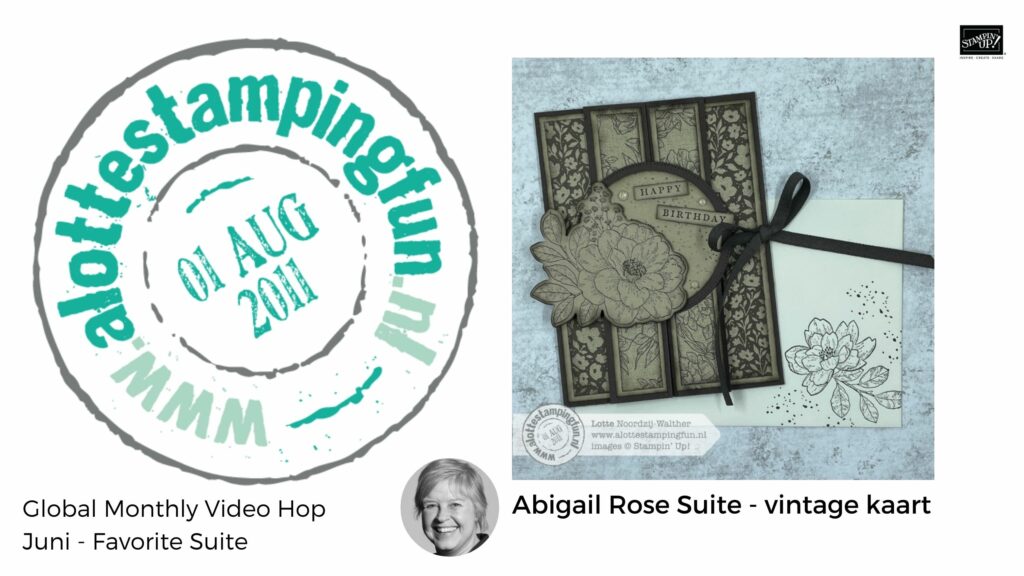 Superbenieuwd naar de rest?
Ben je ook zo benieuwd welke suites favoriet zijn bij onze collega's? Hieronder tref je de lijst aan met alle linkjes naar hun videokanaal. Door op de link achter hun naam te klikken word je vanzelf naar hun YouTube pagina geleid. Veel plezier met kijken en veel inspiratie toegewenst!
Gesche Preißler – Geschtempelt – Germany: https://youtu.be/y8jDU5koikw 
Michelle Critchley – C & C Designs – New Zealand – https://youtu.be/warpJAa9vt8
Danielle Bennenk – Mrs. Brightside – the Netherlands: https://youtu.be/ATzTZPcXYv8 
Tracy Bish – Australia: https://youtu.be/lHCiTZS34MQ 
Rachael Merrick – Australia: https://youtu.be/Vnl9g6qtGv4
Jackie Bultje- The Pampered Stamper – Canada: https://youtu.be/Fl3tjdt8Uw4
Jenn Ford – CK Card Connection – Canada: https://youtu.be/VC8Ht6fwtkY
We vinden het natuurlijk erg leuk wanneer je je op ons YouTube kanaal abonneert, maar helemaal wanneer je een duimpje omhoog of een commentaar achterlaat.
Iets bestellen?
Heb je iets nodig of heb je een product gezien dat je graag wilt hebben? Wij verzorgen graag je bestelling. Je kunt je bestelling emailen naar lotte@alottestampingfun.nl en wij zorgen ervoor dat het zo snel mogelijk bij je komt!
Lieve groetjes,

Dit zijn de producten die we voor dit project hebben gebruikt:
Product List
En deze producten gebruiken we altijd
Product List

| | | | | |
| --- | --- | --- | --- | --- |
| Paper Trimmer [152392] € 31,00 | Paper Snips [103579] € 13,50 | Stampin' Pierce Mat [126199] € 6,25 | Take Your Pick [144107] € 12,25 | Stampin' Cut & Emboss Machine [149653] € 152,00 |
| Multipurpose Liquid Glue [110755] € 5,00 | Stampin' Dimensionals [104430] € 5,25 | Mini Stampin' Dimensionals [144108] € 5,25 | Tear & Tape Adhesive [138995] € 8,50 | Mini Glue Dots [103683] € 6,50 |
Product List
| | | | | |
| --- | --- | --- | --- | --- |
| | | | | |
| | | | | |