Dear international readers.
Welcome to our blog, Please use the translate button up in the right hand corner to read this blog in your preferred language.
Online Only
Een paar maal per jaar brengt Stampin' Up! nieuwe producten die je alleen maar kunt bekijken via de webshop. Ze worden dus niet afgebeeld op een flyer of in de catalogus. Dan is het natuurlijk de taak van ons om er voor te zorgen dat je ze ook te zien krijgt.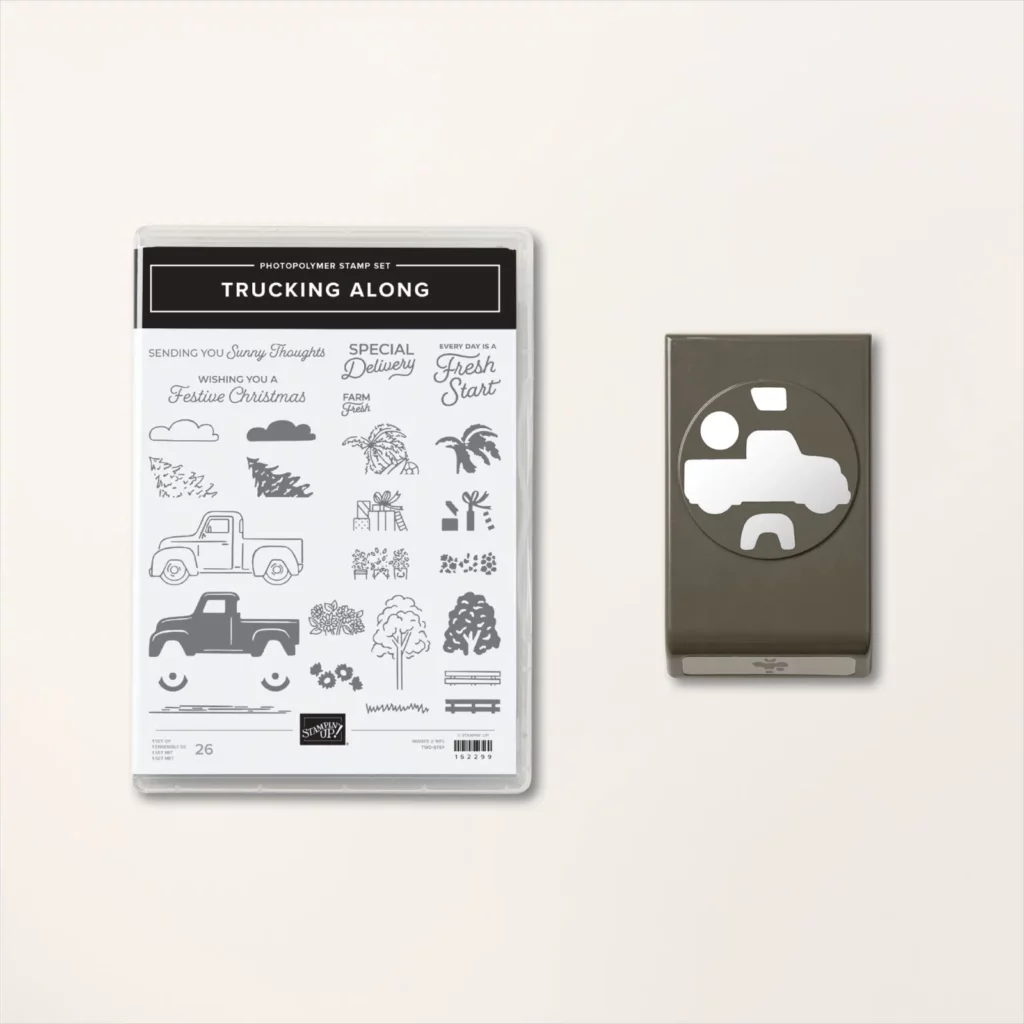 Trucking Along
Sinds kort is er Online Only de Trucking Along bundel. Superleuk want je kunt de achterbak van de pickup truck met van alles vullen. De bundel bestaat uit een stempelset en een pons. Wanneer je ze samen aanschaft als bundel dan ontvang je 10% bundelkorting. De prijzen kun je hieronder in de lijst van gebruikte producten vinden.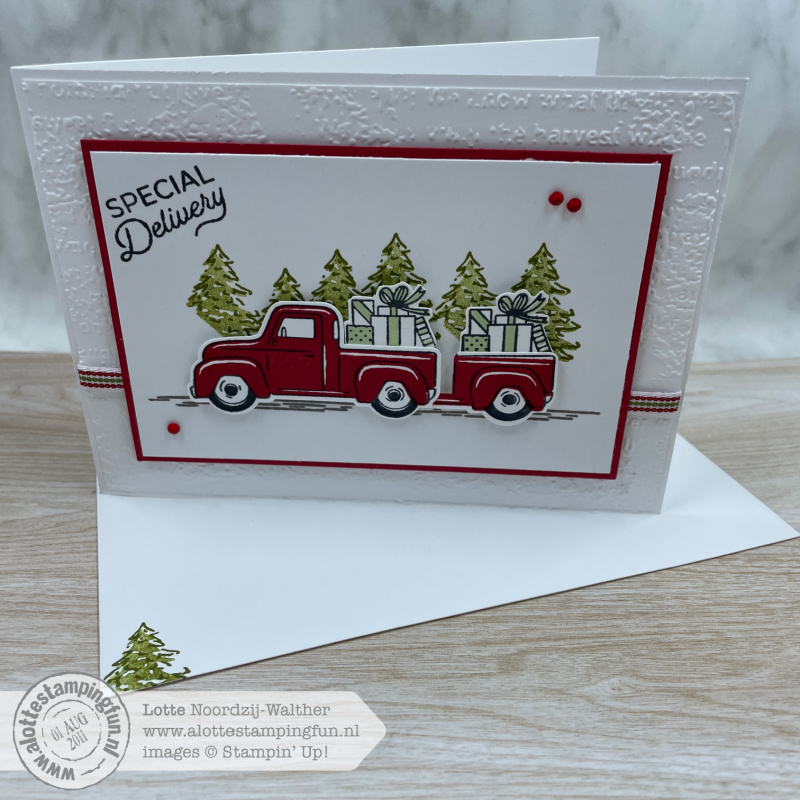 Met aanhanger
Je kunt met wat eigen fantasie ook nog een aanhanger achter de auto maken. De stempel maakt het wel heel erg makkelijk om dat te doen. Zo kun je dus je stempelset en pons nog meer uitnutten!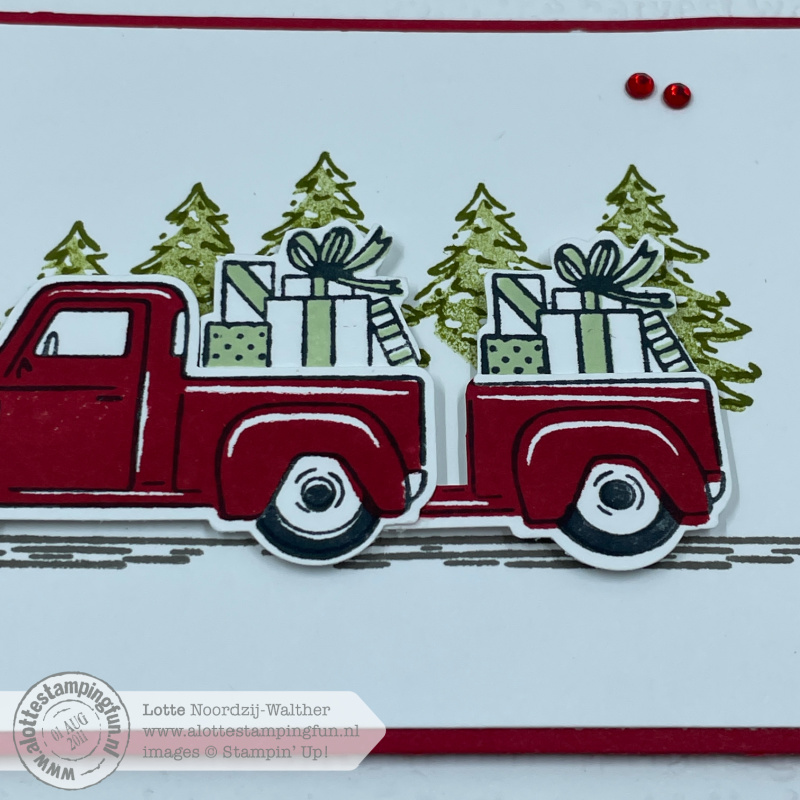 Afmetingen
Basis kaart Basic White Thick: 29 x 10,5 cm – 29 cm rillen op 14,5 cm
Mat Basic White: 10 x 14 cm
Mat Real Red: 8 x 12 cm
Mat Basic White: 7,5 x 11,5 cm
Werkwijze
Wanneer je wilt zien hoe je deze kaart kunt maken, klik dan HIER of op onderstaande afbeelding om naar ons YouTube kanaal te gaan, waar een registratie staat van de Facebook live waarin Lotte deze kaart maakte.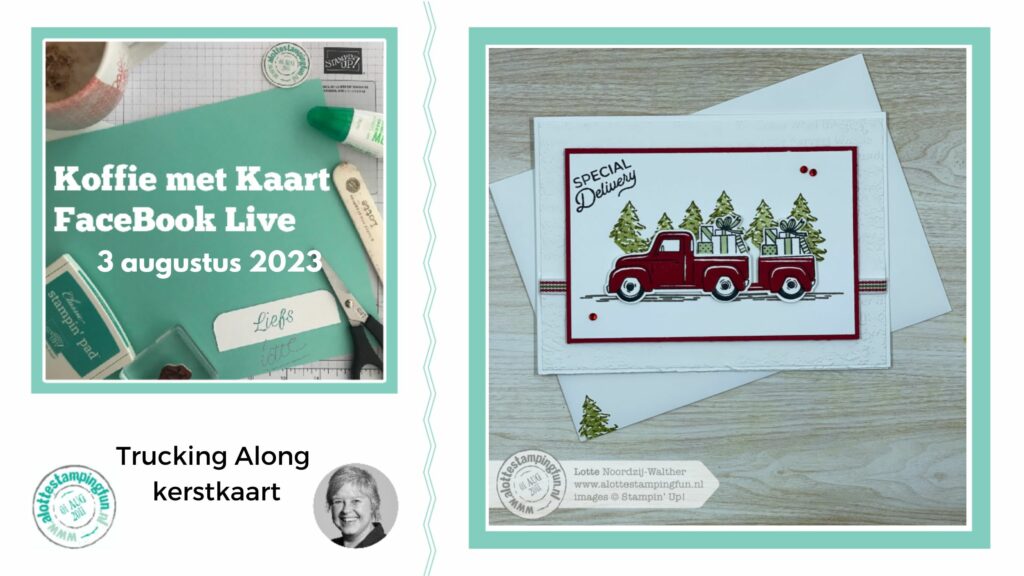 Iets bestellen?
Heb je iets nodig of heb je een product gezien dat je graag wilt hebben? Wij verzorgen graag je bestelling. Je kunt je bestelling emailen naar lotte@alottestampingfun.nl en wij zorgen ervoor dat het zo snel mogelijk bij je komt!
Lieve groetjes,

Dit zijn de producten die we voor dit project hebben gebruikt:
Product List

En deze producten gebruiken we altijd
Product List
| | | | | |
| --- | --- | --- | --- | --- |
| | | | | |
| | | | | |