Dear international readers.
Welcome to our blog, Please use the translate button up in the right hand corner to read this blog in your preferred language.
Welkom bij de Global Monthly Video Hop. Een rondje langs video's gemaakt door Stampin' Up! demo's van over de hele wereld. Deze maand laten we je projecten zien rondom het thema Thank You.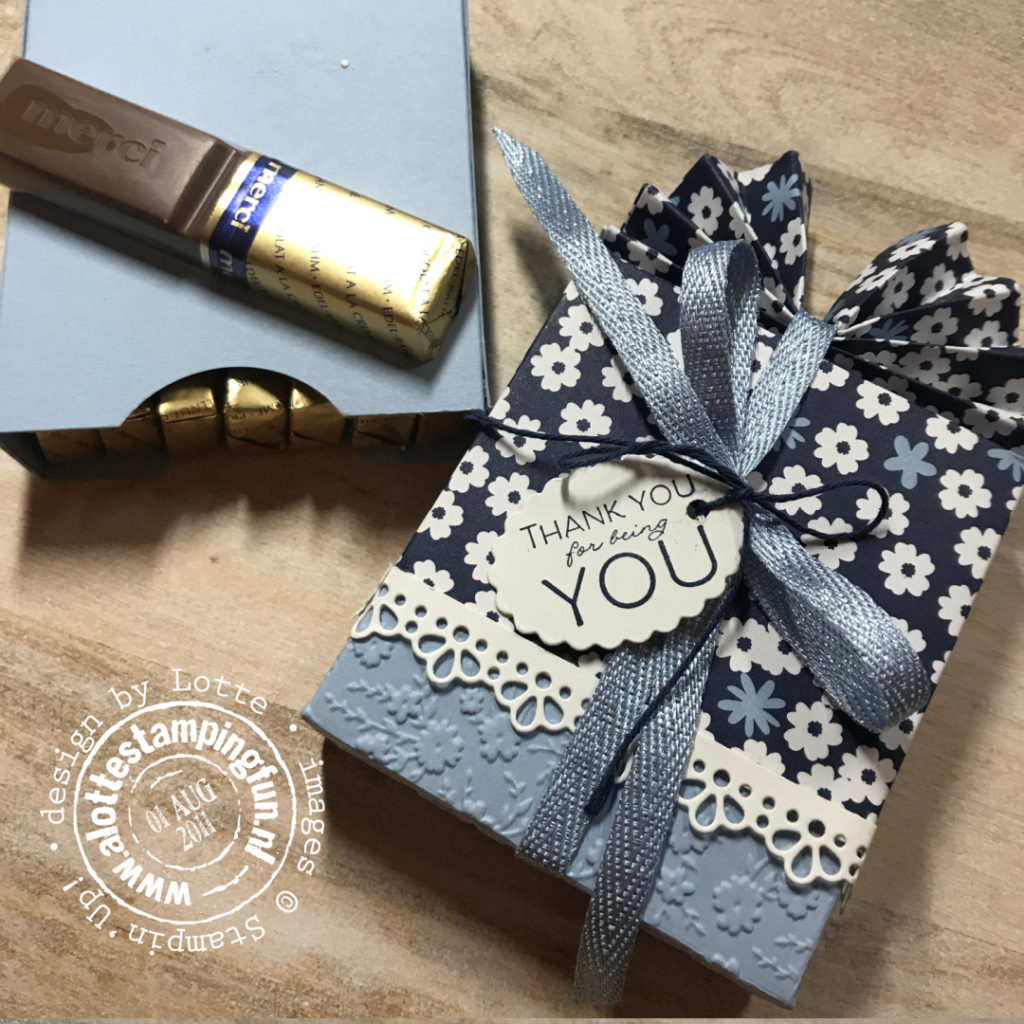 Wat is nu een betere manier om dank je wel te zeggen dan met Merci chocolaatjes? In dit doosje kun je maar liefst 8 reepjes Merci rechtop in zetten. Het deksel heeft "ingebouwde" een waaier, de waaierdeksel maak je van een stuk design papier. Het design papier is afkomstig uit het Paper Blooms design papier uit de Sale-A-Bration brochure. Tot en met 28 februari 2021 kun je voor elke €60 euro die je besteed uit deze brochure gratis een product kiezen.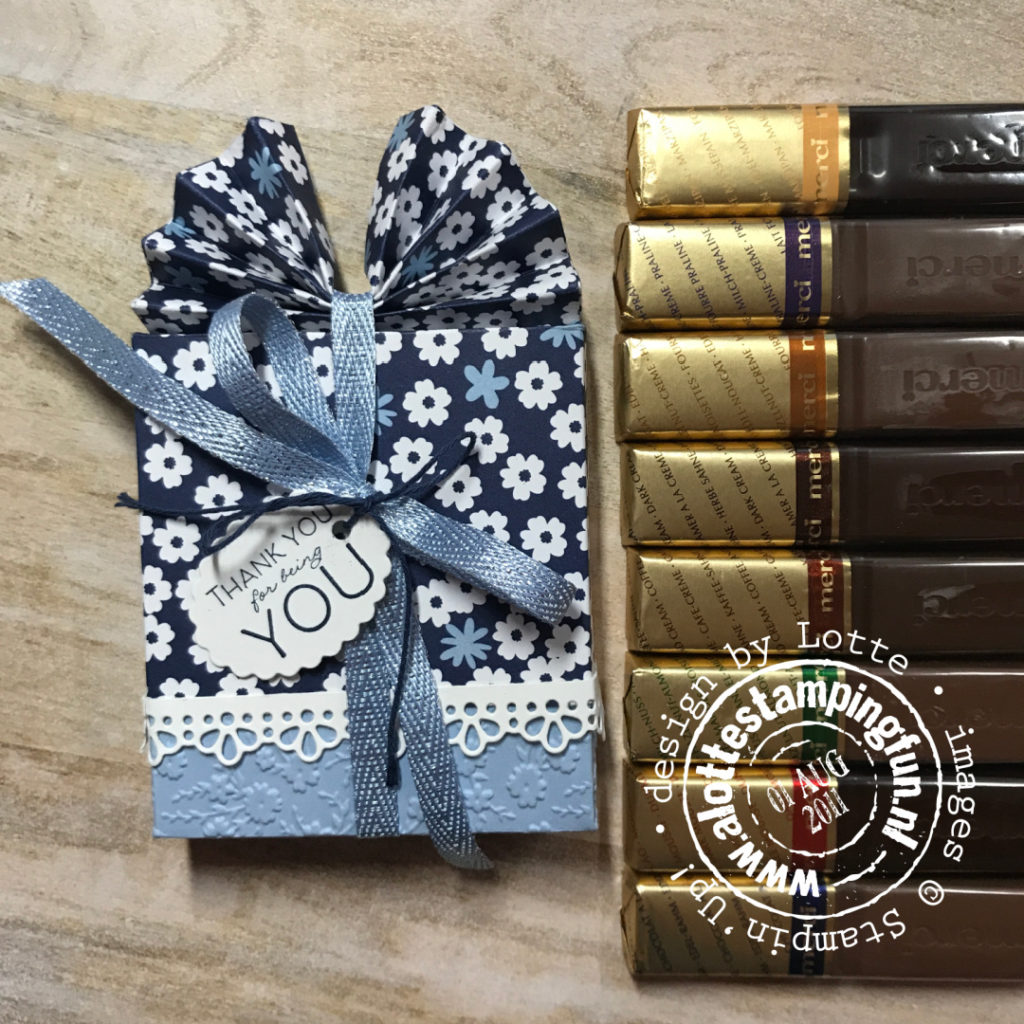 Het Paper Blooms Design Papier is heel goed te gebruiken in combinatie met de Ornate Flowers Embossing folder. De kleine bloemetjes lijken heel erg op elkaar 🙂 Met de Ornate Border stansen hebben we een klein randje gemaakt en onderaan de deksel bevestigd.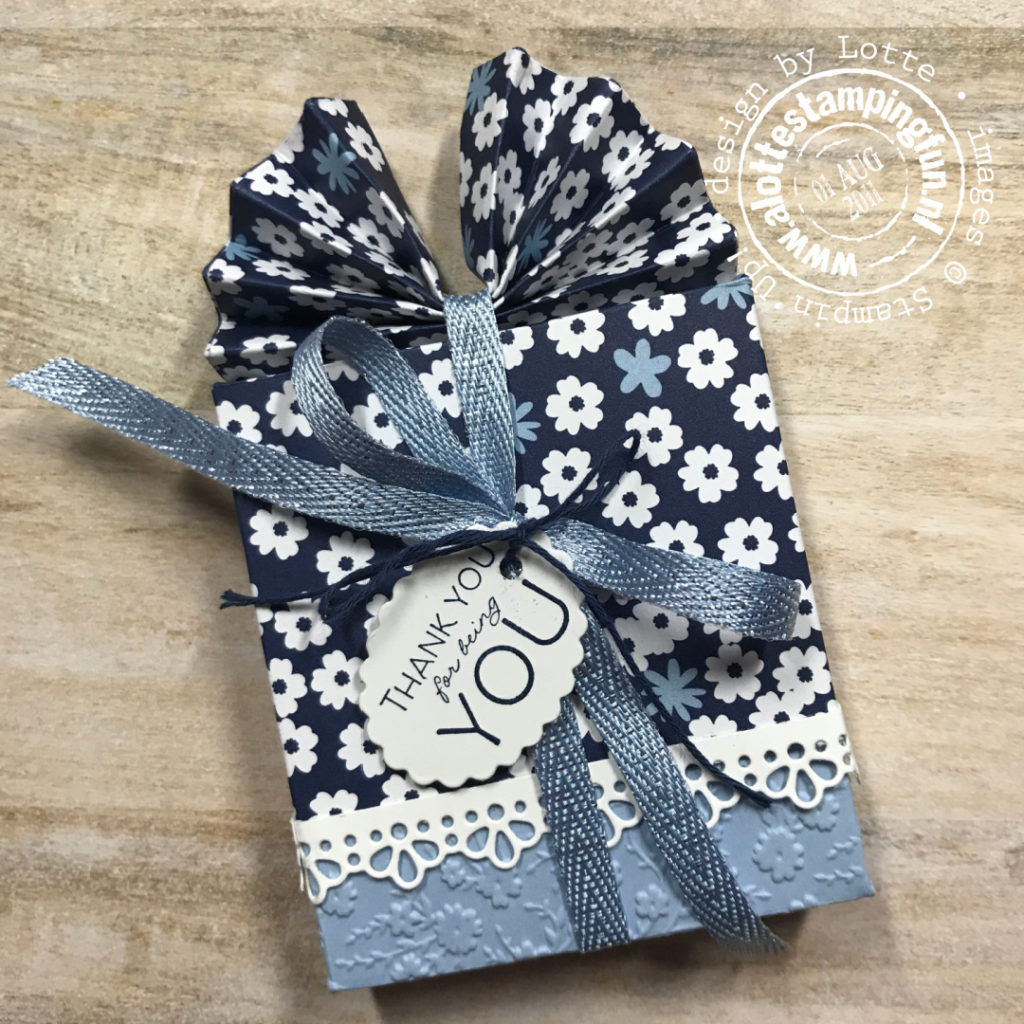 Nog wat van dat prachtige Seaside Spray Metallic Ribbon erom heen en een label gemaakt met de Many Messages bundel die je kunt vinden in de nieuwe Mini catalogus januari-juni 202. Deze bundel zul je ons veel vaker zien gebruiken – nu al een van onze favorieten!
Centimeters:
Basis doosje: 18 x 11 cm
ril 18 cm @ 8 en 10 cm
ril 11 cm @ 2 en 9 cm
Basis deksel: 19,4 x 15 cm
ril 19,4 cm @ 7,1 – 9,2 – 16,3 en 18,4 cm
ril 15 cm @ 6 – 7 – 8 – 9 – 10 – 11 – 12 – 13 en 14 cm
Inches:
Base box: 7″ x 4-1/4″
score 7″ @ 3-1/8″ and 3-7/8″
score 4-1/4″ @ 3/4″ and 3-1/2″
Base lid: 7-3/4″ x 6″
score 7-3/4″ @ 2-13/16″, 3-5/8″, 6-7/16″ and 7-1/4″
scor 6″ @ 2-1/4″, 2 -5/8″, 3″, 3-3/8″, 3-3/4″, 4-1/8″, 4-1/2″, 4-7/8″, 5-1/4″ and 5-5/8″
In onderstaande video laat Lotte zien hoe je dit leuke doosje maakt.

Nog meer leuks zien?
Deze blogpost is onderdeel van de Global Monthly video hop. Stampin' Up! demo's van over hele wereld inspireren je via een video met projecten rond het thema "Thank You". Klik op de link achter hun naam om naar de volgende inspiratie video te gaan:
Tricia Smith, Smith's Crafty Creations UK – https://youtu.be/GvUh89RqPCcJ
ean Piersanti – Beauty and the Stamper – Let's Make a Handstamped Card – Global Stampers Collab youtu.be/lET47lJPbLE
Michelle Critchley – C&C Designs – New Zealand: https://youtu.be/tOnJTw8vDj4
Gesche Preißler – Geschtempelt – Germany: https://youtu.be/sGQ3bod7nW8
Diane Hutchinson – crafts by the bow Canada: https://youtu.be/ZvvYFRPXXuw

Wil je iets bestellen?
Heb je iets nodig of heb je een product gezien dat je graag wilt hebben? Wij verzorgen graag je bestelling. Je kunt je bestelling emailen naar lotte@alottestampingfun.nl en wij zorgen ervoor dat het zo snel mogelijk bij je komt!
Lieve groetjes,

Dit zijn de producten die we voor dit project hebben gebruikt:
Product List

En deze producten gebruiken we altijd
Product List
| | | | | |
| --- | --- | --- | --- | --- |
| | | | | |
| | | | | |