Dear international readers.
Welcome to our blog, Please use the translate button up in the right hand corner to read this blog in your preferred language.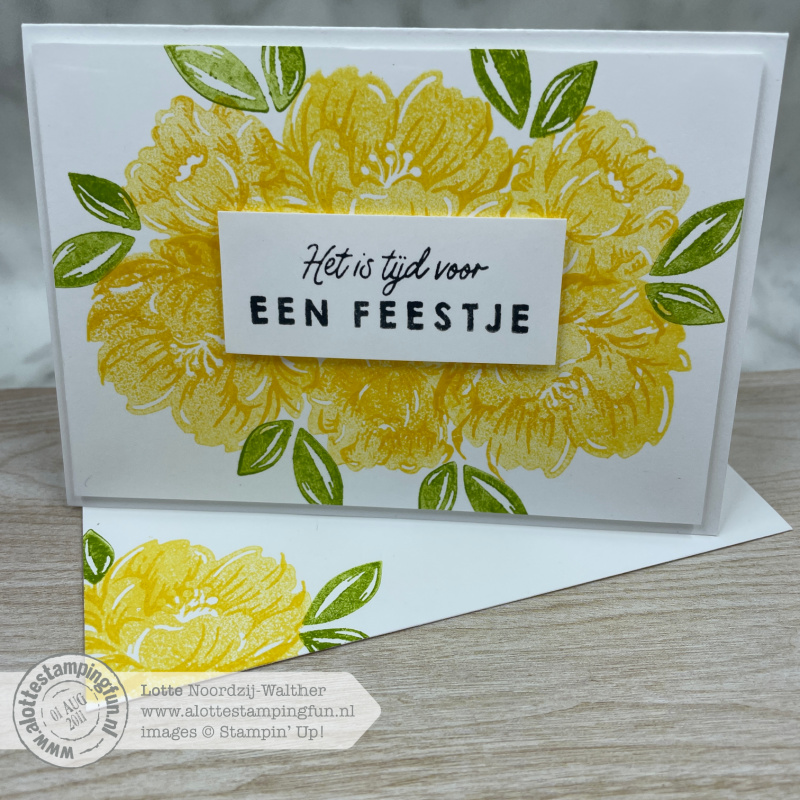 Simple Stamping
Simpel stempelen, of te wel alleen met stempel, inkt en papier werken. Dus geen embelishments toevoegen en stansen of ponsen gebruiken. Een 2 step stempelset leent zich daar heel erg goed voor. Zeker wanneer je ook nog de afstempelen techniek gebruikt.
Superleuk in heel veel kleuren
Je kunt deze kaart in heel veel verschillende kleuren maken. Je hebt alleen een groen nodig voor de blaadjes, zwart voor de tekst en een frisse kleur voor de bloemen. Wij gebruikten Granny Apple Green, Memento Tuxedo Black en van de heldere kleuren Poppy Parade, Melon Mambo, Flirty Flamingo, Pumpkin Pie en Daffodil Delight en Berry Burst.
Afmetingen
Basiskaart: een Note Card van de Note Cards & Envelops
Mat Basic White: 4-3/4 x 3-1/4 inch | 12 x 8,3 cm
Strookje voor tekst: 2-3/8 x 1 inch | 6 x 2,5 cm
Hop door naar de anderen
Klik op de link achter de naam van de demonstrator en je wordt vanzelf naar hun YouTube kanaal geleid.
The Pampered Stamper: Jackie vanderSar-Boot- Canada- https://youtu.be/i48tnwYgkWs
Tracy Bish – Australia – https://youtu.be/JWYwfhwKXz4
Lotte Noordzij-Walther – A Lotte Stamping Fun – The Netherlands: https://youtu.be/pLhyJhTTQzw
Tricia Smith: Smith's Crafty Creations – https://youtu.be/UBjN7KUqj-E
Danielle Bennenk: Mrs. Brightside – The Netherlands: https://youtu.be/SYZ1UiHhMIg
Jean Piersanti: Beauty and the Stamper – USA – https://youtu.be/UpTgbQrVzRI
Rachael Merrick – Australia – https://youtu.be/BXC7qSudIHU 
Michelle Critchley – C & C Designs – New Zealand – https://youtu.be/wZXFj8UsTls
Werkwijze
Het het niet voor niets een videohop. Door HIER of op onderstaande afbeelding te klikken kom je bij de video op ons YouTube kanaal terecht. Je kunt van daar uit ook naar de video's van onze collega's doorhoppen.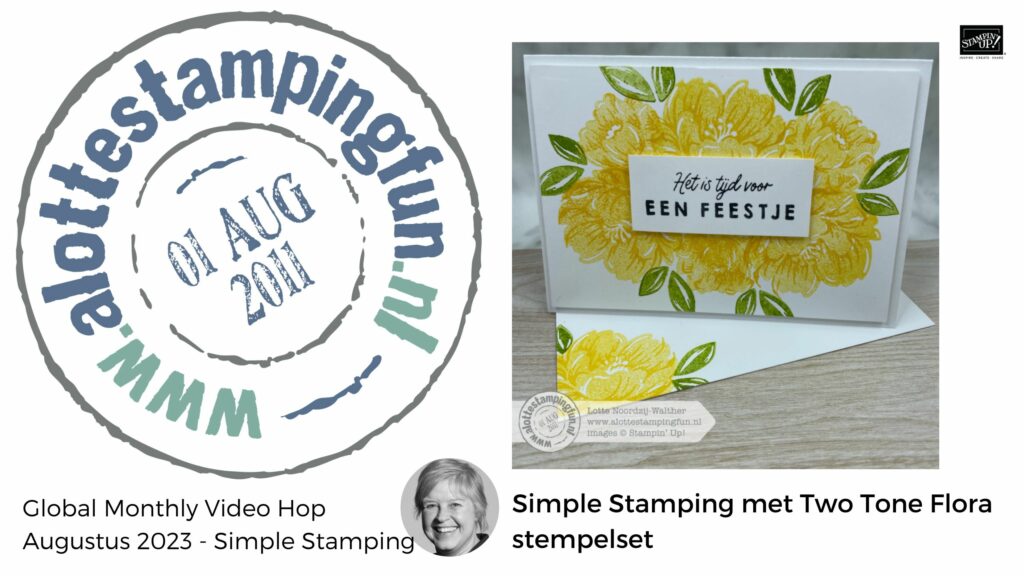 Iets bestellen?
Heb je iets nodig of heb je een product gezien dat je graag wilt hebben? Wij verzorgen graag je bestelling. Je kunt je bestelling emailen naar lotte@alottestampingfun.nl en wij zorgen ervoor dat het zo snel mogelijk bij je komt!
Lieve groetjes,

Dit zijn de producten die we voor dit project hebben gebruikt:
Product List
En deze producten gebruiken we altijd
Product List
| | | | | |
| --- | --- | --- | --- | --- |
| | | | | |
| | | | | |