Begin dit jaar was er een oproep van het Scrapbooking Global Blog Hop Team voor gast designers. Lotte heeft zich aangemeld, werd uitgekozen en mocht de maand en het thema kiezen. Het werd de maand juli met thema Reizen.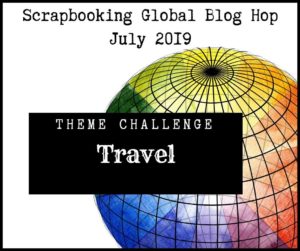 Toerist in eigen land
Vorig jaar is Lotte met een aantal van haar Stampin'Up! zusjes uit het team Creatieve Harten First Edition een dagje naar Volendam geweest. Niet alleen heerlijk bijgepraat maar natuurlijk ook genoten van het dorpje zelf en met als klap op de vuurpijl een foto in Volendamse Klederdracht gemaakt!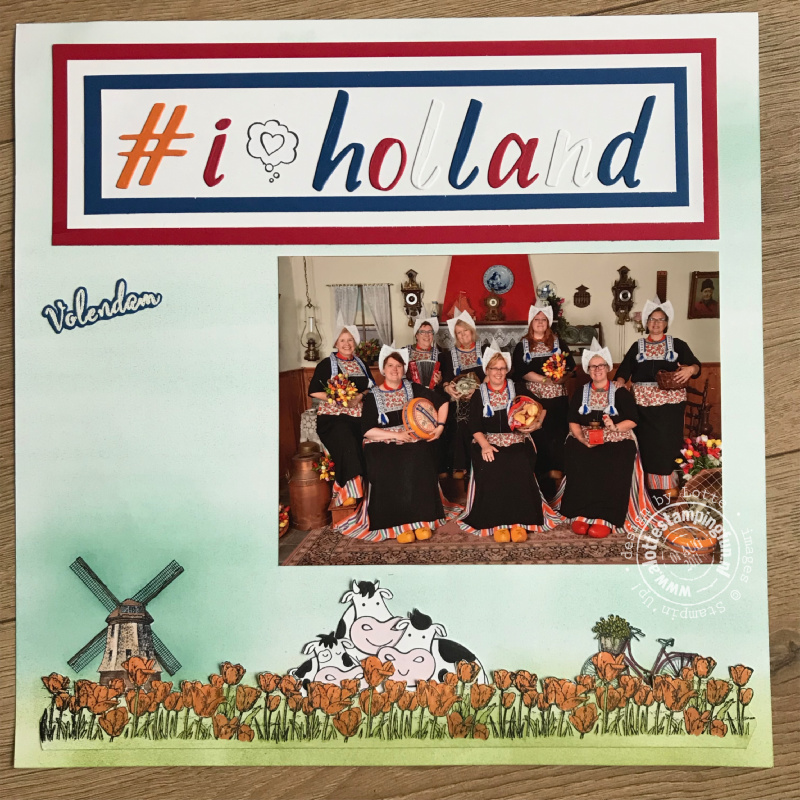 Frisse wind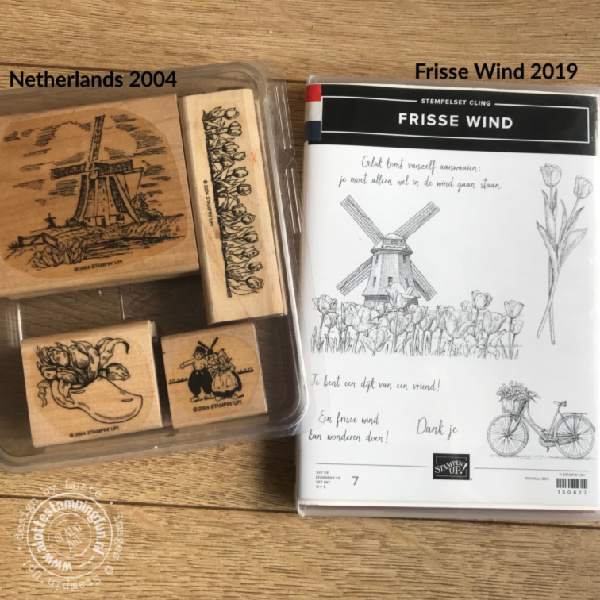 Al heel lang wilde ik met deze foto een scrap pagina maken, en had daar een set die ik als sinds 2004 in mijn bezit heb voor in gedachten en koester. Je begrijpt dat ik superblij was dat er nu een Nederlandse set is met nog meer Nederlandse afbeeldingen – echt een Frisse Wind! Deze keuze voor de scrap layout was dan ook snel gemaakt.
Werkwijze
Alle materialen die zijn gebruikt staan hieronder vermeld. Mocht je iets in je voorraad missen of een aanvulling willen, wij verzorgen graag je bestelling. Stuur ons een e-mail (lotte@alottestampingfun.nl) met je wensen en dan komt het dik voor elkaar.
Molen uit Frisse Wind op Whisper White stempelt en gemaskeerd met een Post-it note. Pagina daarna met een sponge brayer bewerkt met de kleuren Pear Pizzaz en Pool Party. De molen en de planken van de wieken zijn bewerkt met de Ivory en Bronze blends. Tulpen naast elkaar gestempeld op een lange strook en bewerkt met sponge brayer in Pear Pizzaz. De tulpen ingekleurd met Old Olive en Pumpkin Pie blends. Daarna uitgeknipt. De koeien uit Over the Moon gestempeld op stukjes scrap, gekleurd met de Petal Pink en Basic Black blends en uitgeknipt.
Aan de linkerkant heb ik wat ruimte gehouden om nog wat te schrijven.

De fiets uit Frisse Wind gestempeld op stukje scrap, bewerkt met de sponge brayer met Pear Pizzaz en Pool Party. Het frame van de fiets gekleurd met de Cherry Cobler Blend, en de mand met bloemen met Crumb Cake, Old Olive en Daffodil Delight Blends. Ik heb het woord Volendam in versamark op Blueberry Bushel gestempeld en ge-embossed met wit embossing poeder en daarna uitgeknipt. De banner #I<3HOLLAND is gemaakt met de letter stansen uit de Hand-lettered Prose dies.
Hop door voor nog meer inspiratie!
Je kunt voor nog meer SUperleuke Travel scrapbook layouts door hoppen naar het volgende blog. Dit doe je door op de onderstaande 'Knop' of op de naam onder die van Lotte te klikken. We wensen je heel veel hopplezier!
Lieve groetjes,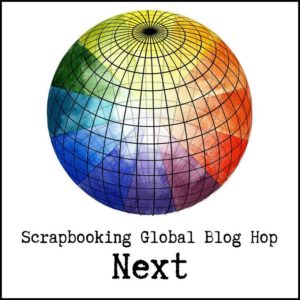 Dit zijn de producten die we voor dit project hebben gebruikt:
Product List

En deze producten gebruiken we altijd
Product List
| | | | | |
| --- | --- | --- | --- | --- |
| | | | | |
| | | | | |