Dear International Readers, Welcome to our Blog.
F or your own convenience please use the translate buttom on your right to select the language of your choice.
Thank you so much for stopping by!

Wat leuk dat je een kijkje komt nemen op ons blog. Dit blogbericht is onderdeel van de bloghop van de Feel Good Stampin' Design Team leden. Een groep van een aantal Nederlandse Stampin' Up! demonstratrices die je elke maand opnieuw inspireren met projecten rondom een bepaald thema. Deze keer is het thema Herinnering.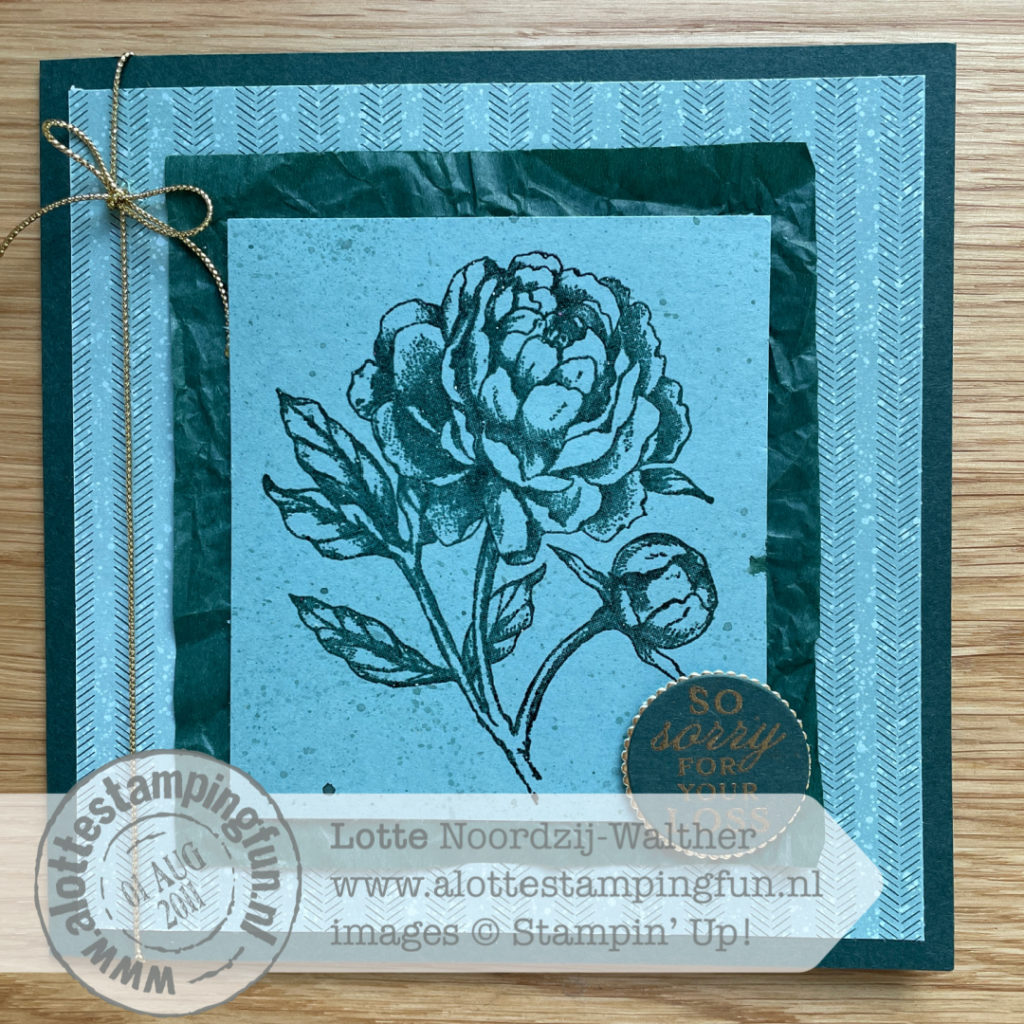 Een classy condoleance kaart
Wij hebben een condelance kaart gemaakt met het Ever Eden Designer Specialty papier en het Ever Eden Cotton Papier Deze beide prachtige producten zijn uitloopproducten en zijn verkrijgbaar tot en met 31 december 2021 of zolang de voorraad strekt. Wil je meer weten over de uitloop producten klik dan HIER
Onderaan deze post zie je een opsomming van alle producten die zijn gebruikt.
We hebben de kaart een classy uitstraling gegeven door te werken met Gold Foil, Goud Embossing powder en Gold Trim.
Het fijne van deze bloghop is dat ieder Design Team lid een project beschrijving van haar project in haar blog zet zodat je het project na kunt maken.
Werkwijze
Door op onderstaande afbeelding of door HIER te klikken kom je bij de projectbeschrijving van de deze kaart. Daarin vind je niet alleen de gebruikte producten,, maar ook de afmetingen en een video.

Hop door naar de anderen
Hieronder tref je de lijst van de Stampin' Up! demonstratrices die meedoen met deze blog. Je hopt gemakkelijk door, het enige wat je hoeft te doen is te klikken op hun naam.
Iets bestellen?
Heb je iets nodig of heb je een product gezien dat je graag wilt hebben? Wij verzorgen graag je bestelling. Je kunt je bestelling emailen naar lotte@alottestampingfun.nl en wij zorgen ervoor dat het zo snel mogelijk bij je komt!
Lieve groetjes,

Dit zijn de producten die we voor dit project hebben gebruikt:
Product List

En deze producten gebruiken we altijd
Product List
| | | | | |
| --- | --- | --- | --- | --- |
| | | | | |
| | | | | |