Wat leuk dat je langskomt voor weer een nieuwe bloghop van de Creatieve Harten! Het is bijna Valentijnsdag en daarom showen we vandaag een heleboel SUperleuke en mooie projecten die alles te maken hebben met het thema "Love is in the Air".
Wij hopen dat je vandaag veel inspiratie opdoet, zodat je zelf aan de slag kunt gaan met de leuke nieuwe producten van Stampin' Up!
Natuurlijk zijn wij heel benieuwd wat je van ons project vindt. Laat je gezellig een berichtje achter? Dat waarderen wij zeer!

En dit is dan mijn inzending voor de bloghop. Gemaakt met de bundel Bloomin' Love, een stempelset met bijpassende Thinlit Dies: dit prachtige hart en de bloemetjes die erop zitten. Het hart is gemaakt van Vellum, erg mooi in combinatie met het zwart en de twee kleuren roze. De banner is gemaakt met een Framelit Die van de set Large Numbers.
So this is my project for the Bloghop. It was made with the bundle Bloomin'Love, a stampset with matching Thinlits Dies: this beautful heart and the flowers. The heart is made out of vellum, very pretty in combination with the black and two shades of pink. The banner was made with a framelit die of the Large Numbers. I added extra bling with the Clear Wink of Stella on the banner, flowers and the edge of the Blushing Bride. To finish it of, I added a Basic Pearl in the heart of the flower.

Voor extra bling heb ik de bloemetjes, de banner en het randje Blushing Bride bewerkt met de Clear Wink of Stella zodat hier een prachtige glimmerglans over zit. Om het af te maken heb ik voor het hartje van de bloemen een Basic Pearl gebruikt. Ook de envelop heb ik in stijl gestempeld.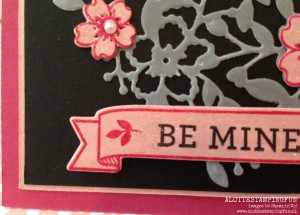 Een close up van de bewerkte bloemen, banner en rand van Blushing Bride bewerkt met de Clear Wink of Stella.
De door mij gebruikte producten voor deze kaart:
Used products on this card:
Bedankt voor jouw bezoekje en hop gezellig door, door op de volgende knop te klikken. SUper veel plezier nog tijdens de bloghop!
Het volgende blog is van Karin van Veen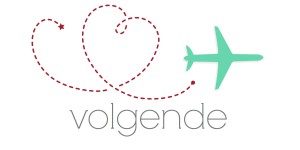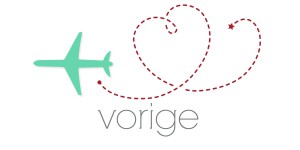 | | |
| --- | --- |
| Caroline v.d. Straaten | http://carooskaartjes.blogspot.com/2016/02/creatieve-harten-bloghop-love-is-in-air.html |
| Lotte Noordzij | https://alottestampingfun.nl |
| Karin van Veen | http://onapaperjourney.blogspot.com/2016/02/creatieve-harten-bloghop-love-is-in-air.html |
| Helmy Goyer | http://helmygoyer.blogspot.com/2016/02/bloghop-love-is-in-air.html |
| Leonie Geertsema | http://leonibg.blogspot.com/2016/02/love-is-in-air-creatieve-harten-bloghop.html |
| Yolanda Pasterkamp | http://attelyootje.blogspot.com/2016/02/creatieve-harten-bloghop-love-is-in-air.html |
| Carola Gillich | http://carola-creations.blogspot.com/2016/02/bloghop-love-is-in-air.html |
| Dominique Bergen | http://www.dospiration.nl/stampinup-bloghop-love-is-in-the-air/ |
| Jolanda Meurs | http://jolandameurs.blogspot.com/2016/02/stampinup-valentijn-mini-album.html |
| Diana van Otterlo | http://dianascardscatsandmore.blogspot.com/2016/02/stampin-up-bloghop-love-is-in-air.html |
| Henrike Heikoop | http://flowersbynight.blogspot.com/2016/02/creatieve-harten-bloghop-love-is-in-air.html |
| Danielle Bennenk | http://mrsbgoesstamping.nl/love-is-in-the-air-bloghop/ |
| Eveline v.d. Heijst | http://vanheijstditjesendatjes.blogspot.com/2016/02/love-is-in-air.html |
| Nina Janssen | http://www.destempelolifant.nl/creatieve-harten-bloghop-love-is-in-the-air |
| Carolien Boone | http://madebykrealien.blogspot.com/2016/02/creatieve-harten-bloghop-love-is-in-air.html |
| Sandra Korten | http://www.sandrakorten.com/creatieve-harten-bloghop-love-is-in-the-air-2/ |
| Annette Koolmees | http://kreaneeltje.blogspot.com/2016/02/bloghop-creatieve-harten-love-is-in-air.html |
| Elly Kreutzer | http://ellykreutzer.blogspot.com/2016/02/bloghop-love-in-air.html |
| Monique de Kok | http://bloem-monique.blogspot.com/2016/02/creatieve-harten-bloghop-love-is-in-air.html |
| Linda den Besten | http://crowscornerstampin.blogspot.com/2016/02/bloghop-creatieve-harten-love-is-in-air.html |
| Hélène den Breejen | http://helenedenbreejen.nl/bloghop-creatieve-harten/ |
| Angélique Nederpel | http://stempelkeuken.blogspot.com/2016/02/ch-bloghop-love-is-in-air.html |